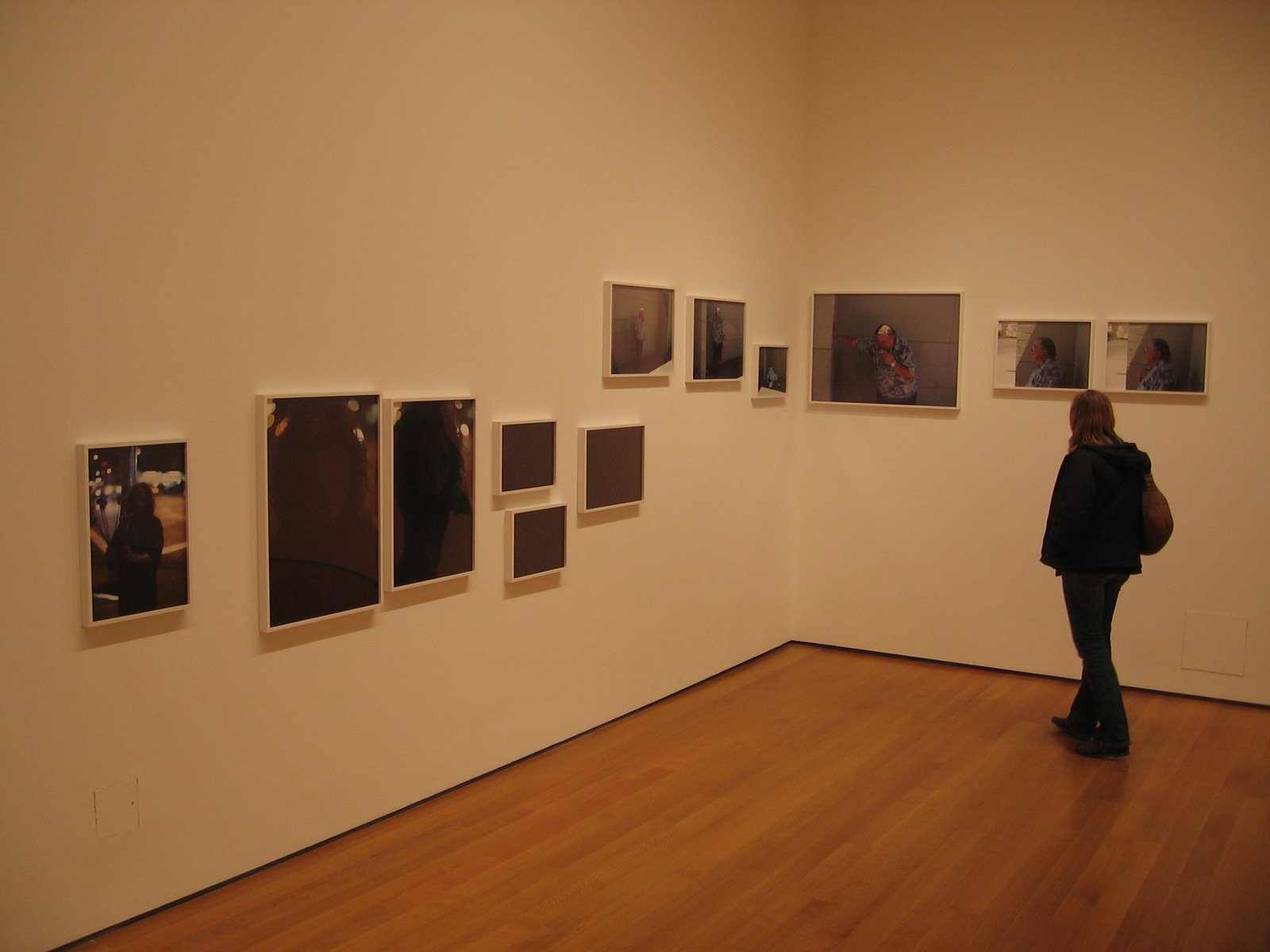 JTF (just the facts): A total of 49 color images, displayed as 8 sequences of between 4 and 9 images each, and two single images. All of the images were taken between 2004 and 2006. The prints are made in varying sizes, framed in white, without mats and with very little wall text, and hung at varying heights in a two room gallery with a single dividing wall. The curator of the exhibition is Susan Kismaric. (Installation shots at right.)
Comments/Context: I'm going to go out on a limb here, but I think British photographer Paul Graham is a complete unknown for most collectors. Even though he has had a nearly 30 year career, published a dozen high quality books, and made some memorable pictures, I think he has been overlooked by many, mostly because he isn't easily categorized. While one might attach the labels "color" or "documentary" to his work, his isn't the first name that comes up when you think of these terms, and so I'm afraid many folks have missed out on some amazing photography (ourselves included for the most part, I must admit).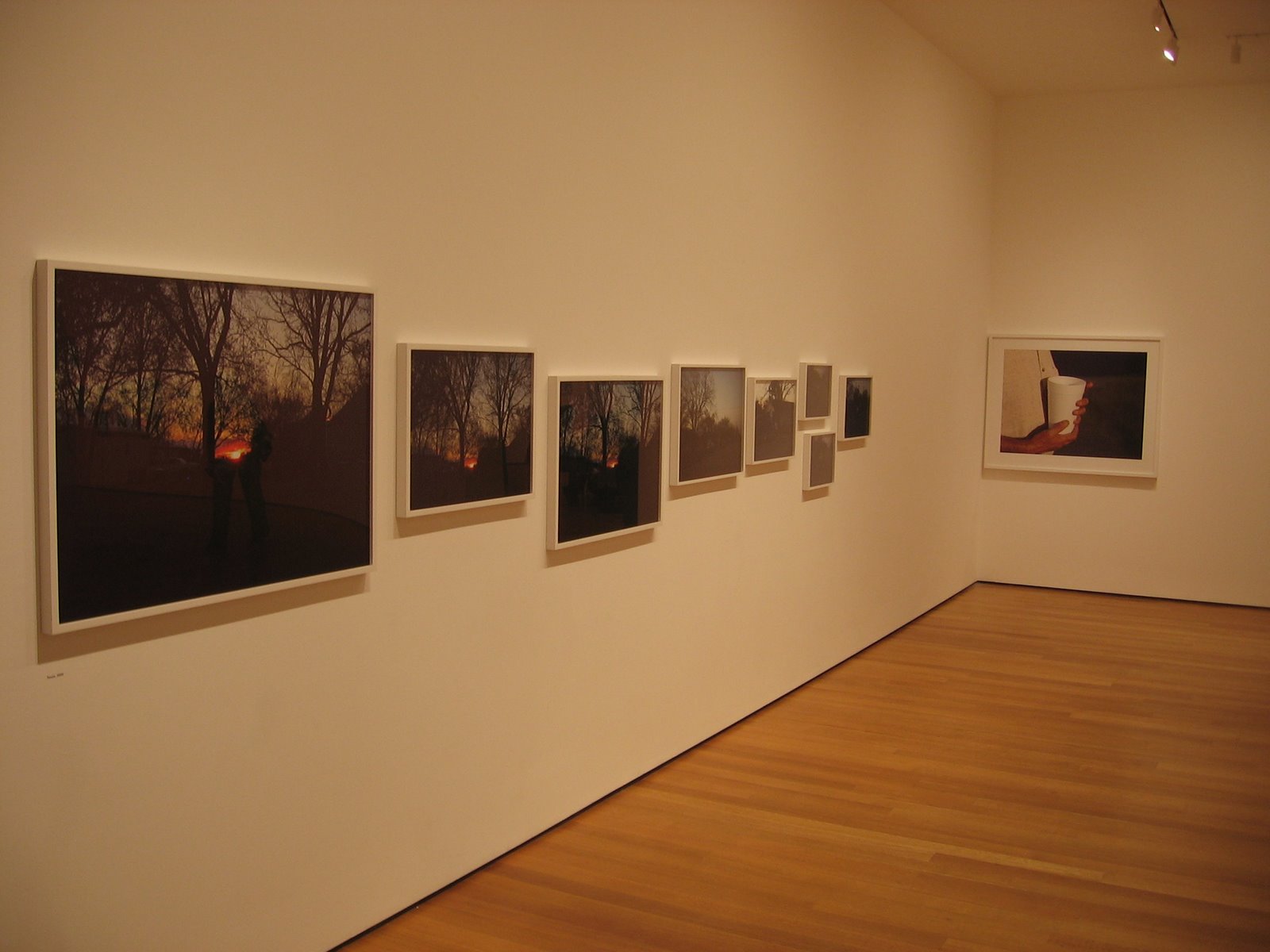 The new show at the
MoMA
takes a sampling from his most recent work,
a shimmer of possibility
, a group of images he took during many trips across America from 2004 to 2006. What is surprising is that this work is not a group of standard, stand alone documentary pictures. Instead, the images are sequenced into spare narratives, with almost cinematic slices of time (
reframing
the subjects minute to minute) propelling the stories along, sometimes quite linearly but often in a more elliptical undirected flow.
In many ways, nothing much happens in these stories; they are tiny vignettes of ordinary life. Here are a few of the moments that are captured:
A woman eats takeout at a bus stop, and then smokes
A man camps out near a Jack-in-the-Box trash can
A girl with her toys on the sidewalk
A man mows the grass, as it begins to rain
Kids play basketball as the sun sets
A man sells flowers on a street corner
A man on a break savors a cigarette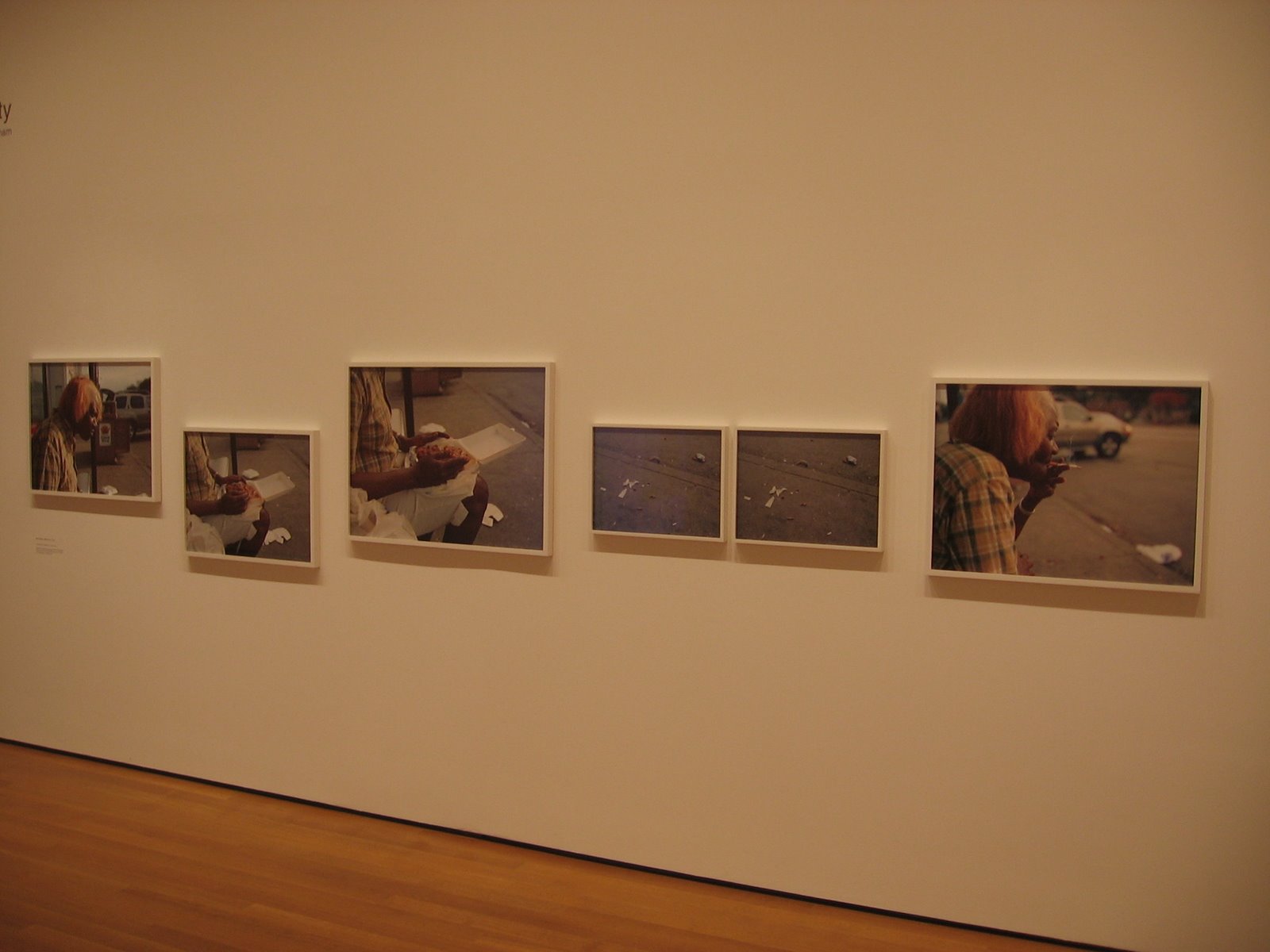 The overall mood of these short stories is the same exhausted melancholy that permeates Alec
Soth's
recent work. And yet, Graham's economical narratives are oddly engaging and satisfying; the details all seem to matter a bit more. The exact moments when the rain falls on the man mowing the grass (sparkling in the sunlight), or when the smoker exhales, or when the basketball is released all have a hyper reality, saturated with our attention. And then there is a sense that life goes on – the open ended stories will all continue. While this show is relatively small, take your time to savor each thread; they'll grow on you.
.
The artist's website can be found
here
. The 12 volume set of books published by
Steidl
can be found
here
.
Collector's POV:
Paul Graham's work has been virtually unavailable in the secondary markets in the past few years, except for a few copies of his first book
A1, The Great North Road
, which have started to show up in the newer photo book auctions. Graham is represented in New York by
Greenberg
Van
Doren
Gallery (site
here
), who will be having a retrospective show of his work starting later in March.
Rating:
** (two stars) VERY GOOD (rating system described
here
)
Through May 18
11 West 53rd Street
New York, NY 10019
5B4's review of the books can be found
here
.
UPDATE:
My email has been full of readers with links and ideas for educating us further about Paul Graham (a few politely pointing out just how out of touch and misinformed we are). There is currently a show of the 2009 Deutsche Borse finalists up at the Photographers' Gallery in London (site
here
). A second good resource is the Anthony Reynolds Gallery in London (site
here
), who has represented the artist for most of his career and has access to all of his work. Perhaps there is a real difference in knowledge of Graham's work between working photographers and other photo "insiders" (who all know Graham well) and many collectors (particularly in America) who only know him tangentially.