Paris Photo opens next week, but unfortunately, we won't be going this year. According to the show website (here), there will be 86 galleries/dealers and 21 book publishers exhibiting (38% of the exhibitors are new this year), and 66 magazines and other press covering the event. It seems from a quick glance at the list that there are fewer US-based galleries represented than in prior years (the usual suspects are present, but the next tier down seems thinner.) They're expecting 40000 visitors, but that sure seems high, given the tough economic times.
The theme this year is Japanese photography, with over 130 Japanese photographers showing work (the largest such grouping in Europe ever, according to the site). There are special sections of the show devoted to Japanese galleries, book publishers, and artist videos.
Since we won't be attending the show this year, we are hoping to get some insightful comments from other collectors who are going. We're interested in the general feel of the show, how crowded it is, and which galleries were showing something unexpected or exciting. Feel free to call yourself a "special assignment correspondent" for DLK COLLECTION!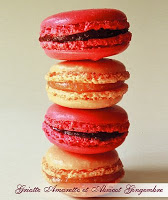 And don't forget, no trip to Paris would be complete without at least one visit to Laduree (site here) for their best-in-the-world macarons (image at right). We usually go to the shop on Rue Bonaparte in Saint-Germain, but there are a couple of others around town as well.
UPDATE: There are videos of the show here.
Paris Photo
November 13-16
Carrousel du Louvre
99 Rue de Rivoli
75001 Paris
France