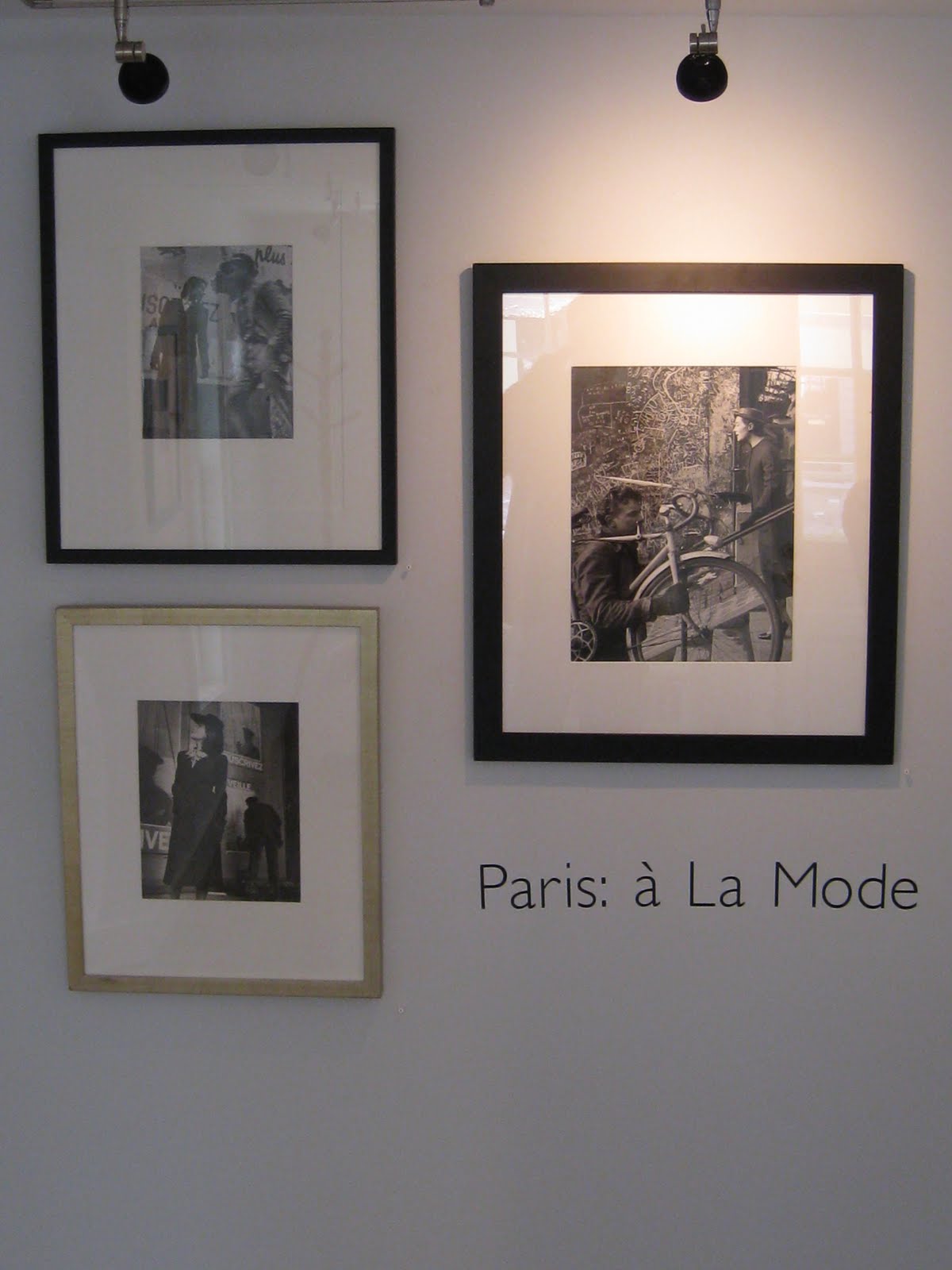 JTF (just the facts): A total of 15 black and white images, variously framed and matted, and hung in the entry and main gallery space. (Installation shot at right.) The negatives run from the early 1910s through to the 2000s, with most of the works from the 1930s-1950s; the prints are a mix of vintage and more recent prints. The following photographers are included in the show, with the number of images on view in parentheses:
Roger Catherineau (2)
Georges Dambier (3)
William Klein (3)
Jason Langer (1)
Jacques Henri Lartigue (1)
Jean Moral (4)
Louis Stettner (1)
In the back office alcove, 6 black and white images by Chip Hooper (waves and surf) are also on view. These images are either 20×24 or 26×32, in editions of 25 and 10 respectively.
Comments/Context: Since we live so close to New York and always have a plethora of gallery shows of photography to see at any one time, it's easy to forget that there are out of the way galleries in smaller towns across the Northeast that are also worth a visit. KMR Arts is located in Washington, CT, about two hours from the city, up in Litchfield County. Settled in a Colonial house in the middle of the village, it is the opposite of the cold, white cube we are so used to; the rooms are warm and inviting, sized for regular people and intimate works of art. But unlike the traditional program for a local gallery (local artists, decorative calendar art etc.), KMR has developed a strong program of photography, as evidenced by its recent show of Lillian Bassman (which we unfortunately missed, but was reviewed by the NYTimes, below) and by the current show of Paris fashion and glamour images.
Most of the works on view are images of French women posing in the streets of Paris, artfully arranged to accent the line of a coat or the drape of a dress, or printed in negative tonalities to add a Surreal touch. The abstract Catherineau photograms are therefore an unexpected inclusion; and yet, when placed in the context of the graphical elements of the fashion compositions, there is a surprising resonance. All in, the small show is a well edited mix of the known and unknown, with just a hint of the avant–garde, likely a good mix for a clientele that comprises both transplanted New Yorkers and locals.
Collector's POV: The prints in the show are priced between $1200 and $20000, with most in a range between $2800 and $5500. The Chip Hooper images in the back are priced between $2000 and $6000. While these fashion images don't fit into our particular collecting regimen, I was certainly pleased to see a thoughtful show of well selected French photography buried in the wooded hills of Connecticut.
Rating: * (one star) GOOD (rating system described here)
Transit Hub:
Paris à La Mode
Through November 28th
KMR Arts
2 Titus Road
Washington Depot, CT 06794