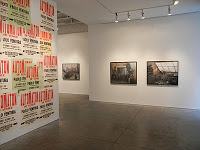 JTF (just the facts): A total of 16 large scale color photographs, framed in back and unmatted, and displayed in the entry and first two gallery spaces. The works are digital chromogenic prints from two new series: The Automaton (made in 2010) and Behind the Walls (made in 2011). There are 11 works from The Automaton and 5 works from Behind the Walls. The prints come in two sizes: 30×40, in editions of 3 for images from The Automaton and 5 for those from Behind the Walls, and 40×50, in editions of 5 for both series. All of the works on display are shown in the large size. A slim monograph of The Automaton has recently been published by Peliti Associati (here) and is available from the gallery for $35. A 40×30 poster from The Automaton is also available for $50. (Installation shots at right.)
.
Comments/Context: Paolo Ventura's new work continues his meticulous exploration of self-contained photographic fiction, drawing from his own childhood memories of 1940s Italy and transforming them into evocative historical stories. Using realistic hand crafted dioramas and miniatures as his subjects, he constructs images that are nostalgic recreations of place and time, with period details and doll-like characters who inhabit the set-ups. With each successive project, his pictures have become more immersive and painterly in style, creating fantasy narratives that are evolving toward the feel of carefully sequenced children's tales.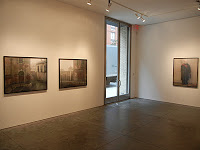 In The Automaton, Ventura locates his story in Fascist Venice during the occupation by the Nazis and the last deportation of Jews. To keep himself company, an elderly watchmaker builds an automaton in his dingy, clock choked, attic apartment. Nearby store fronts and book stalls are closed, canals are stagnant and foggy, trash and abandoned items are strewn across small piazzas, and a few lonely souls wander the streets or flee from the rooftops. Ventura's Venice is soot stained and muted, executed in a melancholy, desaturated palette and enveloped in a misty, foreboding silence. There is little or no action taking place – the images are entirely descriptive and atmospheric, and the emptiness of the city is eerie, weighed down by a thick greyness.
These images are certainly among the contemporary "best of breed" in terms of technical image construction. And Ventura's memory-driven approach has been consistently successful at delivering images with understated emotion. What's different here is that this new story is even darker than the drab, gritty carnival world of his previous series, Winter Stories. The childlike wonder of those pictures has been replaced with more adult themes in these new works, and a stronger undercurrent of uncertainty and despair now runs throughout the narrative. Ventura is still exploring the boundaries of the staged photographic narrative, and as his craft is being perfected, the historical subject matter is becoming more layered and moody.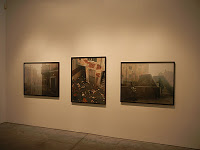 Collector's POV: The works in the show are each available in two sizes: the 30×40 prints are $7500 and the 40×50 prints are $11250. Compared with the photographer's show of similar imagery last year, this is a meaningful increase in price. Ventura's work has very little auction history. Recent prices have ranged between roughly $4500 to $16000, but given such a thin secondary market, gallery retail is likely the only real option for interested collectors at this point.
Rating: * (one star) GOOD (rating system described here)
Transit Hub:
Through October 15th
537 West 24th Street
New York, NY 10011