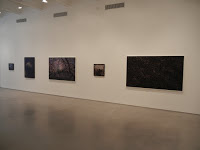 JTF (just the facts): A total of 13 large scale color works and 1 video installation, alternately framed in white or black and not matted, and hung in the main gallery space (with a closed off viewing room in the back for the video). All of the works (both single images and diptychs) are either archival pigment prints or c-prints mounted on dibond, ranging in size from 14×16 to 51×80. The works were made in 2010, and have generally been printed in editions of 8 (there are 3 works printed in editions of 6). The video is a dual channel HD video projection with sound, made in 2011. (Installation shots at right.)
Comments/Context: My first reaction upon walking into Ori Gersht's new show was that Japanese cherry blossoms have to be one of the most classic and therefore overdone subjects that an artist might tackle. Not only is there the backdrop of centuries of Japanese art depicting these specific trees in bloom, but plenty of famous photographers have more recently brought their own unique perspectives to the blush of pale pink in springtime. Whether the angle is the renewal of life and the turning of the seasons or the fragility and grace of the flowers and their symbolism of innocence and natural beauty, this is subject matter that has been discovered over and over again, perhaps not exhausted, but certainly not unexplored.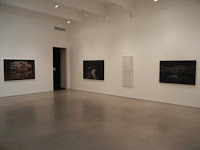 Gersht's images of the trees in bloom are surprisingly dark and almost sinister. Taken at night, they have a peculiar glow, where the light catches the petals against a muted, enveloping evening. Up close, many are turned into distorted impressionistic clusters of pink and blue dots, where pixelated texture breaks the image down into tactile gestures. Wider landscapes have familiar compositional hallmarks (a tree branch or gnarled trunk isolated for effect), and yet the scenes seem almost nightmarish in their otherworldly flash lit silence; nearby, swaths of floating petals covering the water become nearly abstract. In all the images, simple ephemeral beauty has been found to have an ominous almost desperate side hiding underneath.
Without the knowledge of the backstory provided by the press release, I would never have known that Gersht was influenced by the trees' symbolism for kamikaze pilots from World War II, or by the location of some of the specimens in Hiroshima's irradiated soil. Given these narrative hooks, the menacing quality which has been drawn out starts to make more sense. While the surreal mood (and coloration) is obvious, I doubt that one could discern the military connections without some help. That said, and although not every image is startlingly memorable, Gersht has successfully infused this subject matter with a more complex set of emotions than is normally associated with the cliche of lovely spring flowers.
.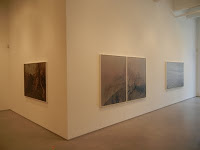 Collector's POV: The single image prints in the show are priced between $8500 and $25000, with the largest of the diptychs slightly higher at $30000. Gersht's work is not consistently available in the secondary markets; prices for the few lots that have sold at auction in recent years have ranged between $3000 and $17000. As such, gallery retail is likely the best option for interested collectors at this point.
.
Rating: * (one star) GOOD (rating system described here)
.
Transit Hub:
Through June 24th
CRG Gallery
548 West 22nd Street
New York, NY 10011