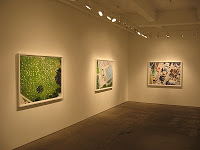 JTF (just the facts): A total of 7 large scale photographs, framed in white with no mat, and hung in the main gallery space. The archival pigment prints are sized 45×61 or reverse, and are available in editions of 6+2. All of the works were made in 2007. Signed monographs are available from the gallery for $75. (Installation shots at right.)
.
Comments/Context: Given the long history of iconic New York photographs, deciding to take on the challenge of seeing famous New York landmarks in an original way takes a certain kind of artistic confidence. What more can really be said about Times Square, the Flatiron Building, or Coney Island?
.
Italian photographer Olivo Barbieri has been making aerial photographs of famous world cities since 2004. Using a tilt-shift lens, his bird's eye images of recognizable architecture have been transformed into real-life architectural scale models, or tabletop toy set-ups with ant-sized people. The lens provides a shallow depth of field, so much of the image is semi-blurred, leaving only a small area of sharper focus where the detail is crisp ("selective focus"); the effect is to render reality with more impressionistic flair.
.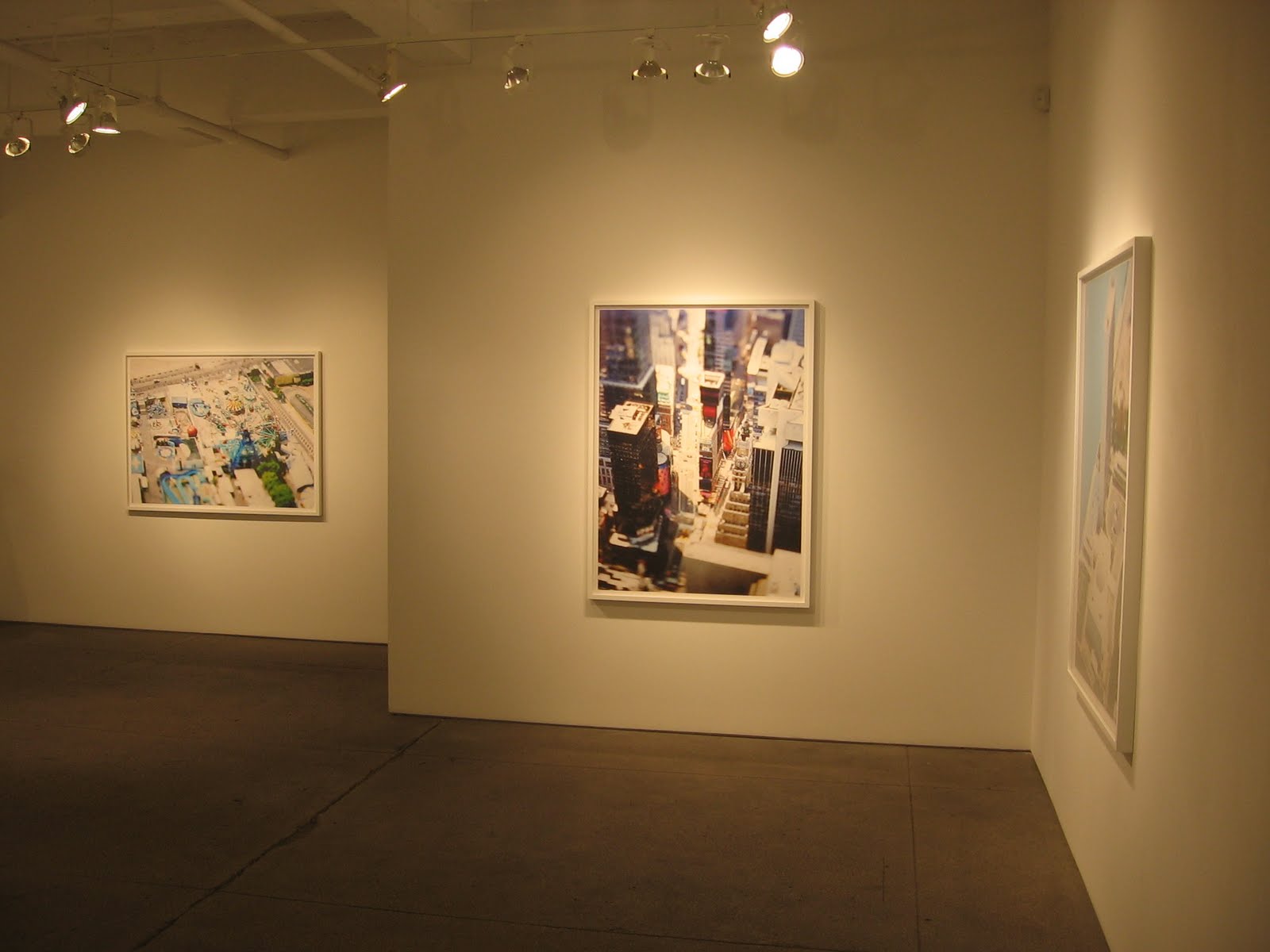 Barbieri's images of New York city make many of our hackneyed subjects seem fresh once again. I particularly enjoyed the vibrant swath of green of Sheep's Meadow, where the crowd of sunbathers on towels has become a blur of blinding polka dots. The amusement park rides of Coney Island are another highlight, the playful colors and shapes restyled into a swirling mass of interconnected lines. The roof garden of the Met is likely the least known scene on display, with its pyramidal striped roof and irregular geometric hedge.
.
While the novelty factor is always high for me with tilt shift photography, I wonder a bit about what lies beneath the decorative fun. Perhaps the answer is that these images so radically alter our common perception of a place that we are forced to see it with new eyes, in the process discovering details and nuances that we had wholly overlooked.
.
Collector's POV: The works in this show are priced at either $19700 or $23700. Barbieri's photographs have very little secondary market history, so gallery retail is likely the only option for interested collectors at this point. Another contemporary photographer who has embraced the use of a tilt-shift lens is Naoki Honjo (here).
.
Rating: * (one star) GOOD (rating system described here)
Olivo Barbieri, site specific_NEW YORK CITY 07
Through May 28th
Yancey Richardson Gallery
535 West 22nd Street
New York, NY 10011