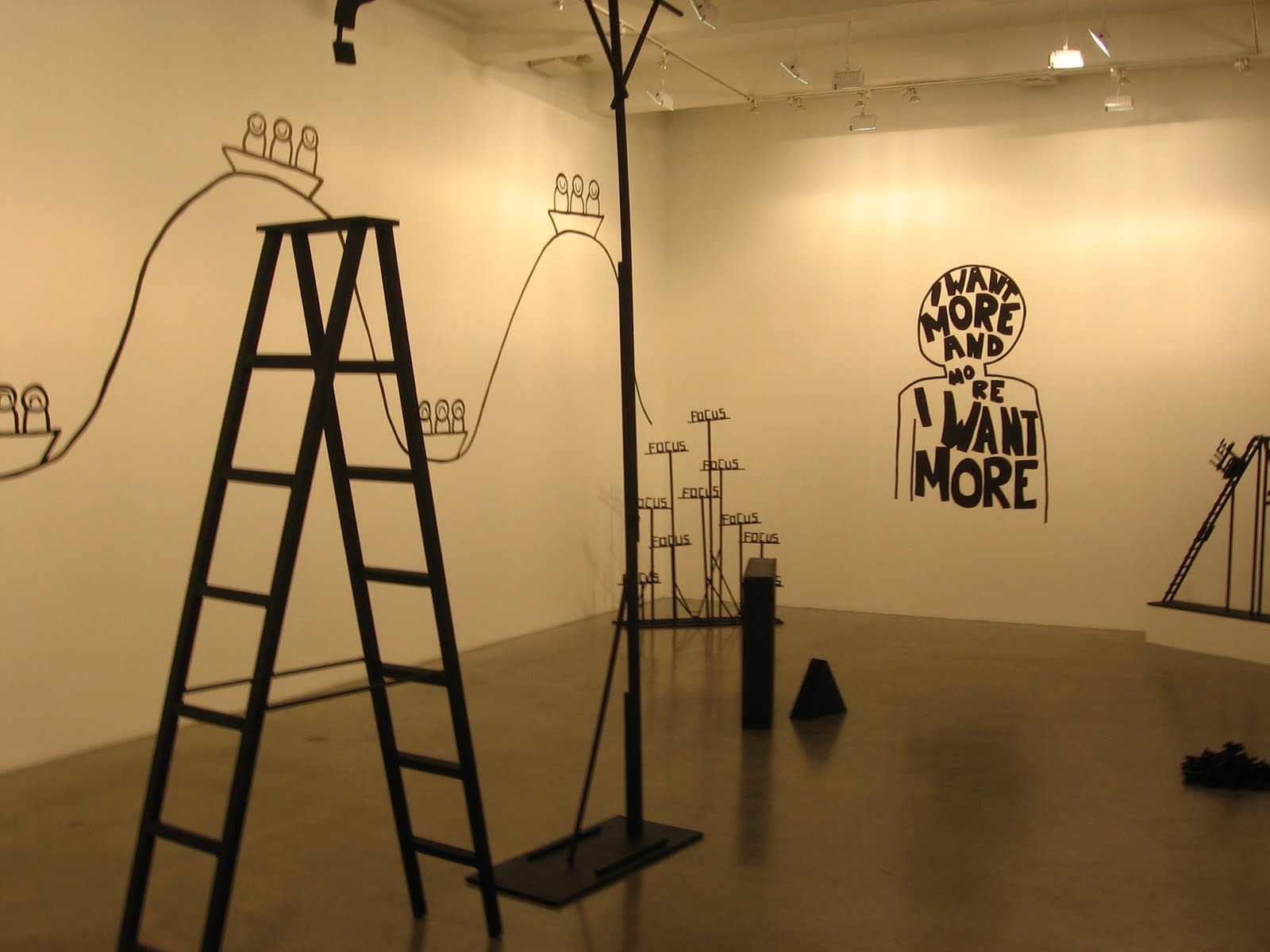 JTF (just the facts): The entry and first two large gallery spaces are filled with Breuning's monochrome wood sculptures and wall drawings. The third gallery contains the photography: a total of 11 color images, spotlit and hung against black walls. Eight of the works are framed in black with no mat; they are printed in editions of 3 and are all 25×33. The other 3 works are much larger (each 62×77, also printed in editions of 3), and are framed in white with no mat. All of the images are c-prints mounted on sintra and were made in 2009. (Installation shots at right.)
Comments/Context: While the main attractions in this playful exhibit are Breuning's quirky, childlike sculptures and wall drawings, the real reason I came was for the photography (no surprise there I'm sure). In these images, Breuning has been experimenting with paint in primary colors (red, blue, yellow, and green), laid against contrasting black and white backgrounds; the photographs are documents of the results.
.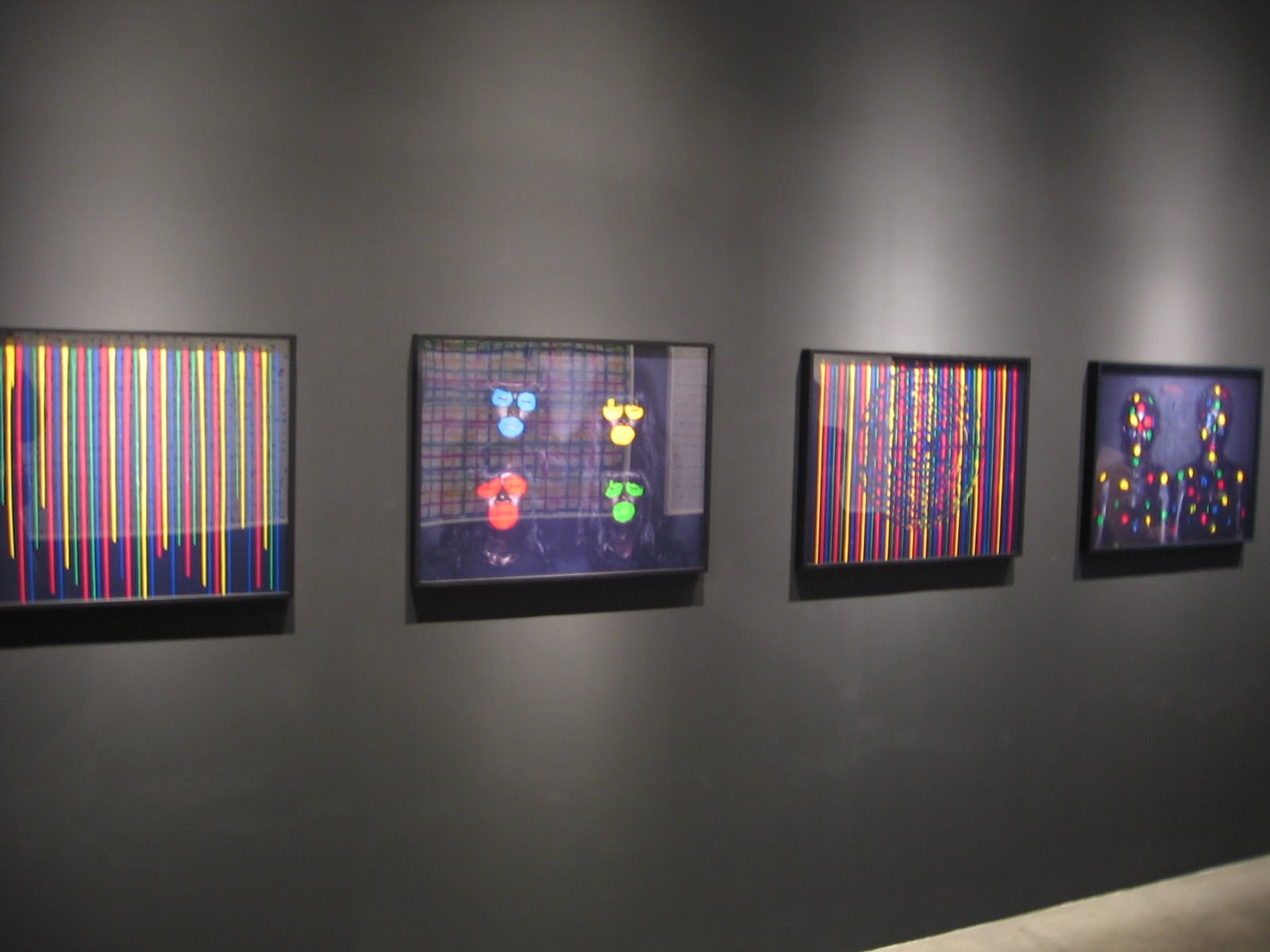 The smaller images in the show all begin with a black palette and indistinct black backgrounds. Many use models painted/clothed entirely in black (with black hair/wigs) who are then variously splattered with blotches of the primary colors. There are alternately colored painted faces (eyes and mouths), figures covered in paint ball polka dots, a reclining nude with bold stripes poured over her body, and model moving her arms like a snow angel, smearing the colored paint across the wall. The interleaved images are long stripes of dripped paint in alternating colors, one with a series of concentric circles scratched in the center. The final black-based image depicts bubbles, flying through lights in the same four primary colors.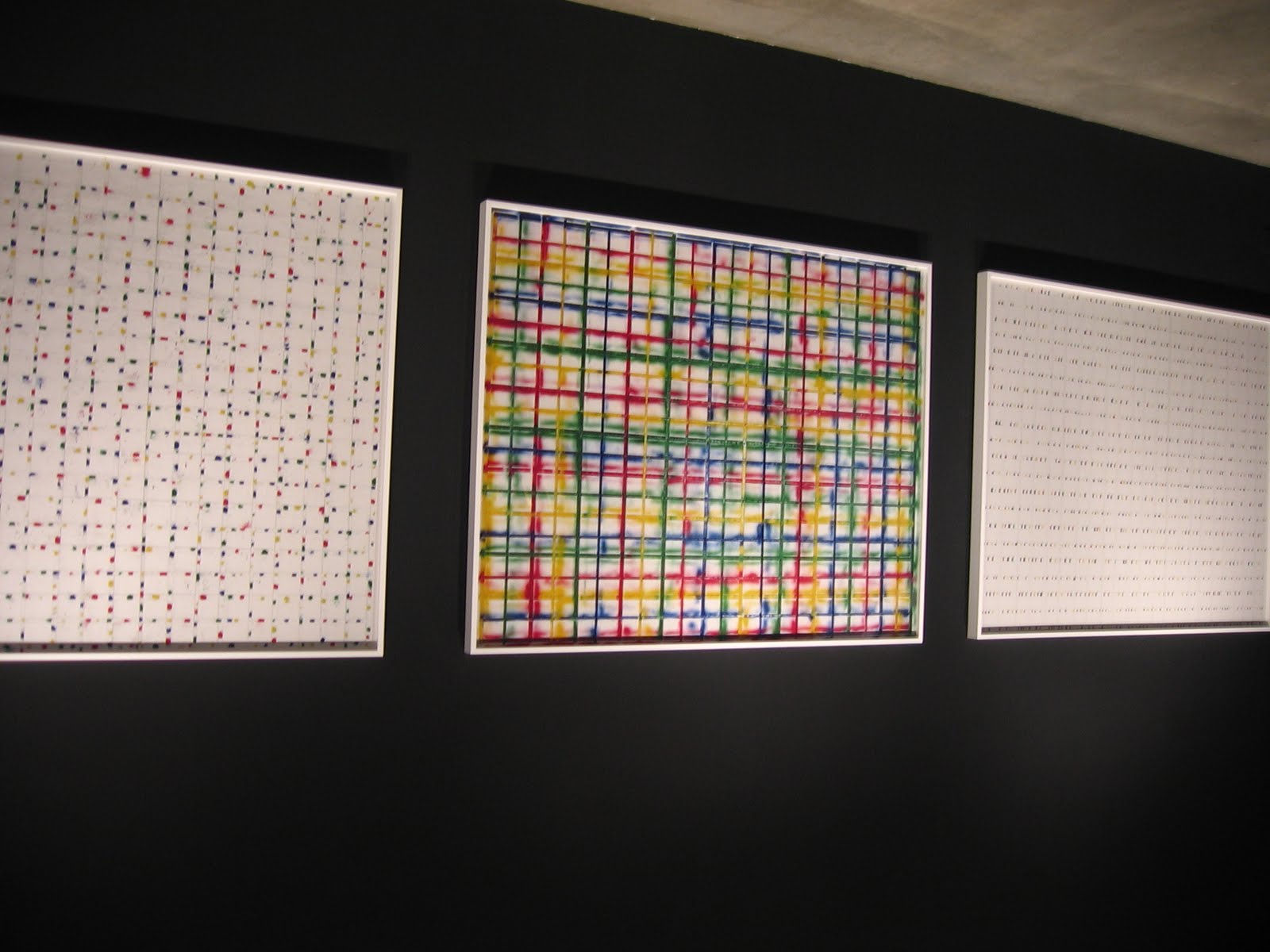 The larger works are all variations on the idea of a geometric wood grid, painted white against a white background wall, and then sprayed and splattered in bright color, either by painting in horizontal lines (creating a plaid, interwoven effect) or by dripping blobs of color onto the grid (as seen from both the front and back). To my eye, these abstractions are reminiscent of the energetic all-over feel of Mondrian's Broadway Boogie Woogie (here), and are generally more successful than the black pictures.
Breuning calls these photographs "color studies", and indeed, that's what they feel like – explorations into the nature of color and how it reacts in different situations. The bold and patterned images are light-hearted and fun, just like the wild sculptures and striking drawings in the nearby galleries.
Collector's POV: The photographs in this show are priced based on size: the smaller ones are $8000 and the larger ones are $15000. Breuning's photographs have been only intermittently available in the secondary markets; prices have ranged between approximately $1000 and $5000.
Rating: * (one star) GOOD (rating system described here)
Transit Hub:
Olaf Breuning: Small Brain Big Stomach
Through December 5th
Metro Pictures
519 West 24th Street
New York, NY 10011