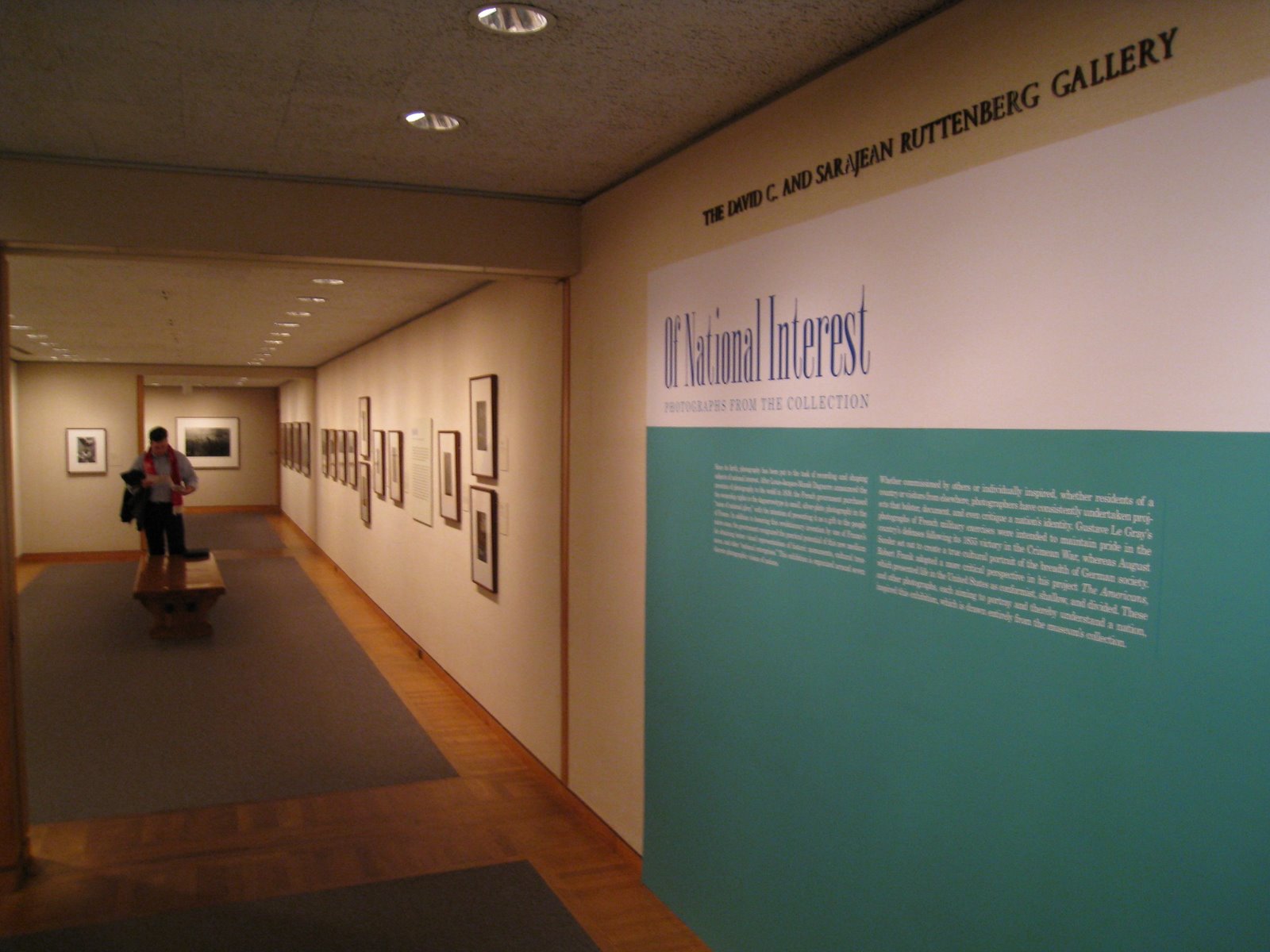 JTF (just the facts): 53 images, divided into 7 separate groups by photographer and "nation", displayed in three small connecting rooms on the museum's lower level. (Installation shot at right.) Images range from the mid 1850s through the 1990s and span albumen prints, photogravures, gelatin silver prints, and color prints. The seven thematic groups include:
Gustave Le Gray (5 images) France
Alexander Gardner et al (8 images) United States Civil War
Edward Curtis (7 images) The North American Indian
Robert Frank (12 images ) The Americans
August Sander (11 images) People of the 20th Century/Germany
Gilles Peress (5 images) Northern Ireland
Raghubir Singh (5 images) India
Comments/Context: If there was one overarching theme that dominated this year's unprecedented election cycle in America, it was that our nation had somehow lost its way, had forgotten what it was that had made us great, and was in need of profound frame-breaking change (in countless large and small ways) to lead us back to ourselves. Perhaps it was the fact that we had drifted so far off course that the decisions determining our path forward elicited such energy and action by the people at large. It was time to reconsider and remake the idea of our nation.
Given this dialogue going on all around us, this timely exhibit at the Art Institute chronicles how different photographers over the life of the medium have taken on the task of depicting a nation. The question then becomes, what do these pictures tell us about the general topic of nations and national character? What lessons do they show us as we consider our own direction?
Some of the "nation" projects in this exhibit have become icons of photography: Robert Frank's incisive portrait of 1950s America, August Sander's meticulous categorization of the German people, Edward Curtis' collective portrait of the vanishing American Indians. As such, they are so familiar that they have lost a little of their freshness in terms of bringing forth new ideas. (That said, this many great vintage images from these three series are exhibited so rarely that they are still wholeheartedly worth seeing.)
The two 19th century series (Le Gray and Gardner) fail to elicit much about their respective nations. They tell us about soldiers, and wars, and life around these one-dimensional activities, but they don't lead to many conclusions about the national characters that underlie the marches and conflicts. The two most recent series in the exhibit (Peress and Singh) are the most though provoking, and left us wishing there had been more images in these two groups (it's hard to draw an even rudimentary portrait from 5 images each). The Peress images of "The Troubles" in Northern Ireland are big, dark pictures, brimming with action and emotion. The Singh images of India are saturated with color and cultural contrasts. Both seem to capture well the hidden and not-so hidden vignettes and identities that make a nation unique.
In all, while the exhibit itself is a bit uneven, the idea underlying it (whether we can know and capture the spirit of a nation) is one well worth exploring. Perhaps some other 19th century projects could have been explored (Beato's Japan?), or left out entirely in favor of two additional 20th century bodies of work.
Collector's POV: While none of the work in this exhibit fits our particular collection, we certainly enjoyed seeing the excellent Frank and Sander vintage prints. And books by Peress and Singh will certainly be added to our photo library in the near future, so we can educate ourselves about their work more fully.
Rating: * (one star) GOOD (rating system described here)
Of National Interest: Photographs from the Collection
Through January 11th
Art Institute of Chicago
111 South Michigan Avenue
Chicago, IL 60603