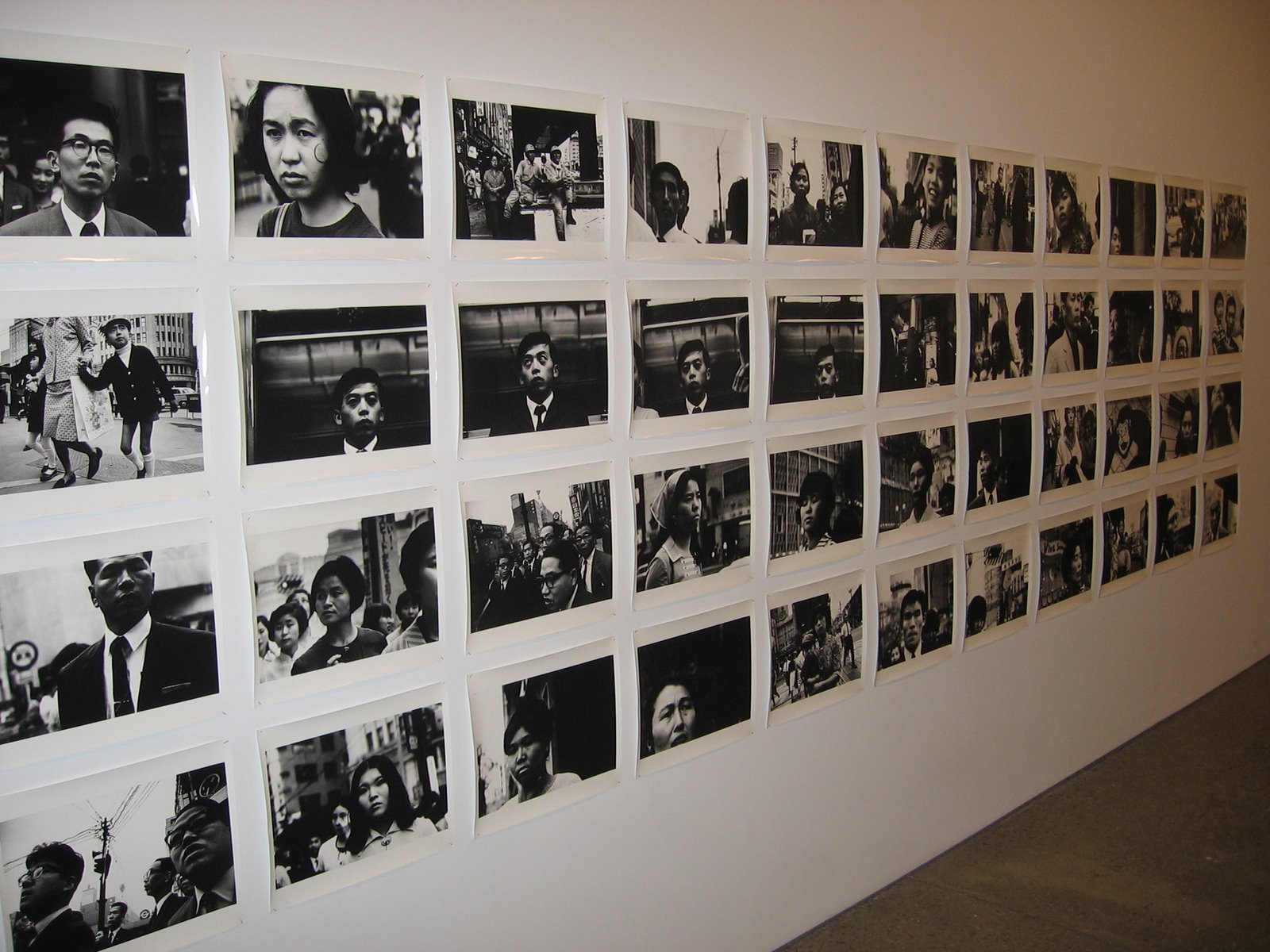 JTF (just the facts): A total of 305 black and white prints from three different projects, displayed in the main gallery space. Ginza (1963-1972) is comprised of 212 prints, each 14×17 or reverse, pinned directly to the wall, shown in three large grids. Subway (1963-1972) includes 80 prints, each 8×10, pinned behind plexiglass but not framed, arrayed in small series and groups along one wall. Untitled (1970) is made up of 13 small prints (5 1/2×4 1/2), framed in brown and lined up on an interior wall. (Installation shots at right: Ginza, top, Subway, middle, Untitled, bottom.)
Comments/Context: Japanese photographer Nobuyoshi Araki has been making provocative and challenging pictures for nearly 40 years. His erotic nudes and bondage photographs, along with his sensual painted flowers, have often been called shocking and outrageous, sometimes even pornographic. He is one of the most productive and prolific photographers of all time, producing literally hundreds of books of his tantalizing work.
The exhibit of
Araki's
work currently on view at Anton Kern goes back to the beginning of his career and examines some of his first projects from the 1960s and 1970s, before he fully embraced his mature style. Here we find him shooting roll after roll on the streets and in the subways, testing framing techniques and camera angles. The
Ginza
series, taken on the streets of the fashionable shopping district, are mostly contrasty head shots and tight close ups, dark and indirect. He captures his subjects in both traditional and Western dress, with a sense of style that is reminiscent of William Klein. There are plenty of shadows, but these streets are not gritty, they are
glamorous
. And while not every shot is a winner on its own, as a group, the images show an evolving working style and energetic eye, telling a well rounded story of this particular place and its people.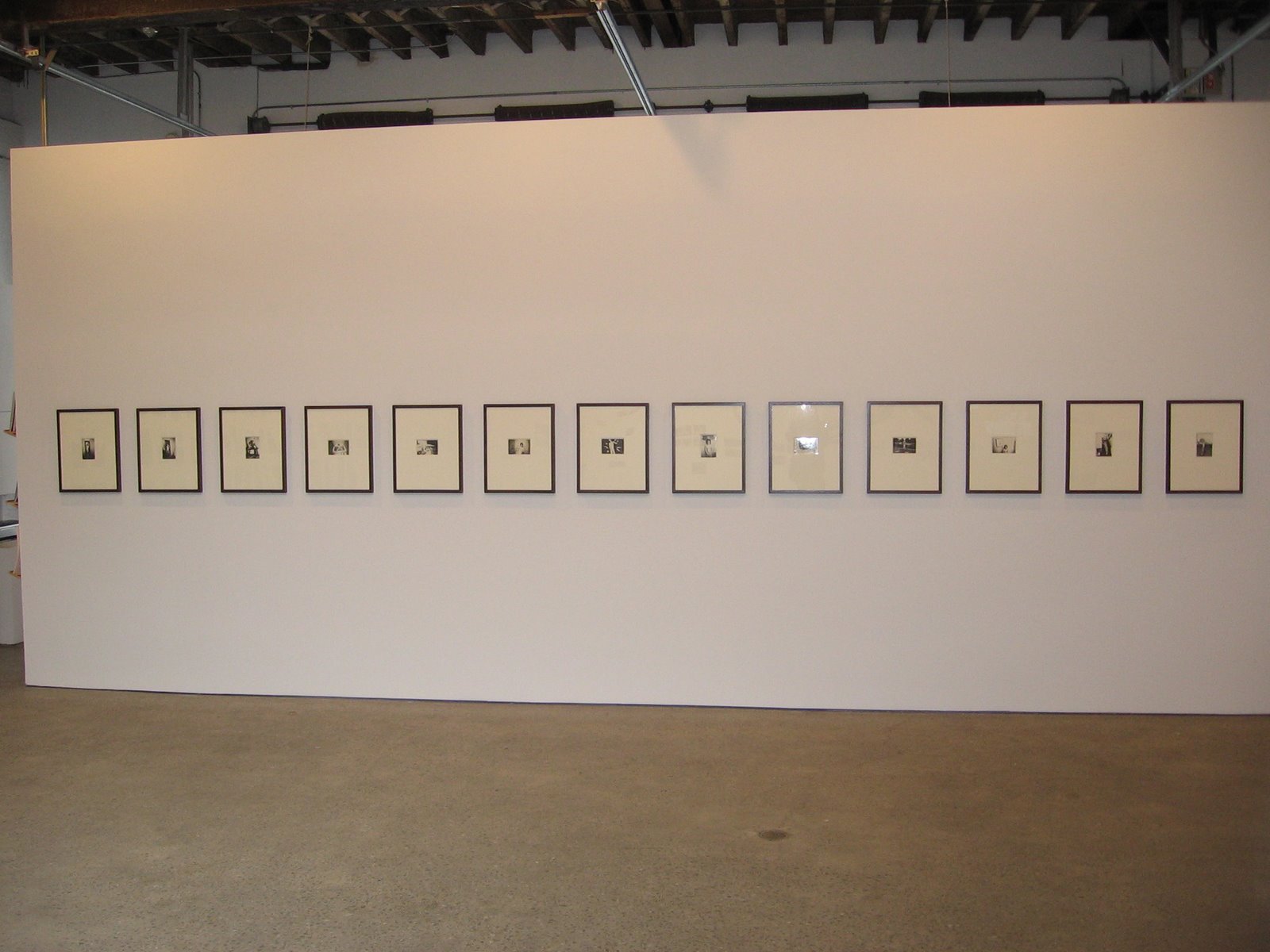 In the Subway pictures, Araki follows in the footsteps of Walker Evans, shooting multiple frames of bored travelers and commuting salary men riding the crowded trains. These pictures have more narrative to them, displayed in groups of several images, allowing the viewer to watch a scene unfold over a short time window. The Untitled images show us the beginnings of Araki's more erotic vision. In these pictures, the same thin framed woman, with an oval face and big round eyes reminiscent of an anime character, is photographed in various nude poses, from demure to direct.
This exhibit broke many of my preconceived notions and pigeon holes for Araki's work and made a compelling argument that his talents are much broader than generally perceived. Even if you are not a fan of Araki's more recognizable images, this is a well constructed show that brings forth some thought provoking historical precedents for his later work.
The artist's website (in Japanese) can be found
here
.
Collector's POV: The Ginza images in the show are contemporary prints, retailing for $4400 each. The Subway series images are also contemporary prints and are $2800 each, sold individually and/or in groups of up to 8. The Untitled images are unique prints, $3300 each. Given that Araki has been so prolific, his work is readily available in a variety of secondary markets. At auction, his larger works are generally selling for under $10000, most for less than $5000. We have even seen Araki's one off Polaroids of nudes and flowers on EBay, going for under $500. Many of his books have become collector's items as well, fetching $1000 and up for the rarer titles. For our particular collection, we have been tempted to put together a small grid of Araki's painted flowers, especially those in wild colors.
Rating:
** (two stars) VERY GOOD (rating system described
here
)
Through February 7
532 West 20th Street
New York, NY 10011
More
Araki
at Modern Art Obsession
here
.