JTF (just the facts): A single large work, made up of 1050 transparent color positives, each approximately 2×3 inches with black borders, displayed together edge to edge in a large 2 panel array, between two panes of glass and framed in stainless steel. The work was made in 2007. The array is displayed in a very small, windowless, single room gallery. While I didn't get exact dimensions, the piece is approximately 6×10 feet, and viewable from both sides. (Installation shot below.)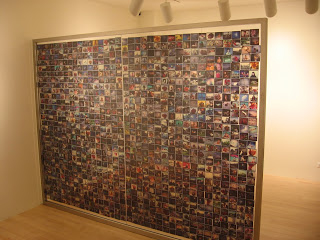 Comments/Context: Nobuyoshi Araki is undoubtedly one of the most prolific photographers in the history of the medium. Given his propensity to expose roll after roll, it is perhaps not unexpected that at some point he would move beyond the single picture and explore new ways to display multiple images simultaneously. Rather than composite them digitally, Araki has used a decidedly old school approach: take the color positives themselves and sandwich them between glass.
The individual images themselves span the range of Araki's signature subjects: nudes, geishas, bondage scenes, flowers, and lizards, mixed together with Tokyo city scenes, nights of karaoke, and cloud filled skies. The effect of seeing all of these pictures crammed together is to conclude that Araki's approach borders on the manic, an endless repetition of similar ideas coursing through his head. The sequencing creates waves and rhythms, where the dozen or so subject matter types cycle past over and over, all in vivid color.
Overall, this work left me conflicted. On one hand, Araki's artistic vision is so unique and unusual, this kind of object could not possibly be made by anyone else. It is provocative and challenging and often beautiful. On the other hand, I had the uneasy feeling that Araki has fallen into a rut, taking the same pictures he's been taking for years now, without many new explorations or innovations. We've seen this Araki before, only now it's been multiplied by 1000.
One practical problem with this work is that, as installed, the images at ankle level and below are nearly impossible to see without sitting down on the floor (which I eventually did). Similarly, if one were to suspend it in the air so the lower images were more visible, the higher images would then be out of reach. Since the work doesn't resolve into anything but a mosaic of pixels at any kind of distance, one needs to get up close to inspect the individual images, but somehow the sizing isn't quite right to make that easy.
One additional side note: the Yoshii Gallery website has no mention of this exhibit (and seems dated/unmaintained), but don't be confused by this. The work is indeed on display, even if it is poorly advertised.
Collector's POV: The work on display in this show is priced at $450000. A similar though smaller work from the same series, A/Film #2, 2006, sold at Phillips London in 2008 for £90500.
Rating:
* (one star) GOOD (rating system described
here
)
Transit Hub:
Review of this show: ArtSlant (here)
NY Times T Magazine video interview with Araki (here)
2009 show at Anton Kern, review by DLK COLLECTION (here)
Nobuyoshi Araki, A/Film
Through June 26th
New York, NY 10075