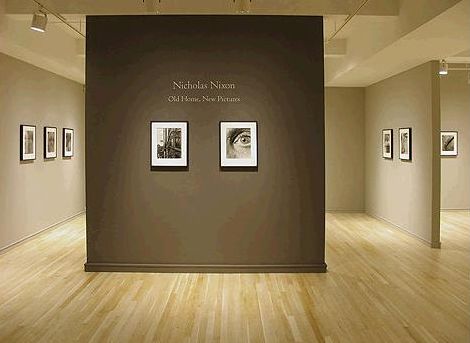 JTF (just the facts): A total of 30 black and white prints, framed in black and matted, and hung against grey walls in the entry and two main gallery rooms. The prints are 11×14 gelatin silver contact prints, in editions of 10, made from negatives taken in 2008-2009. A monograph of this work is scheduled to published by Steidl in 2010. (No photography is allowed in the galleries, so the installation shot at right is via the Pace/MacGill website.)
Comments/Context: I'm pretty certain that if we asked a decent sized group of collectors what they know about Nicholas Nixon, nearly all of them would come up with The Brown Sisters. While it is wonderful for Nixon that this particular series has become so popular, I think that those images have inadvertently sucked away all of the attention from his other bodies of work, many of which deserve more recognition.
The new works on view in this show at first seem unrelated: close-up fragmented self portraits and dense elevated images of Boston city buildings. Yet the way these prints have been installed (in groups of similar subject matter, then interspersed, or in pairs of opposing subjects), there is a subtle interplay and connection between the two, creating a back and forth resonance that enhances both sets of pictures.
The self portraits recall the extreme cropping of Brandt's portrait of
Giacometti
(
here
). Nixon seems to have begun exploring this idea back in the late 1990s, when he was making a series of family images; this new project takes the idea much further. Here, Nixon has rigorously scrutinized every inch of his own face, analyzing its contours and folds with an amazing purity of vision. He has made various pared down images of a single eye, evoking different moods simply through the angle of approach; the white whiskers of his beard have become a field of crisp spiky grasses; his mouth has become a yawning dark abyss; an ear, an eyelash, a shirt button, and a ring all become become spare identifiers.
The city images are full of two dimensional juxtapositions of brick and glass, old and new flattened into planes of patterned windows and architectural details. Shadows and reflections provide further contrast; fire escapes and steel skeletons provide geometric repetition. Unlike Nixon's broader views of Boston and New York from the 1970s or more recently from the Big Dig, we are now much closer in, looking with unadorned clarity at how the details of the city are changing.
So thus, the connection between the two bodies of work becomes more clear: Nixon is examining the effects of aging (a topic he has addressed in other ways previously), both on himself and on his hometown. Like all of his work, these images are subdued in their emotions, lucid in their construction, and executed with exacting technical perfection. All in, this show is a tremendous reminder that exciting new work can still be made within the confines of the black and white traditions nearly everyone else has left behind.
Collector's POV:
The prints in this show are priced at $3500 each. Nixon's work comes up at auction fairly regularly, generally ranging in price between $1000 and $7000. The images from
The Brown Sisters
are always at the top end of this range (even in editions of 50), while his other work is much more reasonably priced. Nicholas Nixon is represented on the West coast by
Fraenkel
Gallery in San Francisco (
here
).
While I think several of the self portraits are the strongest images in this show, there are quite a few city scenes on view that would also fit nicely into our particular collection.
Rating:
** (two stars) VERY GOOD (rating system described
here
)
Transit Hub:

Through October 24th
32 East 57th Street
New York, NY 10022