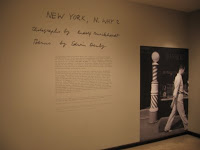 JTF (just the facts): 24 framed diptychs, consisting of 67 black and white images, 6 poems, and an excerpt from the New Yorker, mounted to unbound album pages (almost like a scrapbook). Displayed in three small back rooms, behind the current British prints show. All of the images are from 1937-1940. (Installation shots at right.)
Comments/Context: The 1930s were an exciting time for photography in New York city. Berenice Abbott was doing her Changing New York series. Walker Evans had his seminal American Photographs show at the MoMA. Margaret Bourke-White, Helen Levitt, Weegee, and Andre Kertesz, among many others, were all working around town. The combined output of these great photographers has given us a memorable portrait of the city and its inhabitants at that time.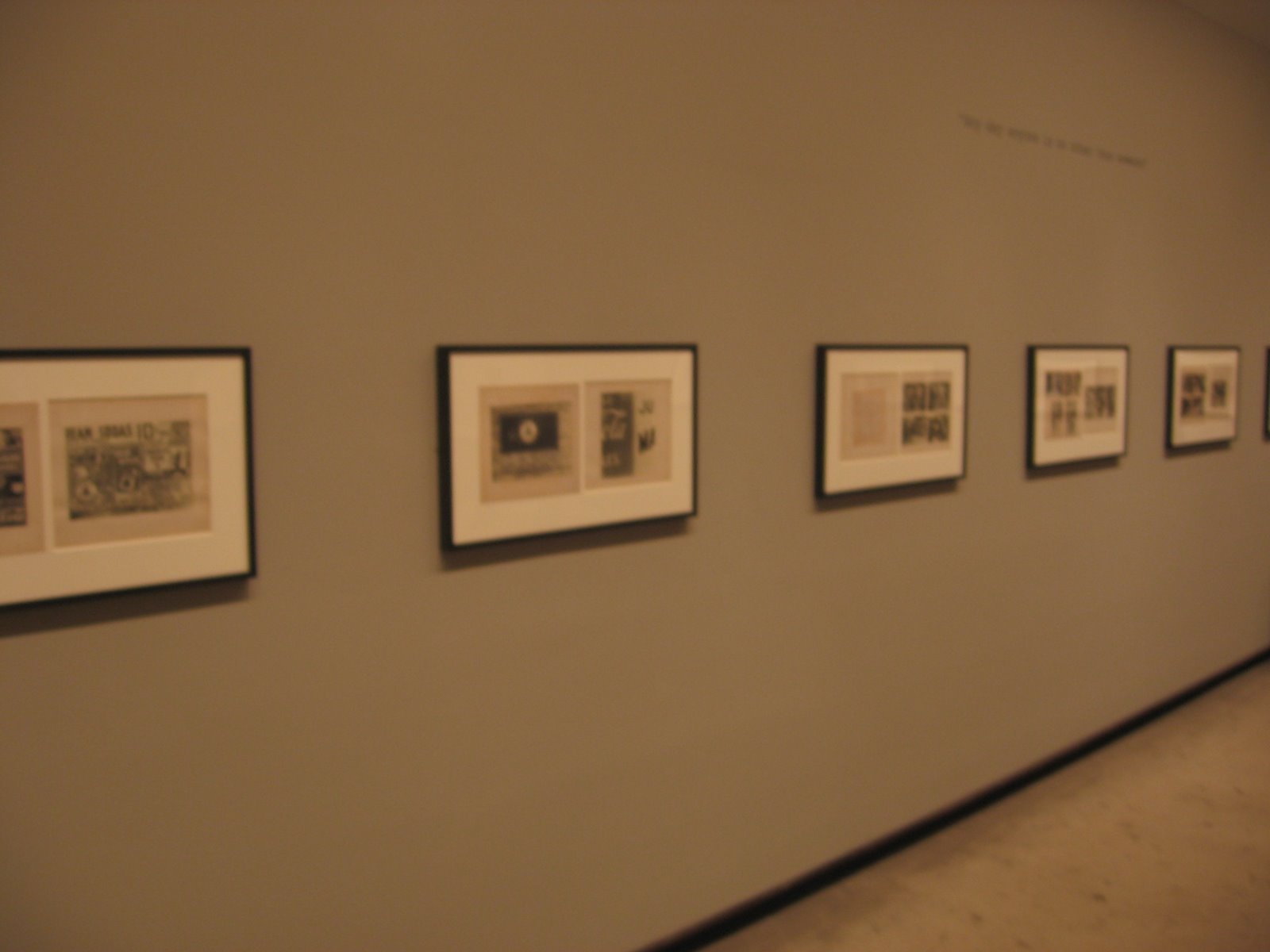 Rudy Burckhardt emigrated to the US from Switzerland in 1935 and found himself taking photographs in New York at this same time. Burckhardt selected a group of his images, paired them with poems by his then roommate, Edwin Denby, and put together a self published portfolio of work, called New York, N. Why?, which has been unbound and shown in full in this exhibit. The slim volume is divided into three sections: Part 1 which is focused on architectural fragments, walls, and stand pipes, Part 2 which depicts storefronts, advertising and commercial signs, and Part 3 which shows pedestrians from various angles. It is clear that these images were selected and sequenced very carefully, as the structure of the work as a whole is very crisp and defined.
An easy conclusion from scanning these images is that there are plenty of echoes of Abbott and particularly Evans, and that Burckhardt was a talented, but basically second tier practictioner. And even if that is the ultimate verdict on this work, I found a surprising number of excellent images in this show, and a strong, but subtle point of view in these seemingly plain photos that is indeed different from those who were working with the same material at the same time. The walls and stand pipes of the first section are much more pared down, abstracted and austere (the influence of Mondrian discussed in the essay seems right on), and the best images of signs, storefronts and bodegas of Part 2 are direct, bold and graphic, without being heavy. In Part 3, I liked very much the low angle shots of feet and sidewalks, especially those with manhole covers or the embedded patterns of circles as part of the composition. While not every image is a winner on its own, together they show intriguing patterns quite successfully.
Collector's POV: While we are city scene collectors, we haven't spent much time on Burckhardt to date. There doesn't seem to be much of his best vintage work moving around in the secondary market, and I certainly haven't seen many of the images in this show anywhere for sale in the past few years. But I will say that I came away from this show with renewed respect for Burckhardt's work and its verifiable difference from others of the same period. I can now absolutely imagine adding a Burckhardt to our collection, should we come across one of the best from this series out in the open market. As a small, tight show, it's well worth a visit.
There is also an amazingly faithful page-by-page reproduction of the album (containing all the images and poems) available from Nazraeli Press, with an essay from Met curator Doug Eklund. Reading the fine print, you'll discover our friends at JGS once again supporting a high quality photography show/book.
Rating:
** (2 stars) VERY GOOD (rating scale defined
here
)
Through January 4th
1000 Fifth Avenue
New York, NY 10028