JTF (just the facts): On one side of the gallery, 21 chromogenic prints, each approximately 40×50, negatives from 2006-2008. On the other side, 5 larger than life size color portraits (each approximately 80×60), negatives from 2006. One wall, behind several of the portraits, is covered with printed color wallpaper with a silvery reflective backing. 3 mixed media installations (glass cases/shelves) and 2 additional color works (negatives from 2008) complete the group.
Comments/Context: Back in 1985, the MoMA began the process of putting on a show of new photography once a year. Each year, it has been a chance to step away from the established masters and recognized stars to explore what is happening out on the bleeding edge, and to ask some questions about how the medium is evolving and where it might be going. It's an opportunity for the curators to step out a bit and let us know what they think is important, and given the preeminence of this particular museum, we tend to pay attention.
In contrast to shows past where a handful of photographers have been presented, this year there are only two: Josephine Meckseper and Mikhael Subotzky. This structure inevitably leads to a comparison of the two (who doesn't walk out of the gallery and ask their friends which one they thought was "better"?). This is particularly hard and potentially misleading, since these two bodies of work could hardly be more different.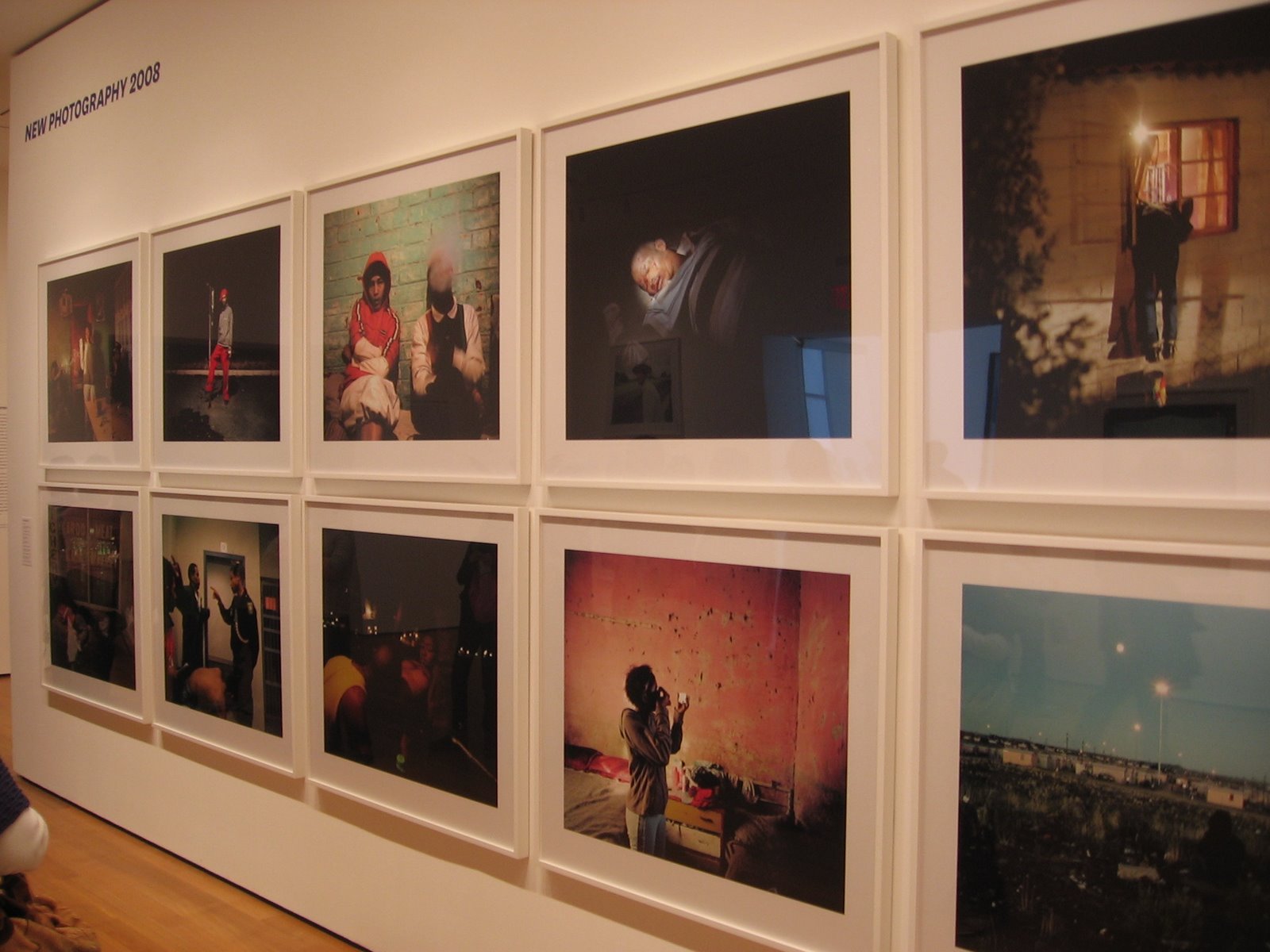 Subotzky's work is rooted in the traditions of photojournalism and documentary photography. His images chronicle the life in and around the Beaufort West Prison, located in a desert area of the Western Cape in South Africa. The pictures are consistently strong in their storytelling, their use of color, and their contrasts. (See installation photo at right.) I was particularly moved by the images of a surreal man in a Spider-Man mask striding through a staggering trash heap (Samuel, Vaalkoppies, 2006) and the one of a prisoner taking a nap on a bench near a wall painted to look like the desert outside (Jaco, Beaufort West Prison, 2006), but the work is well made across the board.
The intersection of the ideas of art and photojournalism has always been a puzzle for me. We now call the work of Walker Evans, Margaret Bourke-White, Weegee and many others "art", and yet virtually all of this work was done at the time in the context of commercial photojournalism. Where do these areas overlap? Is it merely a function of time and quality, such that if the images are strong and enough time goes by, the work that was once commercial is now art? Are the thousands of digital images on a documentary photographer's hard drive in Iraq today (only a handful of which were used by any major news outlet) the great art of our times?
I like Subotzky's work and I imagine he will have a long and fruitful career as a photojournalist. That said, we have seen pictures of prisons, and racism, and poverty, and helplessness before. My take away from his work is less therefore about him and more about what his work tells me about the state of the medium. My conclusion is that even in today's 24-hour news cycle, always on, YouTube world, there are still stories to tell about our world that are going unnoticed and unreported and that are worth hearing. And that even in a digitally manipulated, airbrushed and increasingly cynical environment, the truth still matters.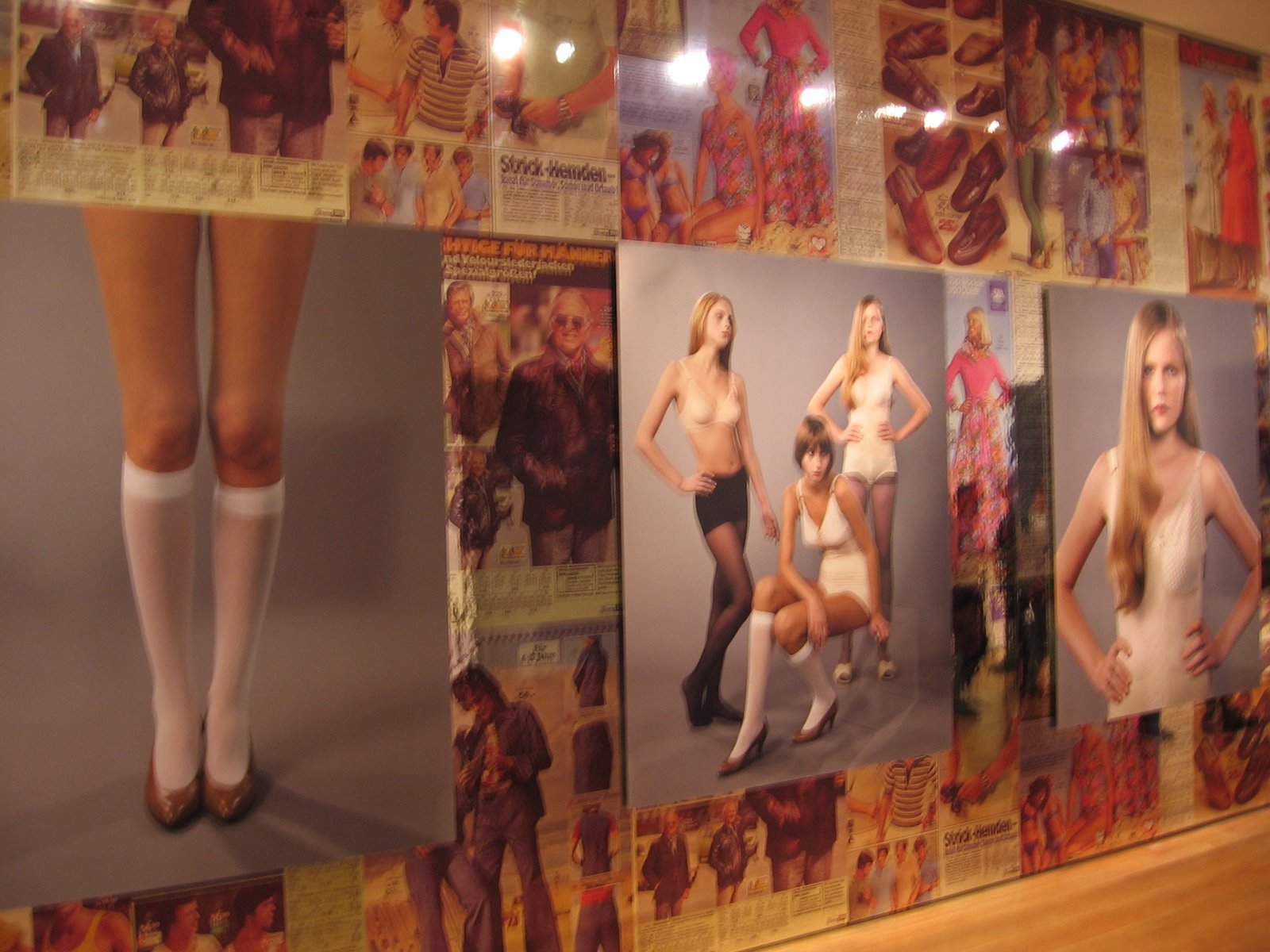 As you cross the gallery into Josephine
Meckseper's
side, a visual assault takes place. The photos are huge, the wallpaper is shiny and colorful, and the whole scene seems carefully managed. (See installation photo at left.) It would be pretty hard not to grasp the conceptual commentary on advertising and consumerism that is throughout this work (it is delivered with a sledge hammer). And yet, I didn't come away with much that I found new here. We've seen plenty of appropriation art over the years (Warhol, Prince etc.) and plenty of reworking of advertising into fine art, and while this installation did have a subtle Eastern bloc feel to it that was a little different, it just didn't seem particularly novel I'm afraid. There are plenty of references to "political" themes in the press release and wall text, but these were lost (to me at least) in the other messages being sent.
What this tells us about the state of photography is not clear. Perhaps it is an acknowledgment that contemporary artists are more and more using the camera as one of a whole toolbox of implements to make their art, thereby blurring the lines of what "photography" is. Perhaps it is a commentary on the saturation of images that we have come to see as normal, and the undercurrents of what those images represent.
Collector's POV: Neither of these photographers fits into our personal collection in any way. But it is absolutely worth going to see this show, both to see the specific works and to understand the themes these selections represent and how the MoMA is viewing the important trends in contemporary photography.
One last aside: if you get down to the small type of this exhibit, you'll notice that this show was made possible by
JGS Inc.
I recently had a chance to sit down with the folks behind
JGS
and hear about all the projects they are up to. One way to think about
JGS
is that it is a "post collecting" endeavor. While they started as photography collectors, they have moved beyond the hunt for particular images to an all encompassing support of contemporary photography. They are no longer looking back to the past, they are focused on the future, and that future includes sponsoring
exhibitions
, supporting the creation of artists books and DVDs, and the building of their amazing virtual destination, the
Forward Thinking Museum
. Bricks and mortar curators out there should take heed; these folks are out in the unexplored territory, figuring out how technology impacts what a museum might be in the 21st century (and guess what, it isn't a touch screen kiosk in the corner of the gallery). And when they go from 35 or so "floors" of photography exhibits in their museum to 500, they will be reinventing how the Internet generation thinks of photography.
Rating:
* (1 star) GOOD (rating system defined
here
)
.