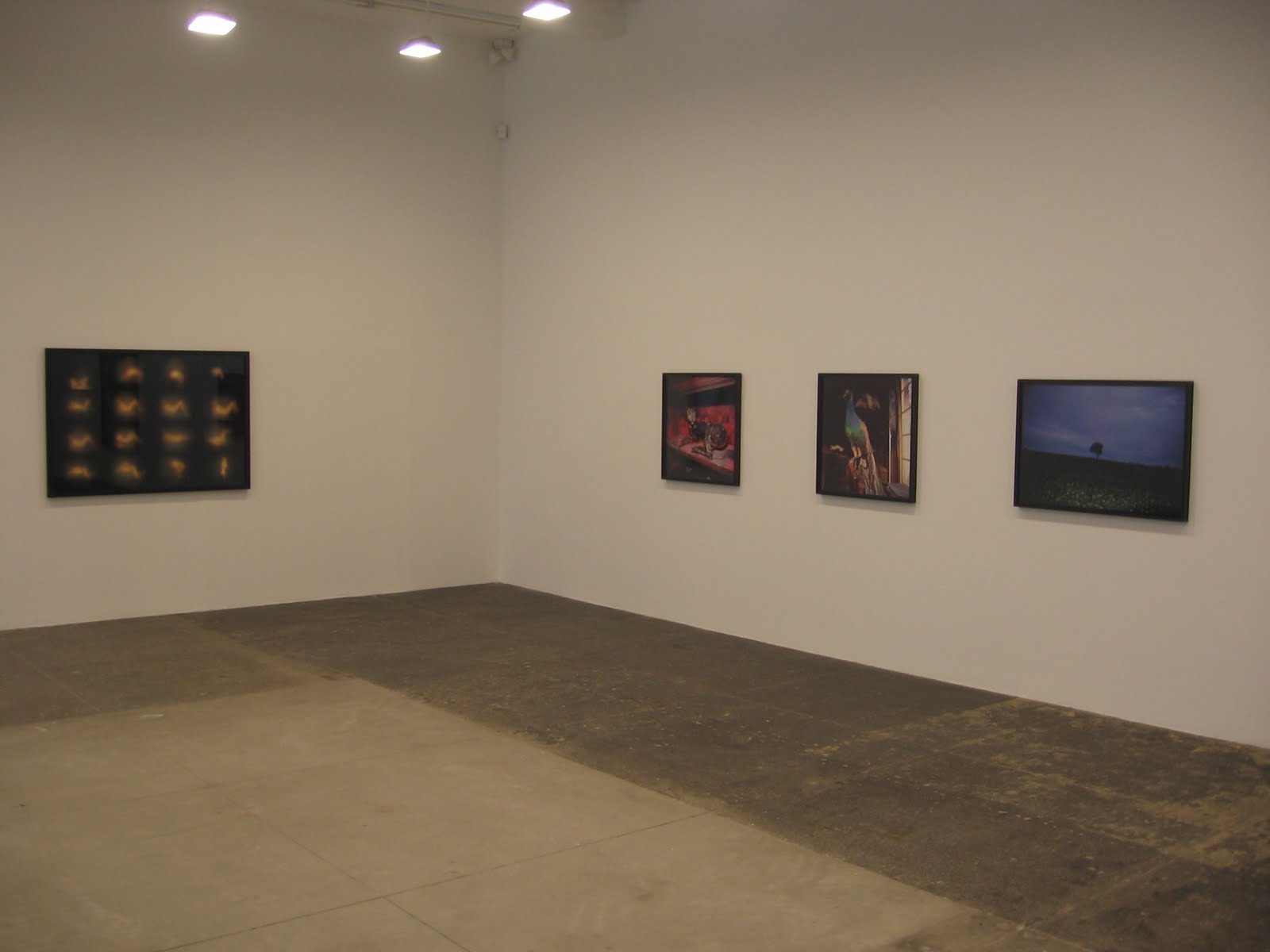 JTF (just the facts): This is a actually broad group show, including the work of Katharina Fritsch, Robert Gober, Nan Goldin, Andreas Gursky, Martin Honert, Charles Ray, and Terry Winters, displayed across the gallery's three Chelsea locations. While there is a single Andreas Gursky photograph (a Dortmund soccer stadium/crowd) on display in one of the 22nd Street galleries, there is a larger sample of Nan Goldin's new work on view in the 24th Street space. There are a total of 8 Goldin photographic works, framed in black without mats, taking up half the gallery area. All of the works are cibachrome prints, made between 2006 and 2010, and printed in editions of 18. Four of the images have physical dimensions of 30×40, the others are either 30×30, 42×60, or 59×66. The two largest works are grids of images, made up of 16 and 9 individual images respectively. (Installation shots at right.)
Comments/Context:
While this is really a sprawling group show of gallery artists (most of them not photographers), I couldn't help myself from taking a quick look at Nan
Goldin's
new work. What's on view is a mini-sampler of ideas: still
lifes
of burned Parisian taxidermy (?), larger grids of images (small ephemeral nudes and layered, multiple exposure people snapshots, displayed in a sequential manner reminiscent her famous slide shows), and a group of strong single images that seem most related to her prior work and familiar aesthetic.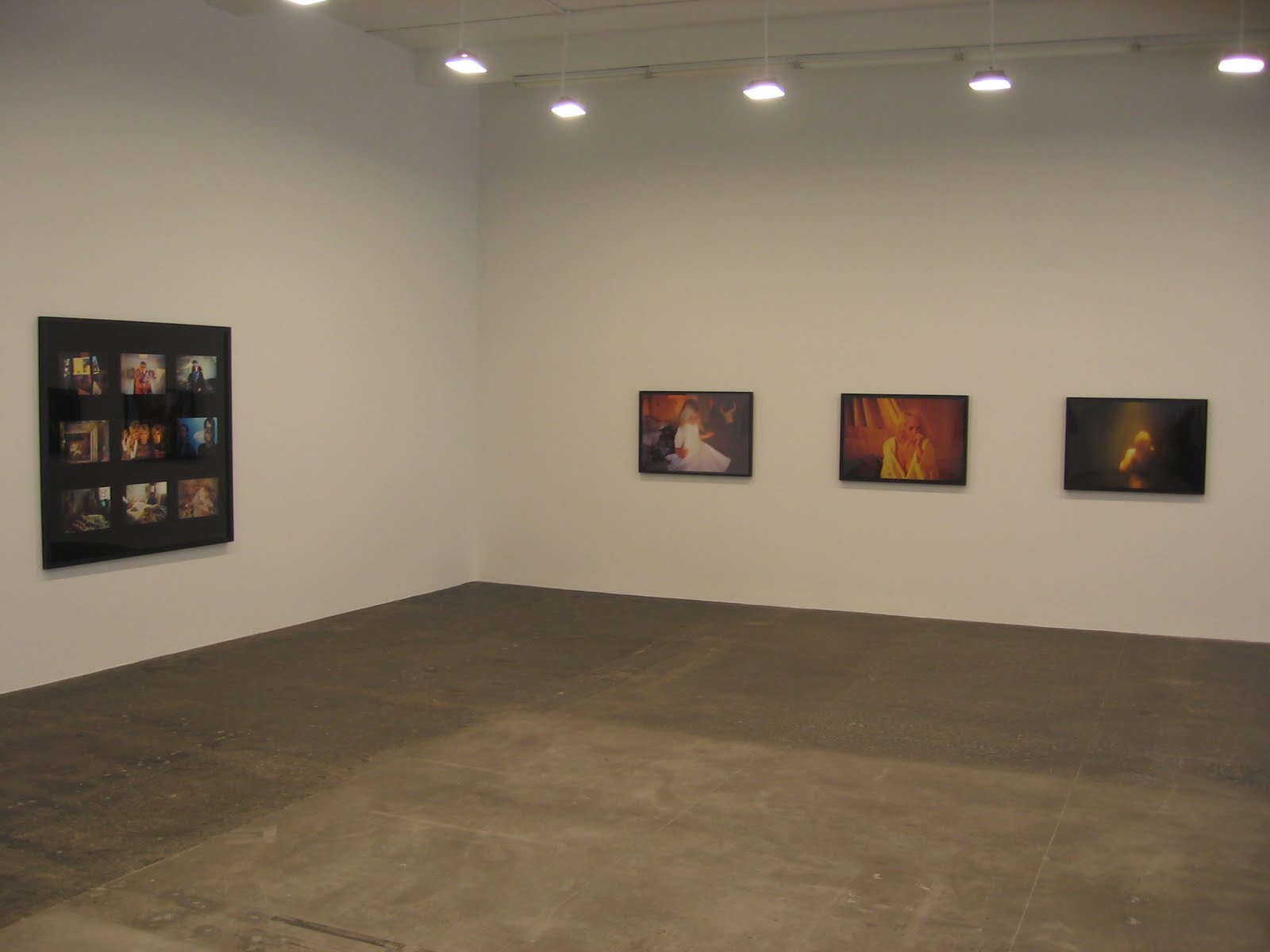 Over the years, one of the things I have come to admire most in
Goldin's
work is her subtle understanding of color. While
Joey as Marilyn
mines emotional territory we have seen before from
Goldin
, the saturated
orangey
yellow that envelops the hotel room heightens the tension of the cinematic moment. Similarly, a single tree landscape might seem thoroughly boring, but this one, taken at twilight with a flash, creates an epic purple blue sky set off by white flowers in the foreground, the evening thick and lush with melancholy color. I think
Ava twirling, NYC
is perhaps the best image in this small bunch. In it, a young girl in a white dress spins in a bedroom, her dress and hair flowing out in a blurred arc of motion; deceptively simple, and yet, perfectly lovely.
While the overall body of photographic work here is a bit disconnected, if you find yourself in the neighborhood, take a moment to climb up the stairs and catch a few of the standouts.
Collector's POV:
The Nan
Goldin
works in this show come in two prices: the two larger grid images at $40000 each, and the smaller images (in varying specific sizes) at $12000 each.
Goldin's
work is regularly available in the secondary markets, with dozens of images available at auction every year. Prices generally range between $2000 and $34000, with larger edition sizes (100+ in some cases) keeping prices down.
Goldin
is also represented by Yvon Lambert in Paris (
here
).
Rating:
* (one star) GOOD (rating system described
here
)
Transit Hub: