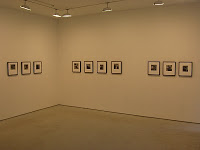 JTF (just the facts): A total of 18 photographic works (including 1 triptych and 1 quartet) and 1 limited edition poster, framed in black and matted, and hung in the single room gallery space. Except for the poster, all of the photographs are square format (no dimensions were given, but each is roughly 8×8) vintage gelatin silver prints. The works are drawn from a variety of projects: Store Front Churches (1958-1960), East Side, Buffalo (1960s), Lower West Side (1967-1973), Triptychs (1970s-1990s) and Quartets (1960s-1990s); most of the images on view come from the Lower West Side body of work. The signed poster comes from the 2007 show at Danziger, in an edition of 50. (Installation shots at right.)
Comments/Context: I think that when the history books are written, Milton Rogovin will ultimately be remembered for his ability to capture the subtle joy buried in the lives of everyday people. Unlike the vast majority of the photography we categorize as "social documentary", his work isn't full of the depressing stares or guarded poses of those being inspected, even though the circumstances in 1960s and 1970s Buffalo, NY, were certainly no rosier than most working class towns in America at the time. Instead, his straightforward, surprisingly formal portraits of ordinary folks have a warmth and authentic casualness, giving the work an aura of genuine and optimistic sympathy rather than indirect critique.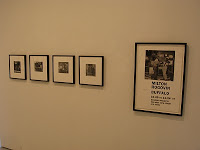 This small show, organized in honor of Rogovin's 100th birthday, brings together a sampler of vintage material from across his long career. The exhibit itself is too small to make a compelling and thorough case for the value of Rogovin's art; instead, it serves as more of a reminder that Rogovin can and should be relevant to today's contemporary photography; his portraits have plenty to teach contemporary artists about how to tell stories with trust and compassion, and can set a good example for how reassuring comfort and real concern can be used to uncover moments of grace in the midst of potentially dispiriting and gloomy environments.
Collector's POV: The prints in this show are mostly priced at $4500, with a few at $5000, $6000, or $7000; the triptych is priced at $10000 (the quartet was already sold) and the poster is $1000. Rogovin's work is surprisingly absent from the secondary markets, given his long career. Only a handful of lots have come up for sale in the past few years, selling between $2000 and $10000, but I wouldn't say this has really been a representative sample of his work.
Rogovin's frontal portraits bear obvious comparison with those of August Sander, albeit with a more funky American feel. I found the triptych which begins with a portrait of a couple (the man sporting a big afro, a turtleneck sweater, and plaid pants with suspenders) and ends with the now older parents surrounded by a gaggle of children of various ages to be a classic American story told in just three images. Rogovin's work also reminds me of Hiroh Kikai's portraits of Japanese temple-goers, where the quirkiness of the individuals comes through with acceptance rather than oblique mockery.
Rating: * (one star) GOOD (rating system described here)
Transit Hub:
Milton Rogovin, In Celebration of His 100th Birthday
Through January 16th
Danziger Projects
534 West 24th Street
New York, NY 10011