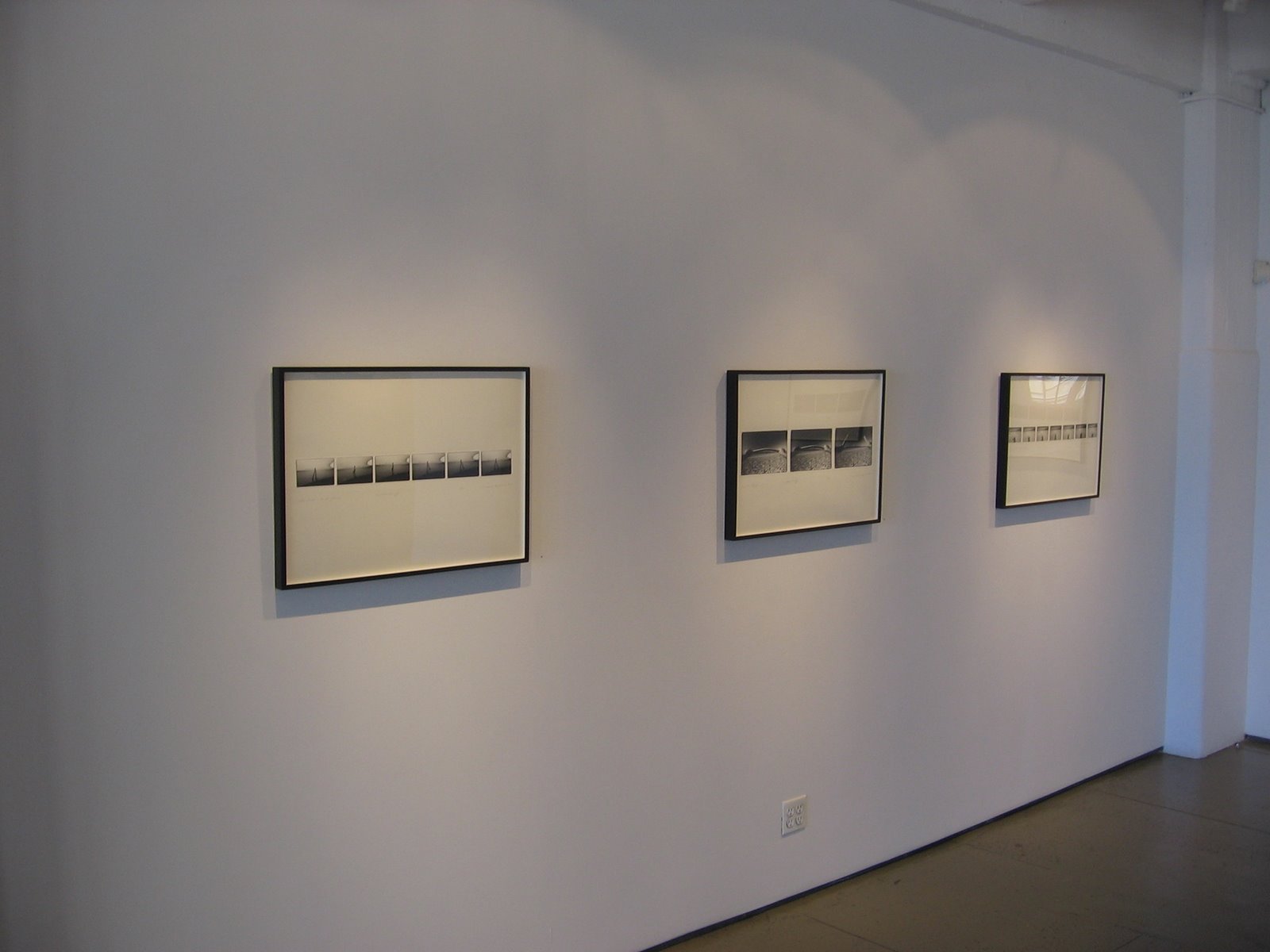 JTF (just the facts): 20 works, each comprising between 2 and 7 images in a series, together mounted on a 20×28 sheet and framed. Negatives ranging from 1977-1982; the prints are vintage. In editions of 25. (see installation shot at right.)
Comments/Context: I have to admit right up front that prior to walking into the gallery, I had zero previous knowledge of the work of this photographer. My experience with conceptual photography is relatively limited, dominated by the work of Robert Cumming (whom I like quite a bit), with a smattering of early William Wegman, John Pfahl, Duane Michals, and a few others thrown in for good measure. So while I have admired this work from afar, keep in mind my general ignorance in these matters as we move forward here.
.
Like the artists mentioned above, Szulc–Kryzanowki's work uses visual tricks and sleights of hand to force us to consider the nature of the medium of photography and of time in particular. These works are playful and surprising, and even though they are staged to generate their desired effects, they seem much less self conscious and earnest than other conceptual work. Perhaps this is a result of their outdoor settings and use of natural materials (shadows, mountains, sand, sticks, surf etc.) as the subject matter of his experiments with angles, perspective, and time dilation. Perhaps the series form lends itself to a single, more simple theme (and variation) being explored. Regardless, there really isn't a weak series in this whole group, and together they provide a clear and novel point of view.
Collector's POV: The works are priced between $4500-7500. My particular favorites include the series of smaller and larger sand dollars held in a hand, the footprints in the sand, and the surf at different times in the same place.
.
I very much welcome the fact that we can have a diversity of viewpoints in the New York gallery scene, so that we are not bogged down with the same ideas rehashed again and again. This show isn't like anything you've seen recently, and even if it isn't what you collect, I am certain that you would find this show thought provoking and entertaining, and overall, well worth your time. It is a good reminder to get beyond comfortable images and expand your experience of all kinds of photography.
.
Rating: * (1 star) GOOD (rating system defined here)
.
Michel Szulc–Kryzanowski, The Early Sequences 1977-1982
Through October 18th
Robert Mann Gallery
210 Eleventh Avenue
New York, NY 10001