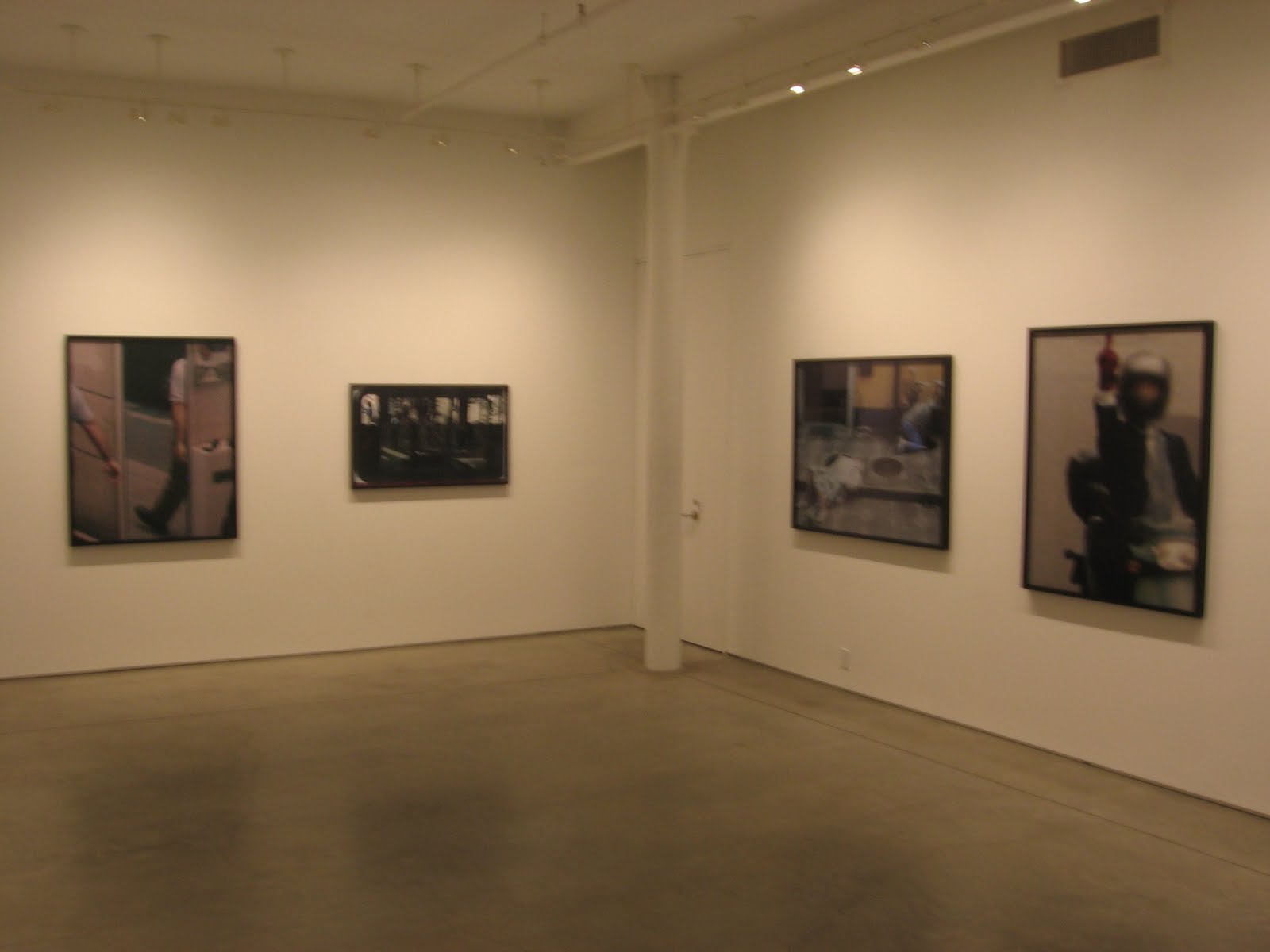 JTF (just the facts): A total of 31 color photographs, each framed in black with no mat, and hung in the reception area, front room, and main gallery spaces. The show is a mini-retrospective of sorts, with images culled from a variety of projects. The following projects are represented, with the number of prints on view and their details in parentheses:
Architecture of Density (1, 48×58, edition of 9+2, 2006)
Night (1, 48×60, edition of 9+2, 2008)
Transparent City (5, 48×60 or 48×64 or reverse, in editions of 9+2, 2008)
Transparent City Detail (2, 50×40 and 34×27, in editions of 9+2, 2008)
Paris Street View (4, various sizes from 27×34 to 60×48 or reverse, in editions of 3+1, 5+2 or 9+2, 2009)
Manhattan Street View (2, 40×50 or 48×60, in editions of 5+2 or 9+2 respectively, 2009/2010)
A Series of Unfortunate Events (5, various sizes from 27×35 to 48×60 or reverse, in editions of 3+1, 5+2, or 9+2, 2010)
Tokyo Compression (11, 42×34 or 10×8, in editions of 5+2, 2010)
All of the works are digital c-prints, except for those from the Tokyo Compression series which are archival inkjet prints. A selection of 13 black and white city views by André Kertész from 1954-1978 (curated by Wolf) is on view in the back room.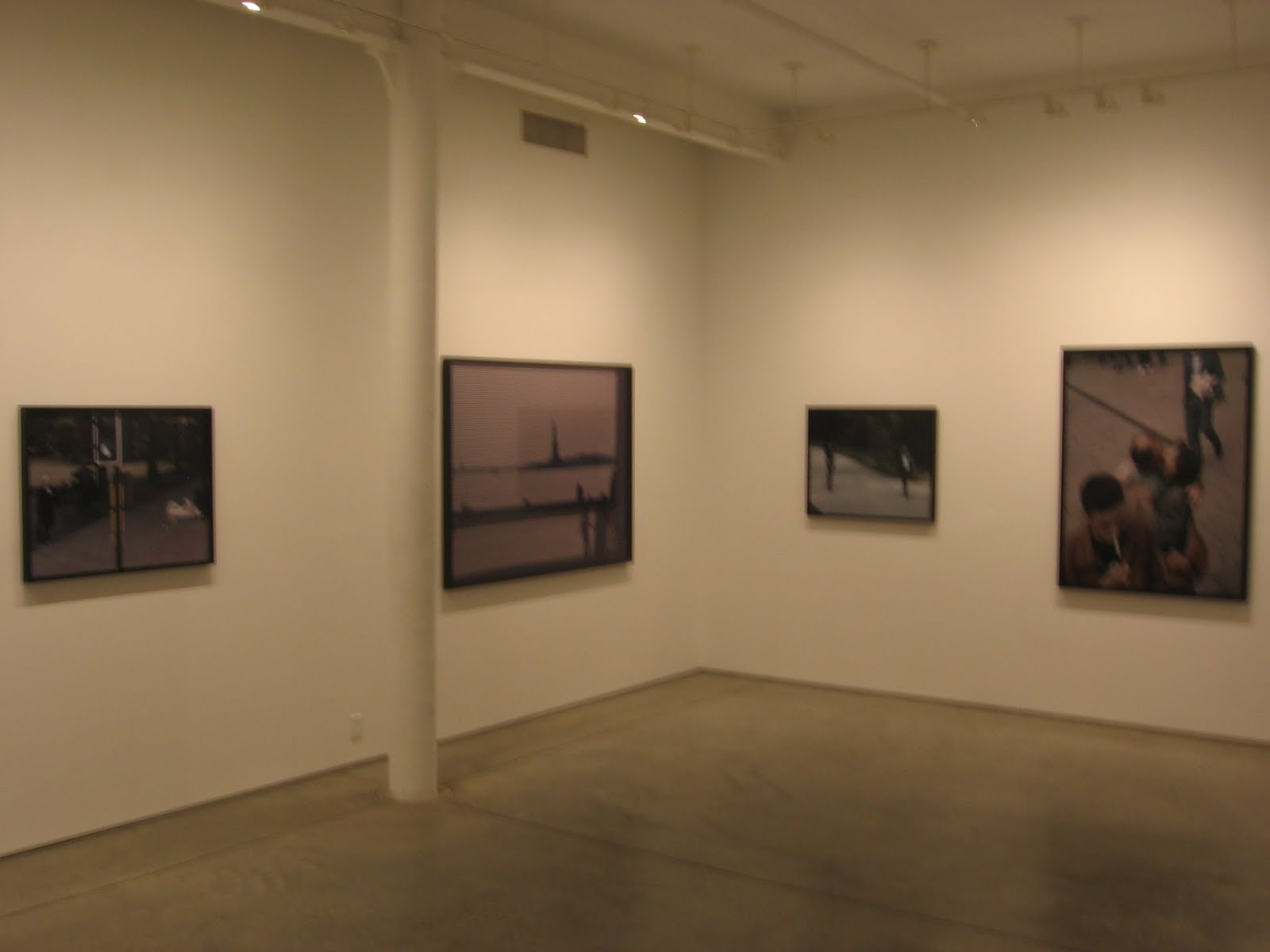 Comments/Context:
Over the past five years or so, the work of German photographer Michael Wolf seems to be on a trajectory toward finer grained detail, moving inward from wide abstracted city scenes of anonymous hives of geometric apartment blocks to specific personal moments found on city streets around the world. Along the way, his images have opened up prickly questions about the pervasive nature of video surveillance and its impact on our evolving definition of privacy, encouraging and exposing our own implicit voyeurism.
In his newest body of work, Wolf has given up the use of his own camera and instead mined the endless stream of digital images being captured by Google's automated car-mounted cameras for its Street View product. While these pictures were taken to document buildings in a relentless block by block manner, given the number of people in these big cities, they consistently, if inadvertently, capture pedestrians and passersby. Wolf has appropriated these robotic photographs and then interpreted them via cropping and enlargement, discovering stolen glimpses of urban life. I found the resulting images random and disconnected: a couple kissing, layered reflections in a bus window and mirror, a man giving the camera the finger, a woman collapsed in the gutter; their durable individual significance was generally lost on me. What I liked best was the fabric of pixelization that covers each blown-up image like a thin screen; the repeated red, green, and blue shards resolve into tiny veiled grids of blocked color, creating an almost Pictorialist textured feel.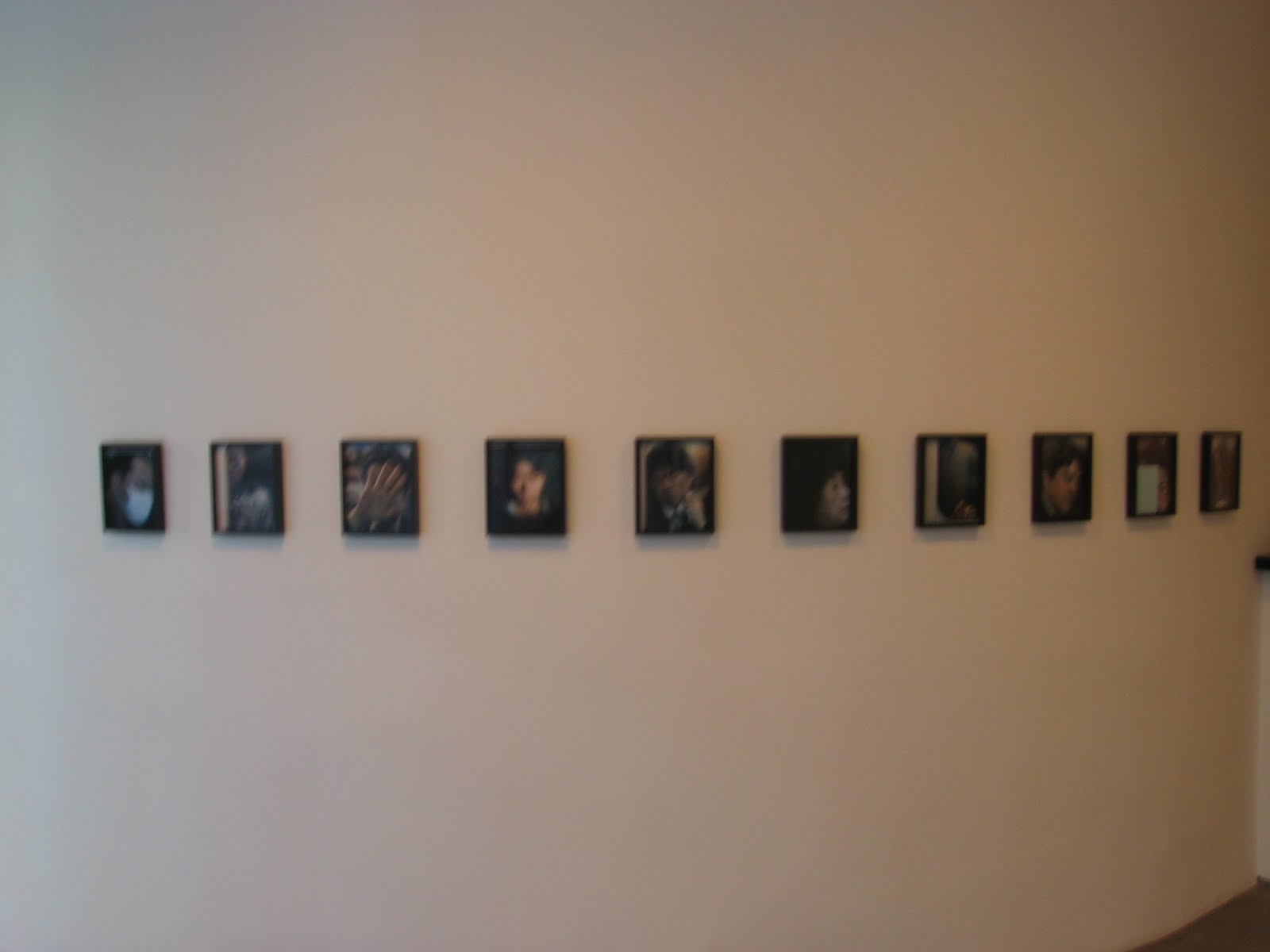 My favorite images in this exhibit were from the new
Tokyo Compression
series, where Wolf has photographed commuters pressed up against subway windows. Faces are smashed against doors, creating fogs of condensation; fingers claw as though trying to break free; people close their eyes or adopt masks of indifference and weary disgust to compensate for the crush of humanity. These images make the breakdown of personal space and the invasion of privacy much more explicit than in the context-free Street View scenes. Here the voyeurism is harsh and physical, and the people protect themselves from the onslaught by closing up.
Taken together, the show sees our world from a variety of distances, forcing the viewer to move back and forth, from close-up to broad scale and back again, always voraciously looking and being watched. I think Wolf's work asks us to consider more fully whether we have entered a 21st century version of Jeremy Bentham's panopticon, where the knowledge of being under surveillance has started to influence our behavior. In many ways, these new images are evidence of exactly this outcome, and it is this unnerving line of thinking that makes this show worth seeing.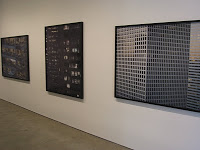 Collector's POV:
The works in this show are priced as follows. The larger prints from
Architecture of Density
,
Night
, and
Transparent City
range between $11750 and $15750. The images from
Transparent City Details
are either $5900 or $9000 based on size. The prints from
Paris Street View, Manhattan Street View, and A Series of Unfortunate Events
range between $5900 to $15750, also based on size. The large print from
Tokyo Compression
is $9000, while the 10 smaller prints from the same series are being sold as part of a set of 30 prints, together $20000. Wolf's prints have only recently entered the secondary markets, with a few large prints from
Architecture of Density
finding buyers between between $20000 and $26000.
.
Rating:
* (one star) GOOD (rating system described
here
)
Transit Hub:
Through December 24th
535 West 24th Street
New York, NY 10011