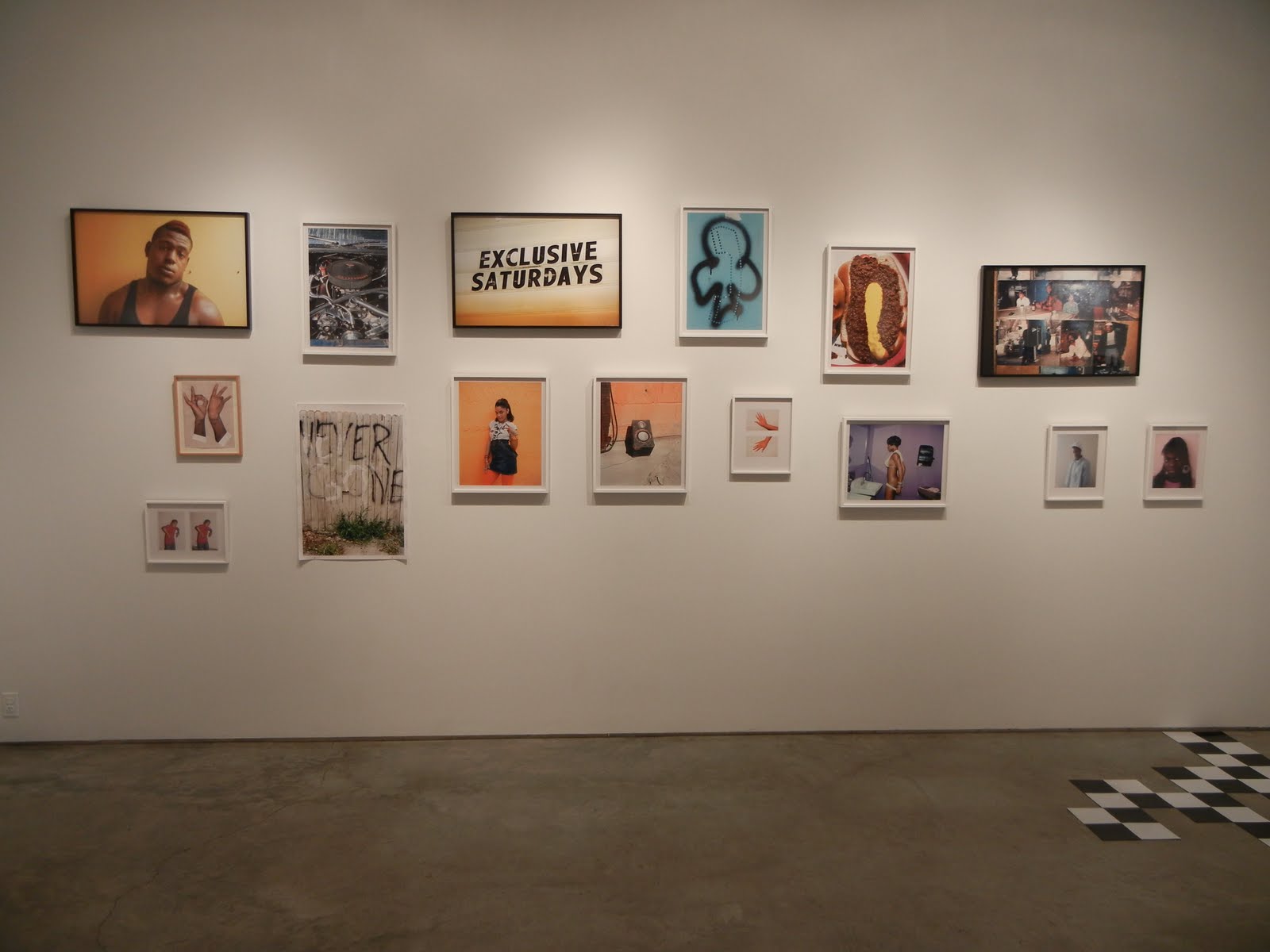 JTF (just the facts): A total of 35 color and black and white photographs, variously framed with no mats (one image is unframed and pinned directly to the wall), and hung in single room gallery space, with a small checkerboard motif in one corner of the floor. The digital c-prints range in size between 11×14 and 20×30, with several of intermediate sizes; many are 15×10 or reverse. The works were made between 2007 and 2010, and are available in editions of 5, regardless of size. There are also 2 unique works made from photographic cut outs mounted to paper; these smaller images are 12×9. A monograph of this body of work was recently published by Chronicle Books (here). (Installation shots at right.).
Comments/Context: If we play a word association game and I give you "Southern photography", I'm guessing that most of you would come back with some combination of Eggleston, Christenberry, and Mann. Michael Schmelling's images of modern Atlanta depict an entirely different South than that of those three photographic masters, a place of raw urban grit and youth-driven hip hop culture. His snapshot aesthetic is a perfect match for the rowdy, brash energy of the place, where scantily clad young women primp themselves in dingy colored rooms and shirtless young men with low-slung beltless pants (prison style) strut and swagger.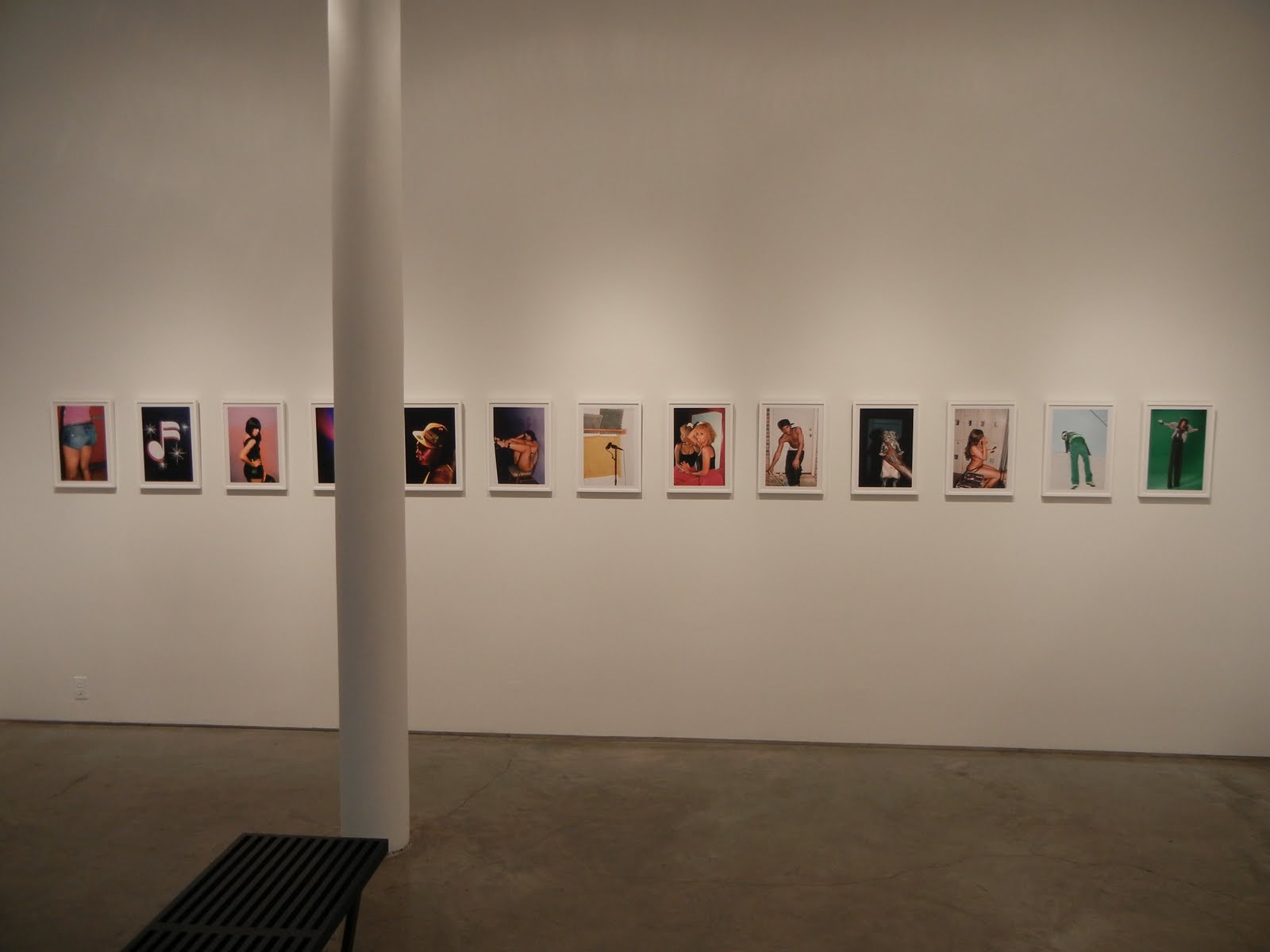 Schmelling clearly has an eye for saturated color; his pictures pop off the wall with muscular intensity: the bright yellow mustard of a chili dog, the purple wall of a bathroom, the orange leggings of a club girl, the head-to-toe lime green outfit of a rapper. He also captures the smaller details of the lifestyle with close attention: a curled sheet of scratched lyrics, the jumble of microphones and abandoned speakers found in makeshift recording studios, close up hand gestures (pointing and posing), and the bright club lights that create harsh shadows. Most importantly, he's successfully recreated the rough mood of the environment, his pictures peppered with moments of saucy indecency and masculine preening.
My first impression of this show was that it was loose and off-hand, probably due to the way the images are mixed on the main wall. But a closer look revealed that the photographs are anything but accidental; I liked the editing and sequencing, especially the interleaving of portraits and atmospheric still lifes to round out the larger narrative. On the surface, the work is lively and fresh, a breath of something different from the normal Chelsea fare; down a layer or two, it's simply well-constructed, accomplished photography.
Collector's POV:
The works in this show are reasonably priced, falling between $1200 and $1800 based on size. Schmelling's work has not yet appeared in the secondary markets, so gallery retail is likely the only option for interested collectors at this point.
While I liked quite a few images in this show, my favorite was Fusion_7, 2009; it's second from the right in the bottom installation shot. Three sassy girls in tank tops and short shorts vamp with their tongues out, giving the camera the finger. It has the same kind of joyous spirit found in Malick Sidibé's images of 1960s Bamako clubs, with an added veneer of 21st century attitude.
Rating:
** (two stars) VERY GOOD (rating system described
here
)
Transit Hub:
Through March 19th
Clamp Art
521-531 West 25th Street
New York, NY 10001