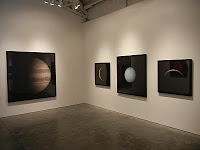 JTF (just the facts):
A total of 12 large scale photographic works, framed in black with no mats, and hung in the entry and the first two rooms of the gallery space. All of the works are digital chromogenic prints mounted on Dibond, made between 2003 and 2011. There are 11 single images, 1 triptych, and 1 video in the show. Square format dimensions range from 35×35 to 72×72, while more panorama style works range from 35×70 to 18×77; some of the images are available in multiple sizes. The works have generally been printed in editions of 8 regardless of size, with one exception in an edition of 3. (Installation shots at right.)
Comments/Context:
Since the invention of the medium, photography and science have been inextricably intertwined. From the very beginning, photographs were used to document and illustrate physical phenomena, from Atkins' cyanotypes of British algae to Muybridge's motion studies (see
Brought to Light
, the terrific SFMOMA exhibit of a couple of years ago for more on 19th century scienfic photography,
here
). Decades later Tasker would use X-rays to plumb the depths of natural floral geometries and Abbott would set up elaborate experiments to examine the fundamental properties of physics. Unquestionably, all of these photographs had aesthetic value and became part of our visual education. And yet even today, the line between science and art continues to be a blurry one, open to interpretation and agrument – are certain pictures categorized as art or science? Do they belong in
National Geographic
or in a white cube? And are these questions even relevant?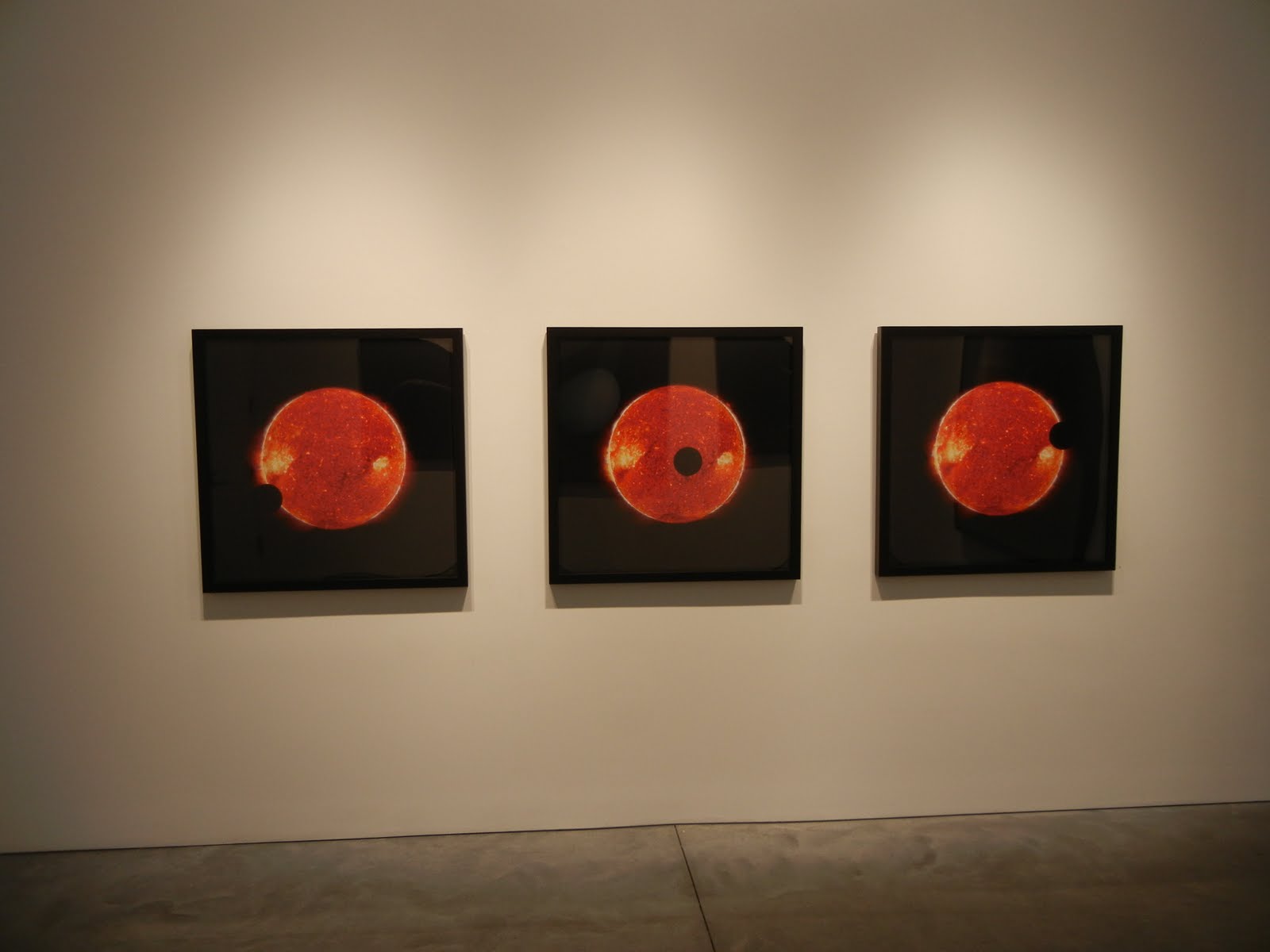 Michael Benson's photographs of interstellar space fall into this art/science trap in a 21st century manner. Starting with digital files buried in space agency databases all over the world, Benson sifts and sorts hundreds of images, stitching together larger mosaics from thousands of fragments taken over time as a probe or spacecraft whizzed by something of interest. There is a meticulousness required of this kind of craftsmanship: correcting distortions, filling in gaps, matching, tweaking, synthesizing. Unlike Thomas Ruff's recent
Cassini
images which used the same kind of space imagery as a starting point for further simplification and manipulation, Benson stays close to the science, interpreting the data yes, but ultimately aiming at some definition of the heretofore invisible "truth".
His results are printed in vibrant color at monumental scale, further enhancing their power to astound: the sun is a fiery red ball covered in angry flashes, a tiny moon is dwarfed by the enormity of Jupiter, Saturn's rings create layered arcs and shadows, a swirling dust storm rushes across the face of Mars. These are incredible sights most of us have never seen, and it's hard not to be drawn into the sheer, cool, "otherness" of what is on display. Even the most jaded and skeptical of gallery goers will have to admit that these are intellectually interesting; they may not agree that they are "art" in any traditional or conceptual sense (and may discount them as a result), but as pure visual theater, they're pretty astonishing.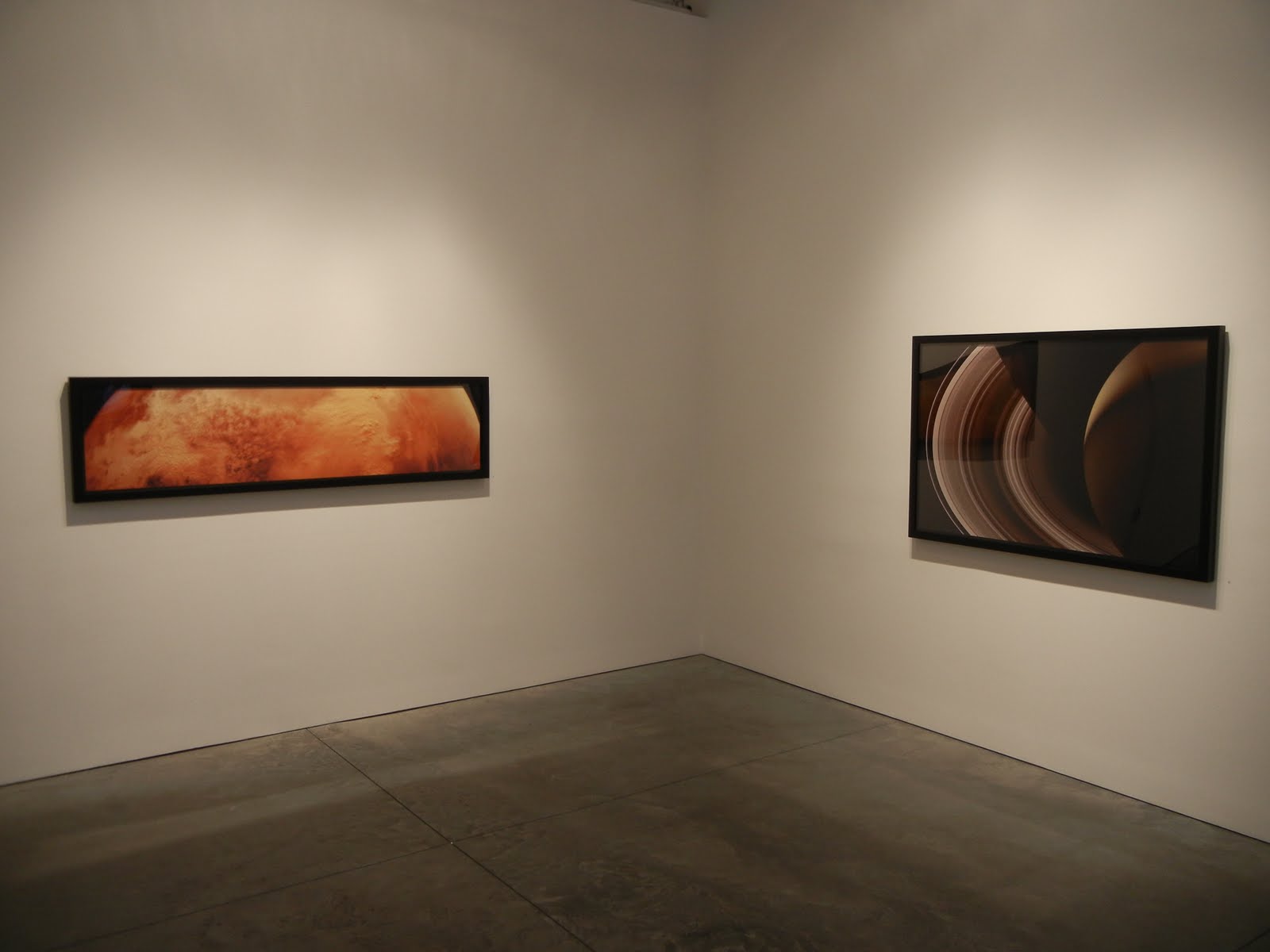 Collector's POV:
The images in this show are generally priced based on size, ranging from $5500 for the smallest works to $25000 for the largest, with a few intermediate prices in between ($7500, $12500); the triptych is $18000. Benson's work is not consistently available in the secondary markets, so gallery retail is likely the only option for interested collectors at this point.
My favorite image in the show was Uranus with Rings, Voyager, January 24, 1986, 2010; it's the picture second from the right in the top installation shot. I liked the perfect, almost abstract geometry of the central white orb, surrounded by the cluster of tiny, delicate, nearly invisible rings.
Rating:
* (one star) GOOD (rating system described
here
)
Through March 26th