JTF (just the facts): A total of 8 color images, framed in silver and matted, and hung in an intimate single room gallery space. All of the prints are c-prints, sized approximately 31×34 or reverse, made in 2009, and printed in editions of 5. This is Schiff's first solo show in New York. (Installation shot below.)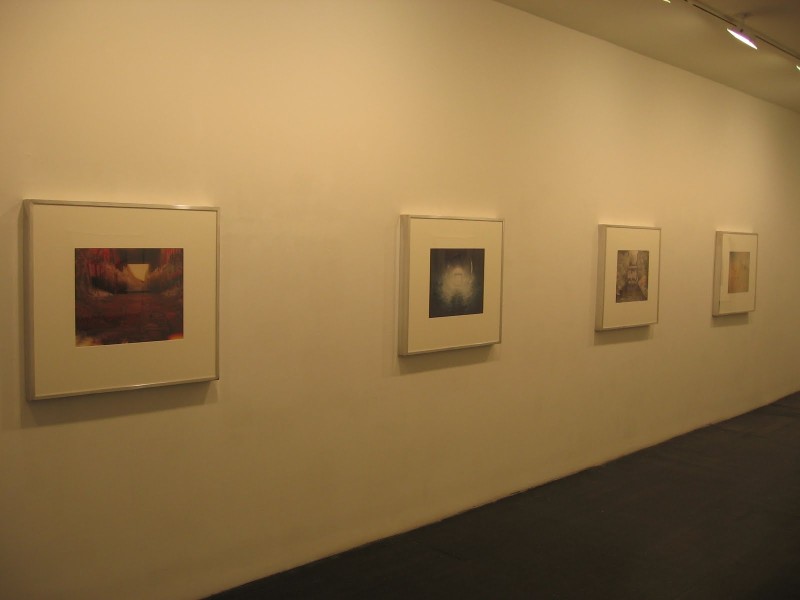 Comments/Context: In the past few years, in lock step with the withering of the economy, contemporary photography has been filled with pictures of failure, emptiness and ruins, and Melanie Schiff's newest body of work falls into this broad category. Her images depict endless concrete drainage corridors and spillways covered in dense graffiti, dark tunnels, cracked cement walls, and rusted metal parts abandoned amidst overgrown greenery. Almost all of the pictures are built around simple found geometries: a square, a circle, or parallel lines converging to a vanishing point in the distance.
On one hand, these images are unsettling in their destitution, vacant of recent human interaction (the image of a gnarled tree trunk erupting from the ground is particularly disquieting); I was reminded of the surreal atmosphere of Cormac McCarthy's The Road. But the bright lights in the distance (the "light at the end of the tunnel") seem to give many of these images a small dose of optimism – there is a way out of this depressing world and it is almost within reach. Overall, this is a respectable first show, punctuated by several memorable images.
Collector's POV: All of the prints in the show are priced at $4800. Schiff has very little auction track record, with only a few lots being sold in the past year or so, most for approximately $1000. While none of the works in this show is a direct fit for our specific collection, my particular favorite was Hell Room, 2009, the canal washed in muted red.