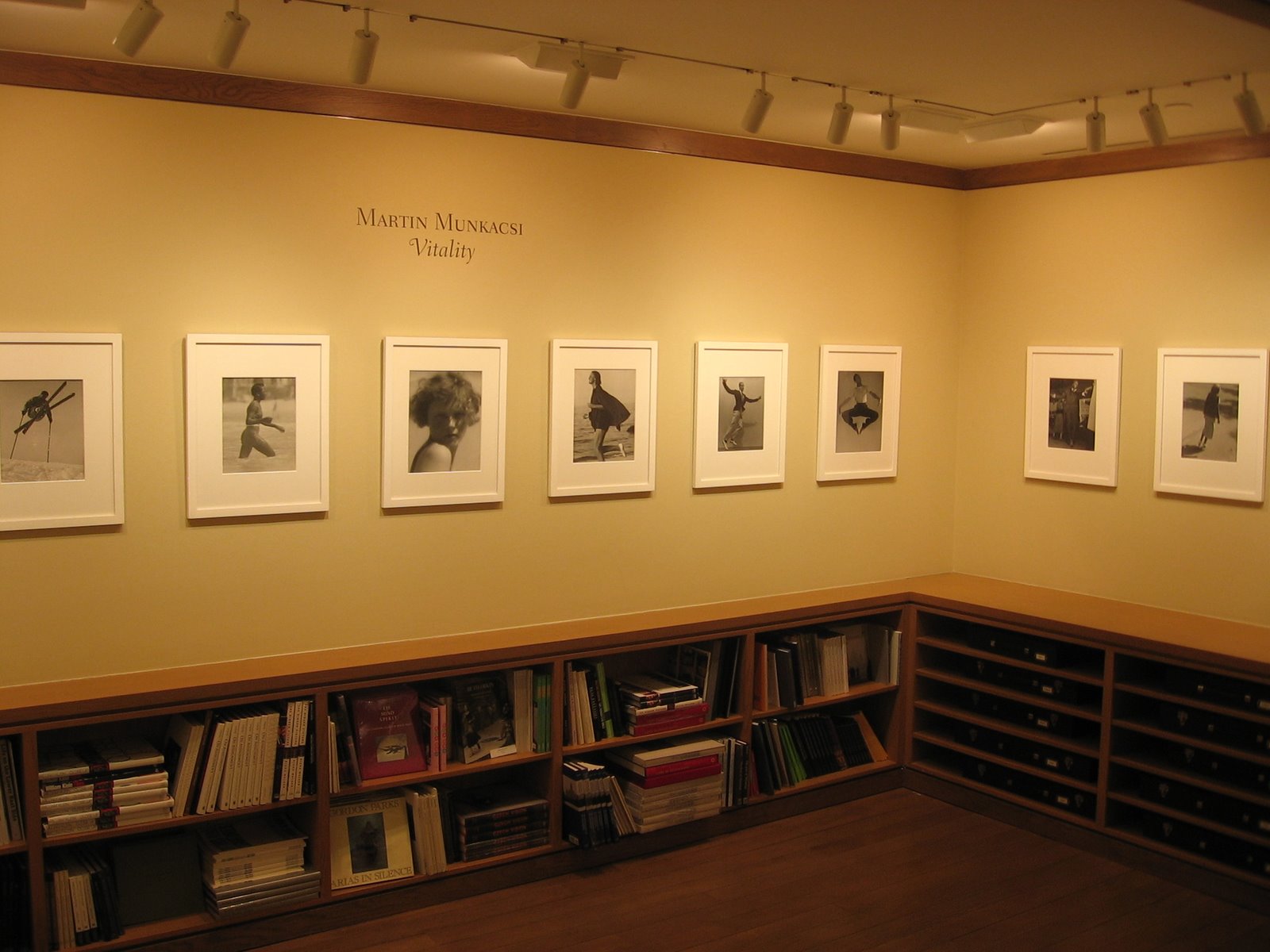 JTF (just the facts): A total of 25 prints, 17 vintage prints from the 1920s and 1930s in the book alcove, and another 8 later prints (mostly fashion) in one of the side viewing rooms. The images are framed in white and matted. (Installation shot at right.)
Comments/Context:
Hungarian photographer Martin
Munkacsi's
images were, and still are, all about action. In this small show at Howard
Greenberg
(concurrent with the other
Munkacsi
exhibit now on view at the
ICP
here
), models and subjects are running, swimming, skiing, dancing, and walking this way and that, constantly in motion. Two small wall texts with quotes by Richard
Avedon
and Henri Cartier-
Bresson
are reminders of
Munkacsi's
influence on a generation of photographers who came after him. Whether we categorize these images as fashion, portraiture, or sport, they all combine speed with glamour to create dynamic tension and moments of authentic joy.
Collector's POV: The vintage prints in this show are priced between $10000 and $40000; the later prints are either $1200 or $1500. Prices at auction have been very similar to these ranges, with later prints in large editions (40 or 50) consistently selling for under $2000, and vintage prints ranging from $10000 to nearly $50000. For our particular collection, the more recognizable Munkacsi fashion and motion images aren't a great fit; we'd like to find a simple Munkacsi nude (not the parasol nude), but so far, we haven't found just the right one.
Rating:
* (one star) GOOD (rating system defined
here
)
Martin Munkacsi, Vitality
Through May 16th
41 East 57th Street
Suite 1406
New York, NY 10022