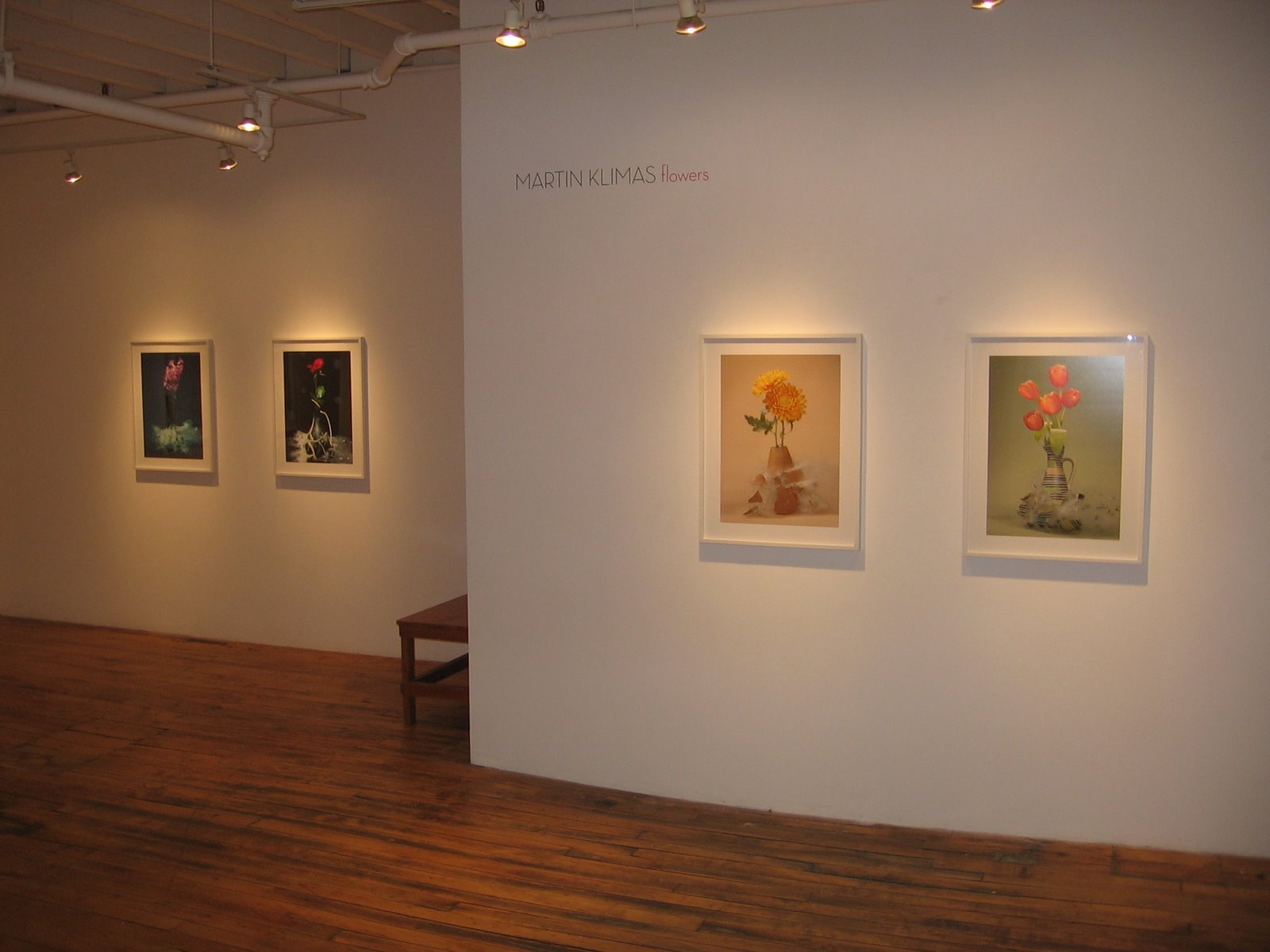 JTF (just the facts): 7 color pigment prints, each 32×24, six installed in the main gallery, and a single image shown down in the first floor entryway. We were told that the show normally had several more images on display, but that they had been taken down and shipped to Photo LA. Negatives from 2006 and 2007, in editions of 5. A slim book detailing this body of work is available from the gallery for $30. (Installation shot at right.)
Comments/Context: The floral images of German photographer Martin Klimas can most clearly be described as a mashup of Robert Mapplethorpe and Harold Edgerton. In each picture, an elegant floral bouquet in a striking vase is set against a saturated color background. The unexpected part of this conceit is that the vase is in the process of exploding, having been captured at the exact instant of disintegration by careful stop motion photography. The result is a surprisingly interesting contrast between the quiet beauty of the flowers and the violent destruction of the vase. Prior to visiting this show, we thought this concept sounded a bit contrived (was this just a stunt?), but we found the execution of the idea to be first rate, and the pictures are quite a bit better and more visually engaging than we had expected.
The artist's website can be found
here
.
Collector's POV: As collectors of flower and botanical photographs, we like to think we have seen pretty much everything that has ever been done in this genre, but these works by Klimas are indeed something new and different. The best of the images are to be found in the book, as the exhibit itself has been depleted by the demands of the fair circuit. At $3000 apiece, one of these would make an attractive (and relatively inexpensive) contrast to a color Mapplethorpe floral, if hung in tandem.
Rating:
* (one star) GOOD (rating system described
here
)
Through January 17th
547 West 27th Street
New York, NY 10001