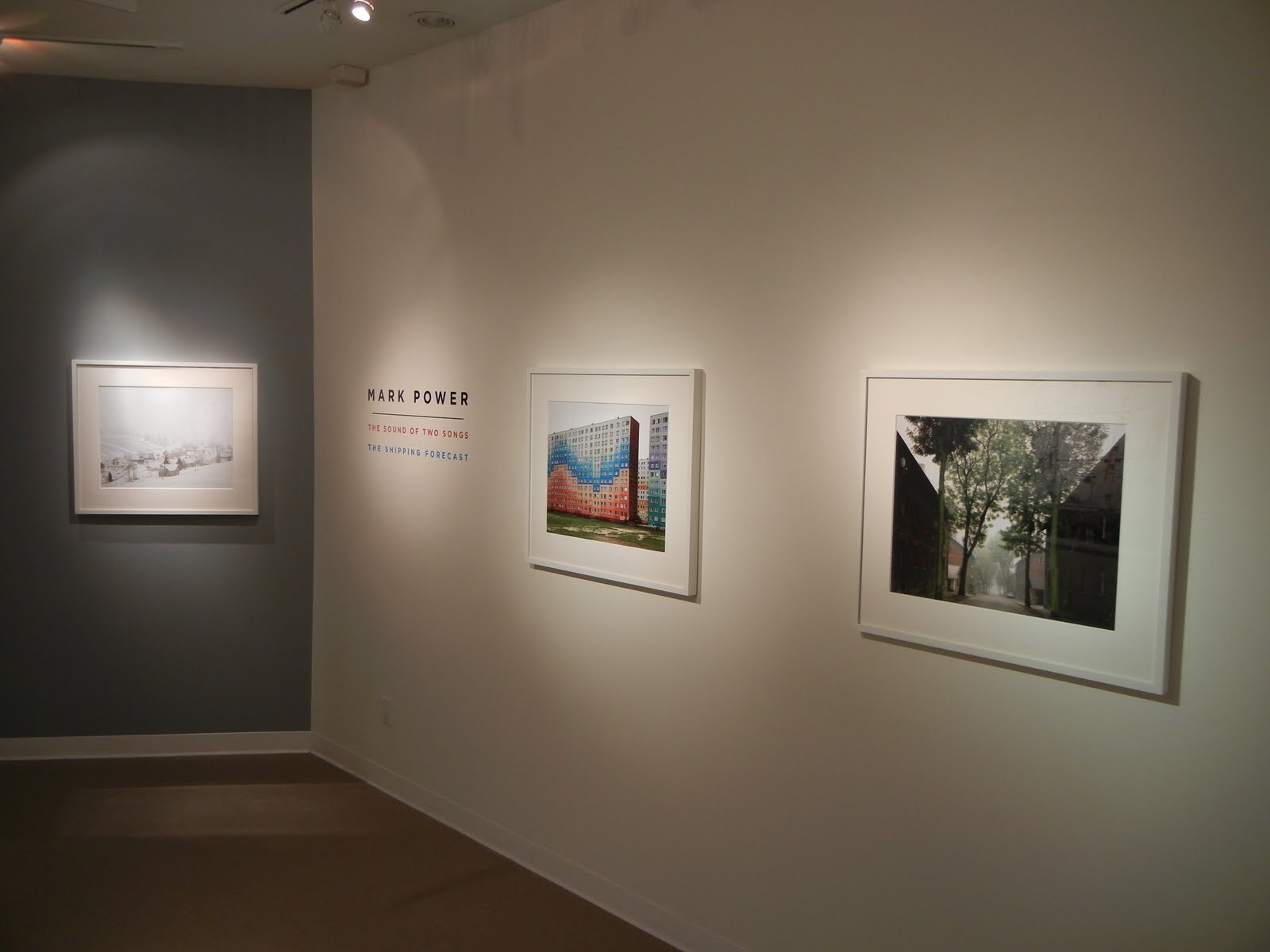 JTF (just the facts):
A total of 11 color and 10 black and white photographs, framed in white and unmatted and framed in black and matted respectively, and hung against cream and grey walls in the main gallery spaces. All of the color works are type c prints, made from negatives taken between 2004 and 2006. These images are available in two sizes: 20×24 (in editions of 10) and 40×50 (in editions of 5). The black and white works are gelatin silver prints, made from negatives taken between 1993 and 1996. These images are square format, printed 20×24 with detailed captions, in editions of 10. A monograph of
The Sound of Two Songs
was published by Photoworks in 2010 (
here
). A monograph of
The Shipping Forecast
was published by Zelda Cheatle in 1996. (Installation shots at right.)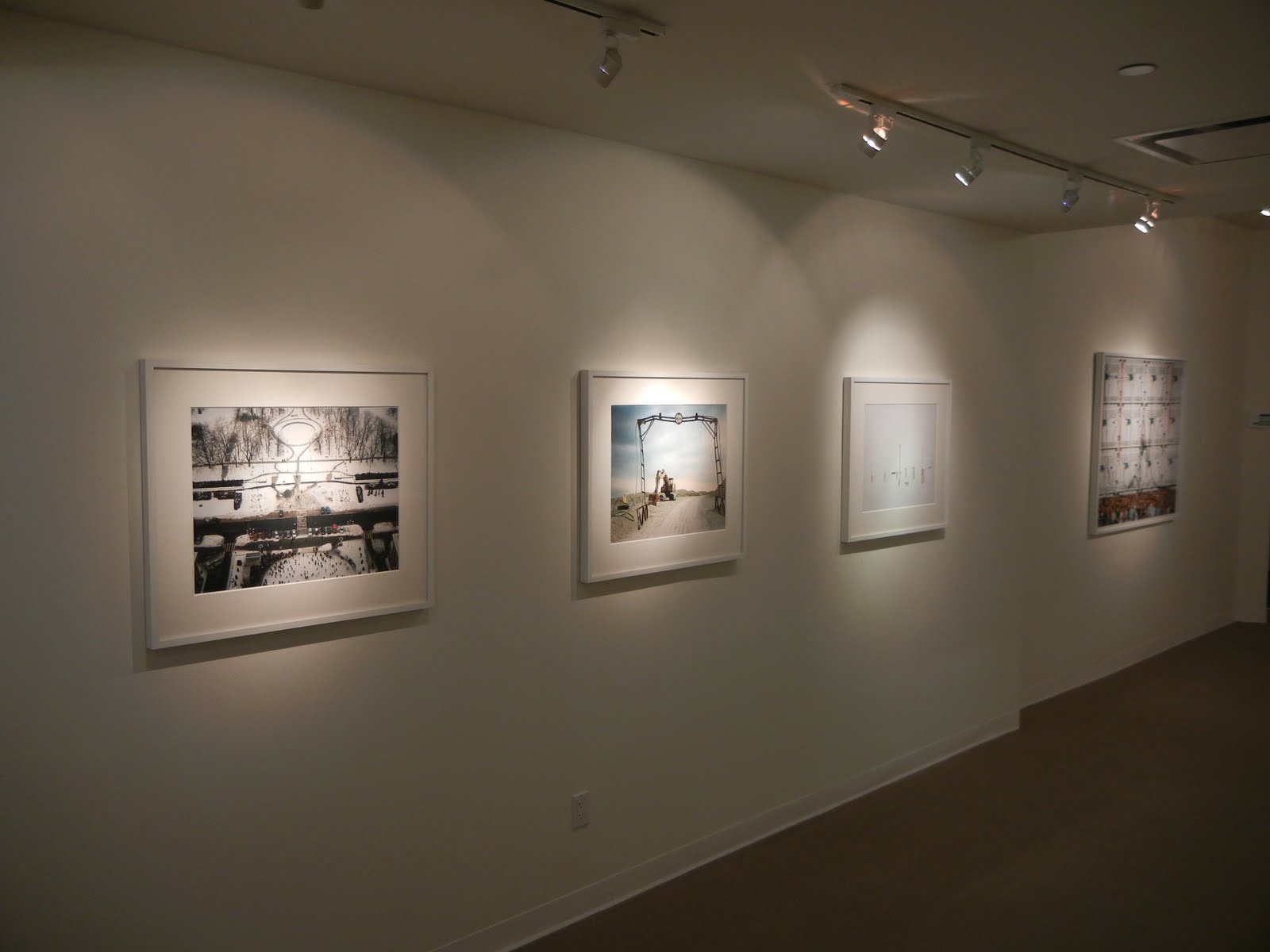 Comments/Context:
This show is a two-for-the-price-of-one opportunity to get acquainted with the work of British photographer and Magnum Photos member Mark Power. It combines his black and white work from the 1990s with more recent color images made across Poland, providing an opportunity to compare two working styles tailored to specific projects.
The images in the back gallery come from the series The Shipping Forecast, named for the BBC Radio broadcast heard daily by listeners across the UK. Each work documents a specific coastal location and time, complete with its maritime forecast ("mainly fair" or "moderate or poor becoming good"). These seaside scenes have a dark edginess: a child lies with his dump truck near lumpy mounds of sand, boys search amid cylindrical cement blocks used to bulwark the surf, grey skies envelop beach cabanas and a deserted slide, abandoned white towels are bisected by the blackness of shadows, and cemetery plots look out over the bright horizon. Places listeners have never visited suddenly have a face, and the gathering power of the weather offers a gritty sense of impending doom.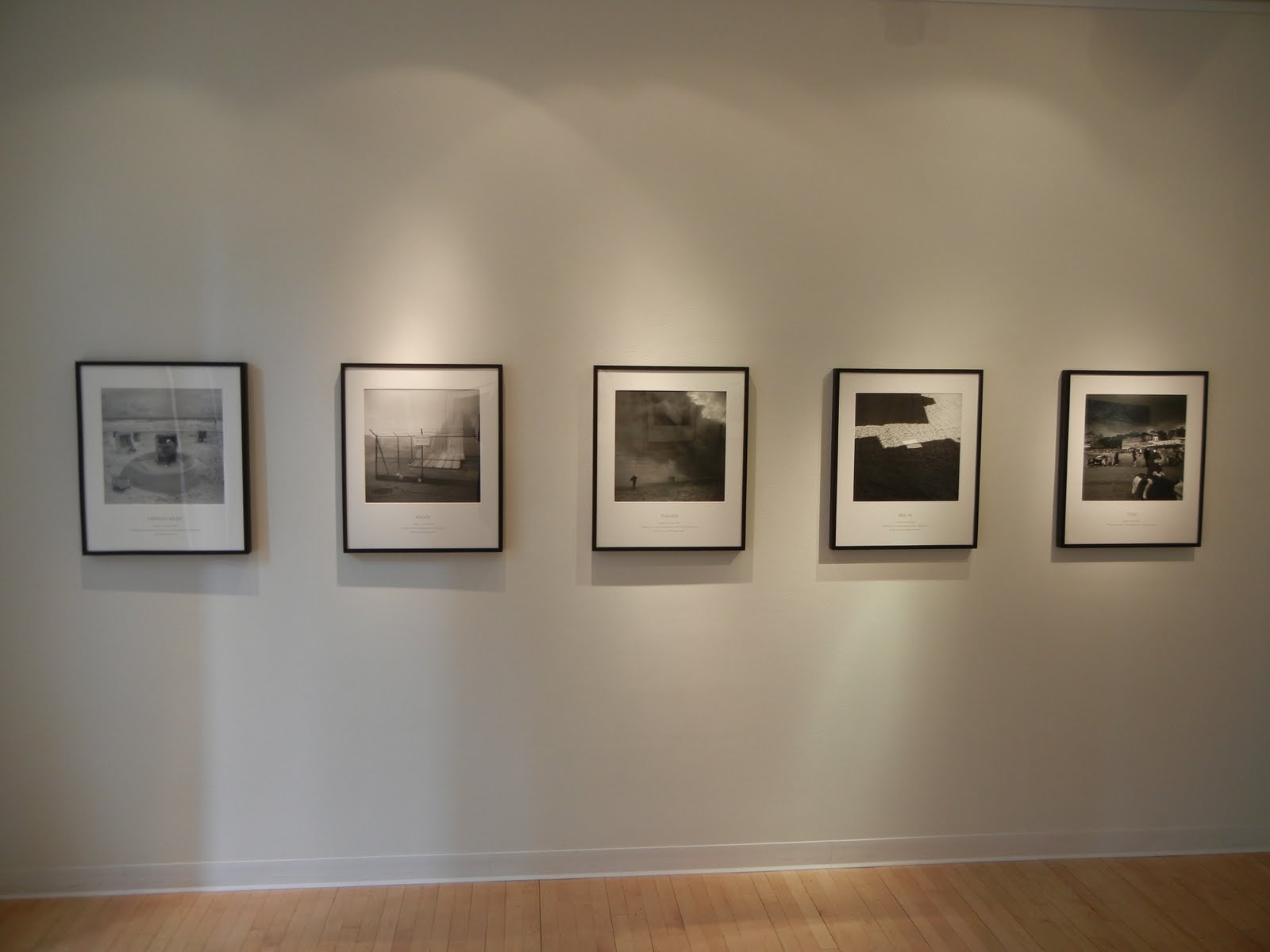 Power's newer images of Poland find moments of quirky optimism and compositional rigor in the drab, grey Eastern European environment. Of course, there are the usual grimy apartment buildings and ugly highway sound barriers that are the staple of so much contemporary German photography. But Power seems to be drawn to the more unexpected visual contrasts and unlikely juxtapositions: a dingy elevated view of Warsaw with a pristine cloud filled blue sky straight out of a 19th century Romantic painting (almost like a LeGray two negative combination), the oddity of green tree trunks amid brick buildings, the strange metal framing of a dusty construction site entrance, the downward look at a winter skating rink (a dead ringer for Moholy-Nagy), or the bisected back view of the massive video screen used to watch the Pope's funeral by a crowd of onlookers. These pictures are like road trip discoveries, the more unusual details of today's Poland that get overlooked when we focus on the obvious or the stereotypical.
All in, this is a solid pairing of photographic projects, with ample evidence of both range and craft on display.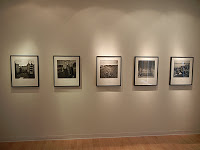 Collector's POV:
The prints in this show are priced as follows. The color images are either $3000 for the 20×24 size or $6000 for the 40×50 size. The black and white images are $3500 each. Power's work has not been widely available in the secondary markets, so gallery retail is likely the only option for interested collectors at this point.
While I enjoyed most of the images from The Shipping Forecast series, my favorite was THAMES, Sunday, 7 January, 1996; it's in the center of the third installation shot. I liked the apocalyptic wash of thick fog covering the lone dark figure on the beach.
Rating:
* (one star) GOOD (rating system described
here
)
Transit Hub:
Through March 26th
41 East 57th Street
New York, NY 10022