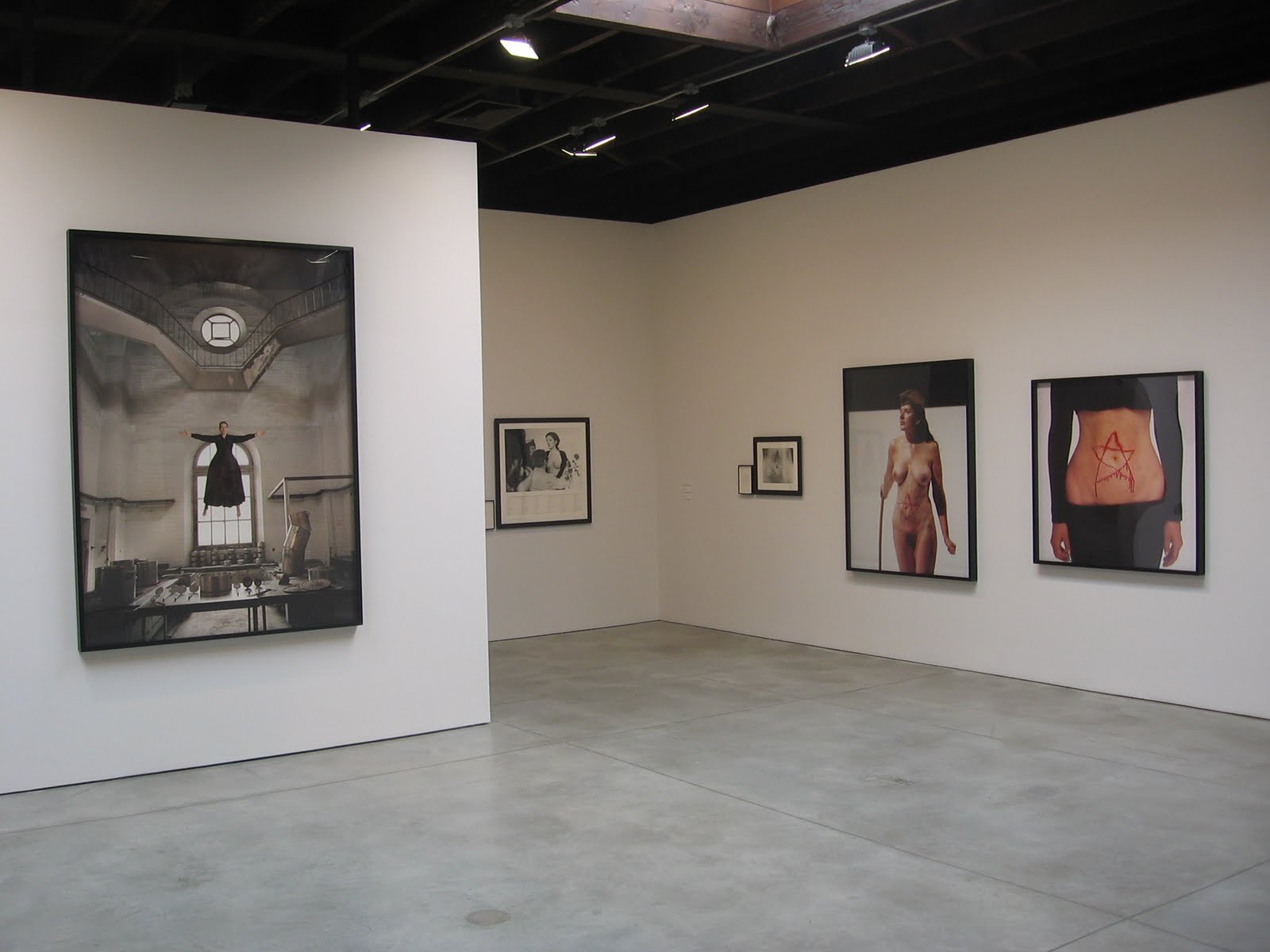 JTF (just the facts): A total of 18 works, including photographs, videos, and a mixed media wood cabinet, displayed in the two front rooms and the main gallery space in the back. There are 15 photographic works (a mix of color and black and white), generally framed in black and not matted. The photographic prints have been made using a variety of processes (often with an accompanying page of text/instructions): gelatin silver, cibachrome, chromogenic, archival pigment, and color lambda. They have been printed in various edition sizes, ranging from 3+2 to 18+9. Individual prints range in size from 24×20 to 86×65, with one multi-panel work measuring 49×286. The photographs were taken between 1973 and 2009, with many of the prints made more recently. The videos were made in 2010, and the mixed media cabinet is from 1997/1999. (Installation shots at right.)
Comments/Context: You'd have to have been living under a rock, off the grid, to have missed the continuous media frenzy surrounding Marina Abramović's recent performance/retrospective, which closed earlier this week at the MoMA. In the self-referential art world, for the past month or two, it's been all Abramović, all the time. This exhibition at Sean Kelly is the obligatory paired selling show, offering those who have been inspired at the museum an opportunity to follow-up on their interest in the artist's varied work.
.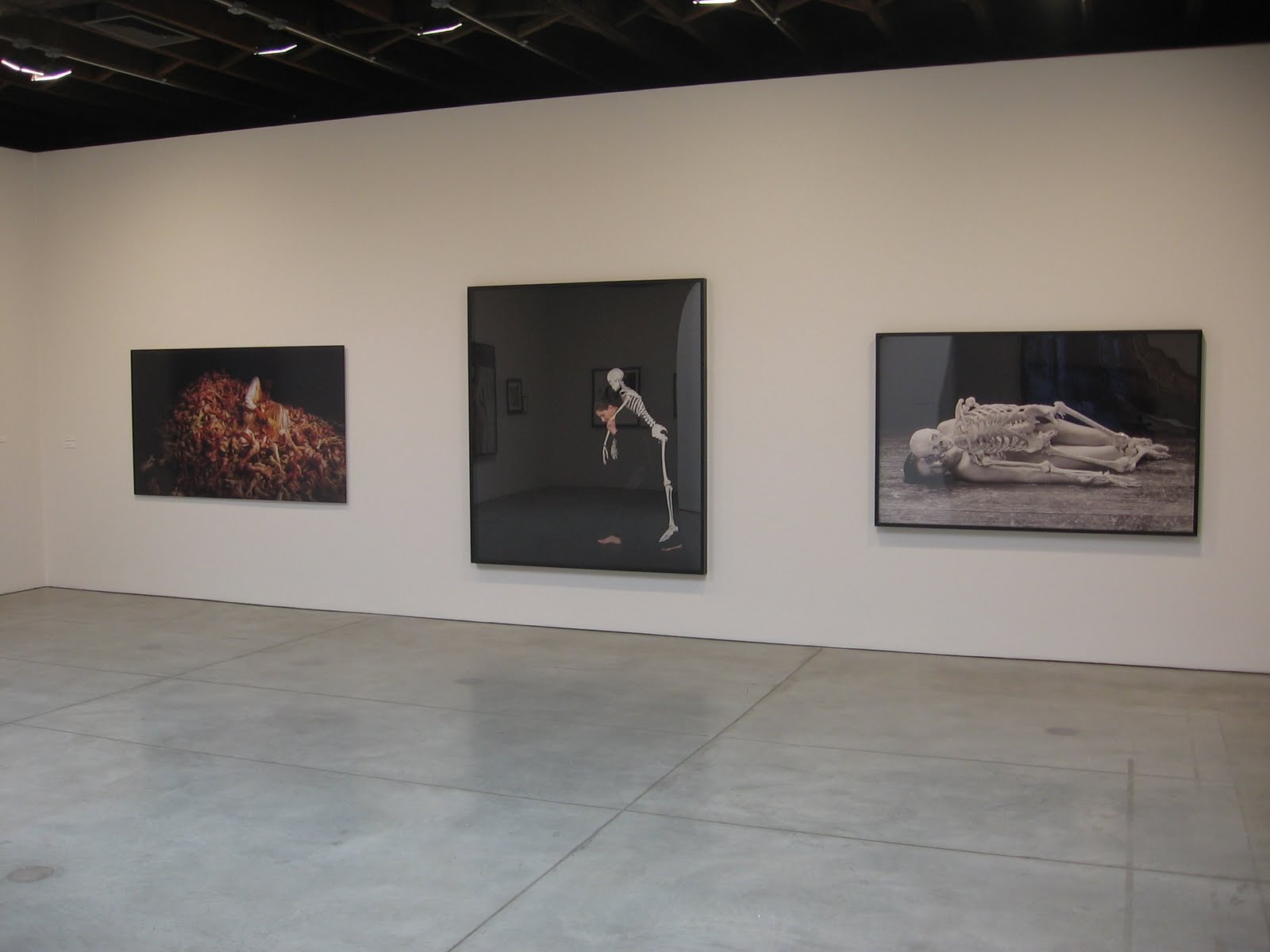 Having watched Abramović performing her 700+ hour marathon in the atrium a couple of times during its long run, I have to say that I now have an entirely different perspective on the photographic documentation of performance art. Perhaps a decade or two hence, in a gallery somewhere, there will be photographs of Abramović, in one of her long flowing robes (blue, red, or white), her braid pulled to one side, staring intently ahead at the random visitor seated opposite her. To someone who hasn't seen the performance in person, these images will look like a symmetrical, perhaps conceptual pairing of people in chairs, with a table in between or not (this changed during the course of the performance), in an otherwise empty space. But those future viewers will have a hard time understanding how powerful this piece really was, even if there are paired portraits of Abramović's steely gaze and those of her respective partners. The photographs likely just won't do it justice, but perhaps there will be collectors and museums who will still want these imperfect representations, as they will be all that remains of a surprisingly historic and moving but otherwise ephemeral event.
.
Which brings me back to the photographs on view in this specific show. Having not witnessed the many performances of Abramović's ground-breaking career, I was left wondering how the photographs on these walls captured (or not) the essence of what had actually transpired long ago. I didn't see her carve a star into her belly, slam knives between her fingers, carry a skeleton, or mop the floor, so I don't really know if these photographs depict the nuanced reality of what occurred or not. As such, I was forced to evaluate the pictures in a different way, as objects in and of themselves, on their merits as stand alone artworks, rather than snapshots or souvenirs of something crazy and challenging that happened decades before.
.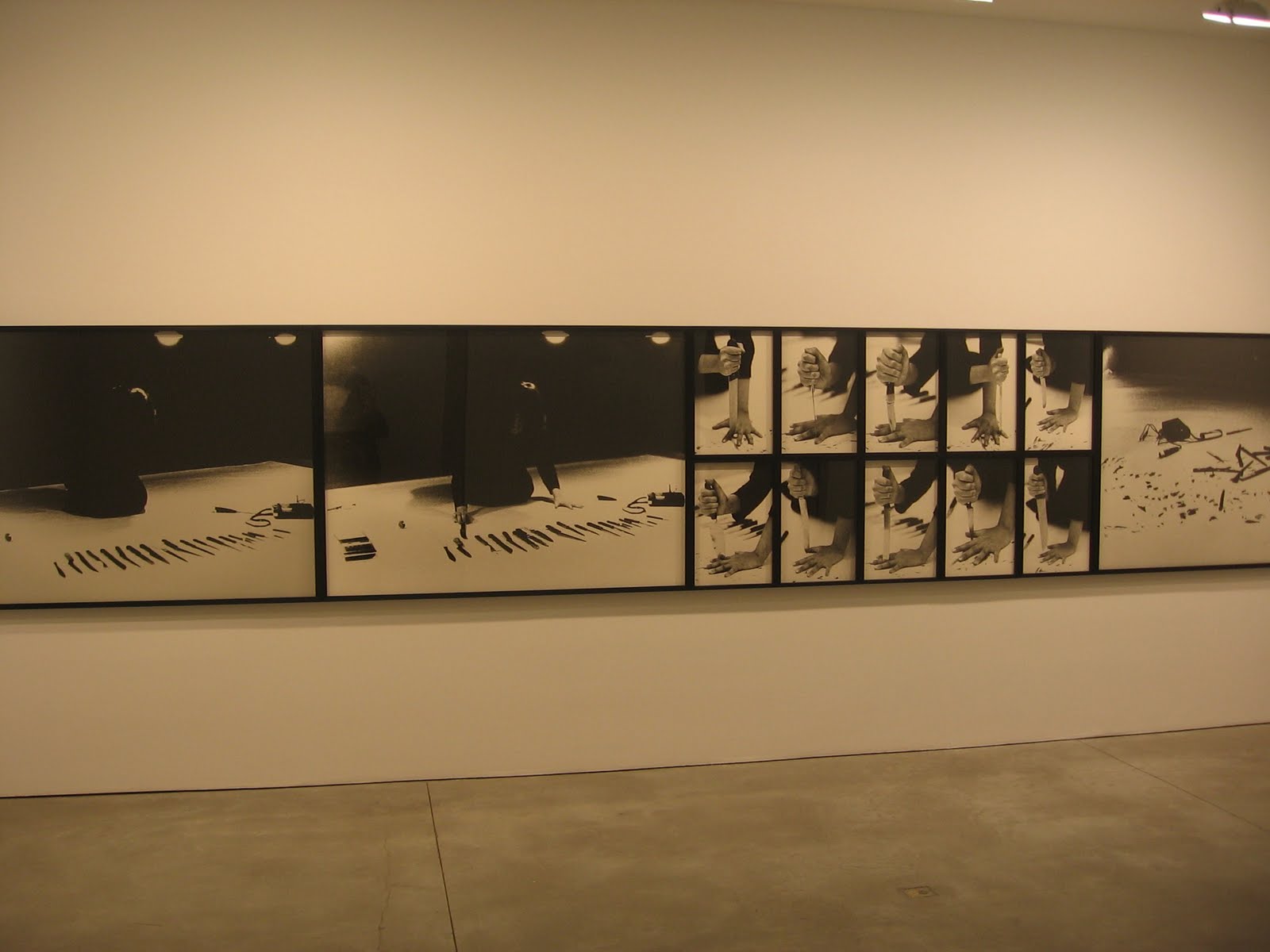 When seen from this vantage point, these photographs become something altogether different I think. In general, they are images of a statuesque and often beautiful woman in a variety of strange and unsettling staged circumstances. At some points, they verge on the surreal, at others, physical danger lurks in the background, but if you don't know the stories, the "film stills" which should be eerily personal seem oddly disconnected.
.
The combination of seeing Abramović perform live at the MoMA and seeing these photographs hung in this gallery left we with the strong, lightbulb-over-the-head-like realization that photographs of performance art are a paltry substitute for the real thing. They're likely the best (or perhaps only) way for performance artists to make a living off of their performances, so this photographic documentation method isn't going away any time soon, and they're a decent way to help remember the obvious high points. But I came away from these two shows with the palpable feeling that these photographs are missing the most important quality of performance art: the hit-you-in-the gut, blast of energy that comes from seeing an artist out there on the edge. In a certain way, as an advertisement for the transformative power of performance art, Abramović could hardly have been more successful.
.
Collector's POV: The photographs in this show range in price from $30000 to $150000. Abramović's work has not been regularly available in the photography secondary markets; perhaps it has been more readily accessible in the contemporary art auctions, I don't entirely know. The historical prices I was able to discover have ranged between $4000 and $30000, but these may not include works sold outside the strict definition of the "photography" market, so take this data with a degree of skepticism when matching it against the gallery prices above. Given the excitement surrounding the MoMA show, her prices are certainly going to be rising.
.
Rating: * (one star) GOOD (rating system described here)
Marina Abramović
Through June 19th
Sean Kelly Gallery
528 West 29th Street
New York, NY 10001