JTF (just the facts): A total of 21 works, framed in white and unmatted, hung in the single room gallery. The unique prints come in various sizes, from 5×4 to 38×28, and were all made in 2008 or 2009. Several different papers and processes have been used, resulting in cyanotype, gelatin silver, Polaroid, and chromogenic prints. (Installation shots at right.)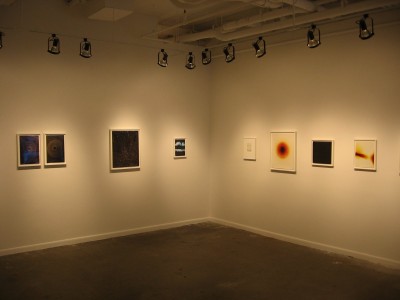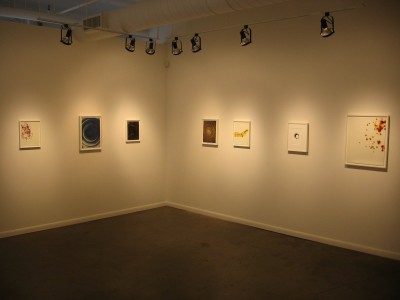 Comments/Context: Likely due to its technological origins, of all the artistic mediums, photography is the one most deeply rooted in process. It seems we can hardly look at an image these days without immediately transitioning to questions about what kind/size of camera was used, which printing process was chosen and what type of manipulations might have gone on in the darkroom or computer. It's often easy to get lost in the details of "how", missing the more important questions of "what" and "why".
Marco Breuer has been exploring the depths and edges of photography processes for over a decade, and his show of new work at Von Lintel continues this investigation with satisfying and elegant results. Breuer uses no camera; he takes various kinds of light sensitive papers and submits them to a wide array of unconventional treatments, generating abstract works that record the results of these experiments.
This type of approach has its roots back in the scientific cyanotypes of the 19th century, early 20th century X-rays, and the Surrealist/Dada photograms of Christian Schad, Man Ray, and Lazlo Moholy-Nagy of 1920s. The difference is that in all of those examples, the paper captured an image of an object (or group of objects), often carefully and artfully composed to create the compositional effect the artist desired. In Breuer's case, his paper is capturing the remnants of a process or movement, not the shadow of a physical form; the papers are scraped, shot, spun, drilled, and exposed to light, leaving behind their reactions, scratches, abrasions, and fogs of color. As such, they seem more directly related to the ideas of random chance embedded in the works of John Cage or Merce Cunningham; Breuer's prints examine the outcomes of processes that could have gone in any number of uncontrolled directions.
The works themselves are patterns of spots, waves, squiggles and circular spins, intermixed with heat generated fades and gradients of yellow, orange and black. Beyond the colors and designs on the surface, many of the prints are visibly punctured and scratched by gun shots, drills or the motion of a turntable, enhancing their object quality (and drawing parallels to a diverse set of other art, from Lucio Fontana's slashed canvases to Damien Hirst's spin paintings). Overall, I found most of these abstractions to be both thought-provoking as ideas and successful as variations of line and form.
Collector's POV: The prints in this show are priced between $3900 and $14900, generally based on size. Breuer's work has not appeared at auction with any regularity, so no pricing pattern can be readily discerned. Seeing these prints, I was most reminded of Harry Callahan's light drawings from the 1940s, and Breuer's new works would certainly complement a set of those photographs quite well. More generally, while Breuer's images don't fit into our collecting framework, I found these prints to have a unique voice and point of view, clearly working outside the well traveled roads of contemporary photography, but still finding novel ways to make original and exciting images.