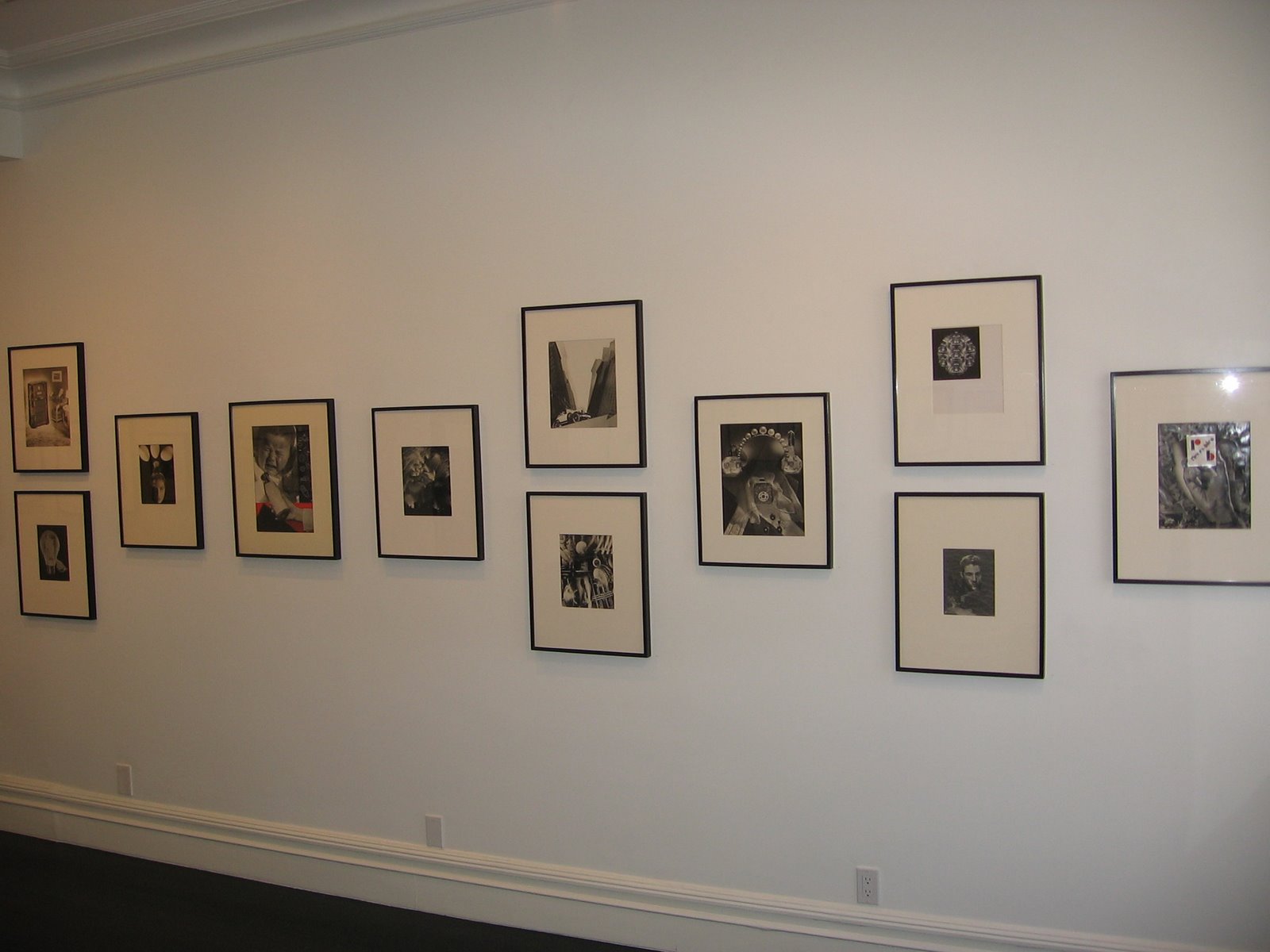 JTF (just the facts): A total of 41 images, of varying sizes and from various, mostly lesser known photographers, running from the mid 1860s up through the 1950s, displayed throughout the gallery. (See installation shot at right.) The show is a mixture of albumen and gelatin silver prints, some with hand coloring. Prices range from $1200 to $9500.
Comments/Context: Just when digital photographers have convinced themselves that their post capture manipulation is something new and startling, this smart show comes along to remind them that this kind of work has been going on since the early days of the medium. While truth has been a dominant mode for photography from the beginning, there seems to always have been an undercurrent of artists and designers who were interested in depicting the allegorical, the fantastic, or the staged.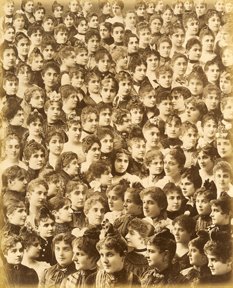 In the mid 1800s, artists were plagued by the slow speed of the available materials; the exposure times were just too long for a staged scene of 20 people to come out without blurring. So they took to the darkroom and used multiple negatives to construct their scenes, and so doing, began the thread of montage and manipulation. There is an amazing image in the exhibit by Spencer y Cia (Untitled, c1870, see at right) which constructs an edge to edge image out of hundreds of individual shots of women's heads.
Staring in the 1920s, the combined influences of advertising and surrealism come together for a flowering of montaged images that will seem more familiar to most viewers. Most are constructed our of two or three negatives melded together to tell a story, evoke an emotion or sell a product. The historical backdrop for later artists (like Jerry Uelsmann, who took montage in new directions) is clear.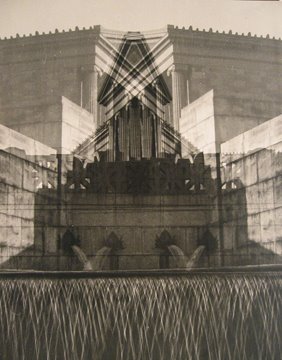 Collector's POV:
We actually like multiple exposure images, and think they work particularly well in depicting the movement and energy of cities. We have a few in our collection by Harry Callahan (
here
and
here
) and Peter
Keetman
(
here
), all from the late 1940s/early 1950s. From our view point and in this context, the best picture in the show was Edward
Quigley's
multiple of the Philadelphia Museum of Art from 1942 (see at right). While there were not many other images that were a direct fit for us, this show is well worth seeing, if only to remind you that the careful and thoughtful manipulation of photography has been around a very long time.
Rating:
* (1 star) GOOD (rating system defined
here
)
.
Making It Real, Photomontage Before Photoshop
Through November 1st
1045 Madison Avenue
New York, NY 10075