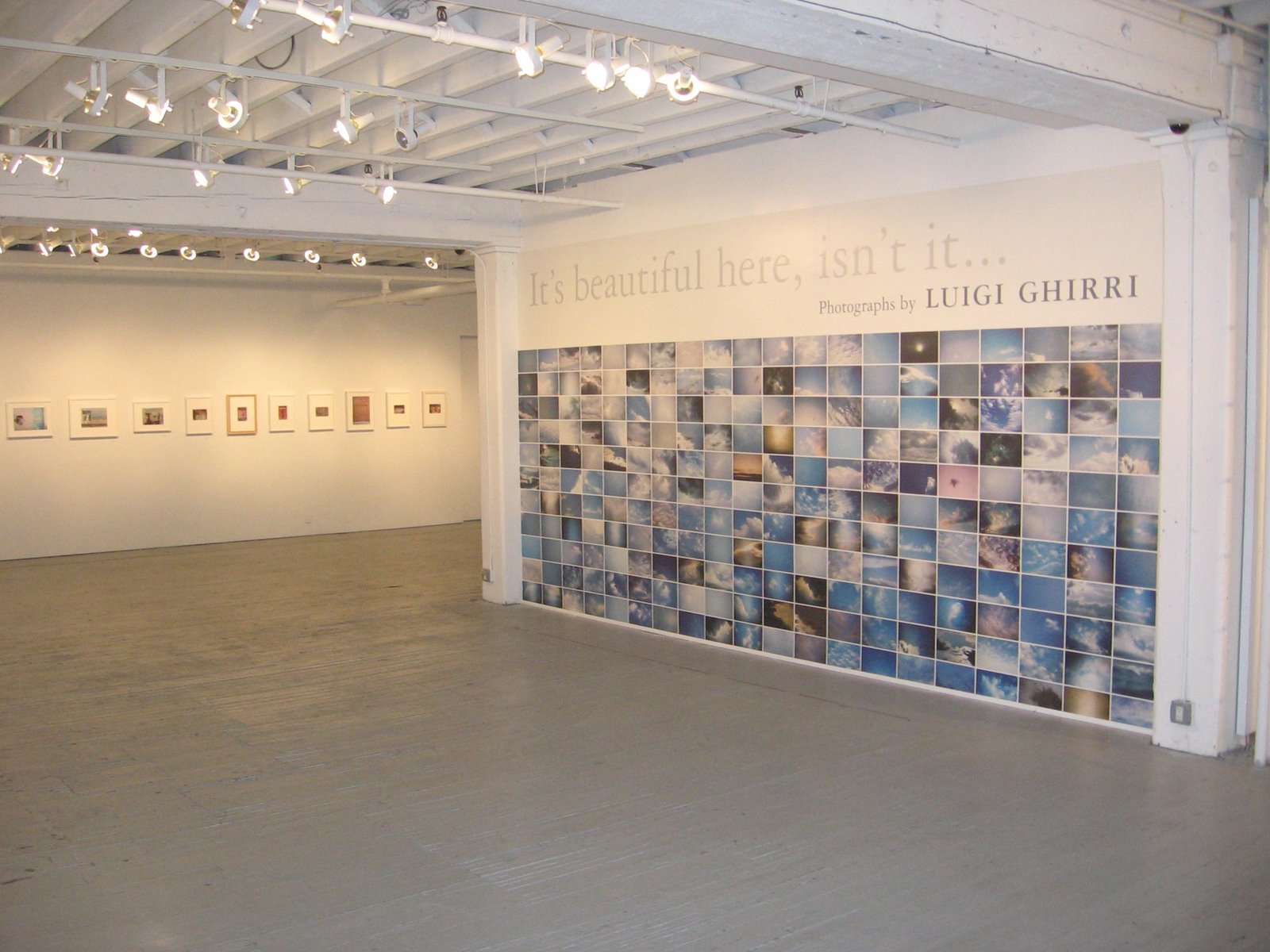 JTF (just the facts): 88 color prints (and one wall sized montage) with white frames, arrayed in the main gallery space at Aperture. An additional 16 images shown in the entry and near the reception desk at Bloomsbury. The combined exhibition is a mixture of vintage C-prints and Polaroids and modern pigment prints. All of the images are from the 1970s and 1980s. (Installation shot of Aperture show at right.)
Comments/Context: Even within the short history of photography, there seem to be plenty of high quality photographers who get lost for one reason or another. The Italian photographer Luigi Ghirri was one of these misplaced artists who, having been virtually unknown in the United States his entire career, has recently been "rediscovered". This pair of shows is the first major exhibition of Ghirri's work in America, and coincides with a new monograph being published by Aperture.
Ghirri is now being positioned as a trail blazer in color photography, placing him in the same category and time period as 1970s Eggleston, Shore, Christenberry, and Sternfeld. And yet, his aesthetic, as evidenced by the works in these shows, was markedly different from these American photographers, and seems more clearly derived from European threads of photography.
The first thing that struck me about these images was Ghirri's palette. All of the images have a washed out, sunny coloring, full of soft pastels and light colors; there are no crisp blacks or high contrasts in any of these pictures. The colors are far less saturated than any of his American contemporaries, softening any harshness and making the images somehow more friendly and welcoming.
Beyond the color sensations, the works clearly extend many of the ideas of Surrealism, in a magical, playful, Italo Calvino–esque way. There is an "edge of reality" feeling throughout Ghirri's work, and experiments with collage and montage, as well as eclectic camera angles and conceptual stagings, are explored and delivered as simple and subtle surprises. There doesn't seem to be one dominant set of ideas here, but more a series of related explorations, and the works seem to alternate between a quiet, contemplative mood and one with a little more zest and humor. The fact that he was doing all of this within the new confines of color makes the pictures all the more intriguing.
The exhibit itself needs some editing; there are a few too many pictures and the whole show feels a bit flabby as a result. 10-15 less pictures would have made the argument that much tighter and would have minimized the fatigue; by the end, all the faded colors were starting to blend for me. The overflow pictures shown at Bloomsbury didn't add anything to what I had already seen at Aperture, so these are likely a pass, unless you are a die hard Ghirri fan and want to see every last image on view.
Collector's POV:
I particularly enjoyed
Ghirri's
series of images from
Morandi's
studio, and few of his more painterly topographic-style images of walls and doors. None of the images in either of these exhibitions is directly for sale, but when I inquired, I was eagerly told to make a list of images I was interested in and someone would get back to me, so perhaps some are potentially available (at what price I don't know). The
Ghirri
estate is represented by
Julie Saul Gallery
.
Rating:
* (one star) GOOD (rating system described
here
)
Through January 29th (at Aperture)
Through January 8th (at Bloomsbury)
547 West 27th Street
New York, NY 10001
6 West 48th Street
New York, NY 10036