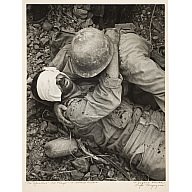 JTF (just the facts): 11 black and white exhibition prints of World War II (all from 1943-1945), recently donated by Smith's assistant, Leslie Teicholz. Hung in a small gallery with dark grey walls on the museum's main floor, each image spotlit/backlit in an otherwise dark room. (No Speeches – No Flags – No Martial Music, 1945, at right.)
Comments/Context: During World War II, Eugene Smith had several assignments covering the action in the Pacific for various magazines. War and death are subjects with deep emotional intensity and the images in this intimate exhibit show clearly Smith's humanistic approach to photojournalism. These are vivid and harsh pictures of mass graves, explosions, fog, jungle, and wounded/dying soldiers, taken with a real empathy for those involved, making them all the more powerful and moving. There is an almost operatic storytelling at work here.
Collector's POV: In general, Smith's work is readily available in the secondary market, from The Walk to Paradise Garden to images from his various photo essays (Country Doctor, Nurse Midwife, Schweitzer, Minamata and many others). The war images in this show are among his best and are well worth the short time it takes to see this exhibit.
Rating:
* (one star) GOOD (rating system described
here
)
Through Januray 4th
1133 Avenue of the Americas
New York, NY 10036