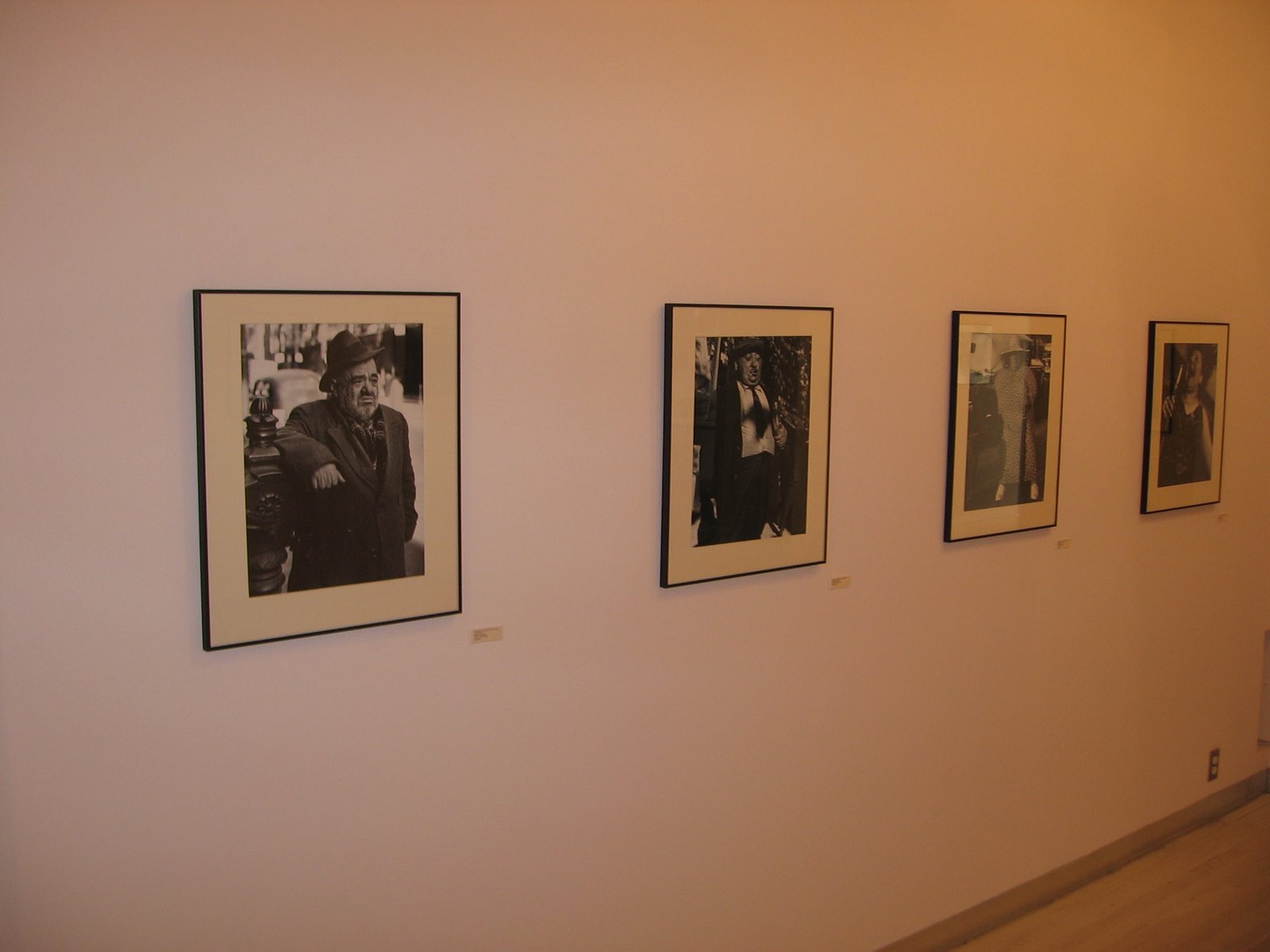 JTF (just the facts): 18 total images, 2 of which are duplicates. 12 of the images are from a 1976 Lunn portfolio of Model's work; the other 4 are portraits of jazz musicians, including Louis Armstrong. The images were taken between 1933 and 1949, and measure approximately 19×15 or the reverse. (Installation shot of the gallery, at right.)
Comments/Context: Given the explosion in the Arbus market in recent years, I am glad to see some of that light being reflected back on Model who (as her predecessor and teacher) is deserving of more attention and respect. I think it is hard for us today to understand just how revolutionary Model's portraits were for her times. Back in the late 1930s/early 1940s, the dominant portraiture was cool, detached, even distant, and sometimes heroic (think of the FSA photographers of this time). Her images are of imperfect, ordinary, and sometimes extraordinary people, with whom she has connected in a way to reveal their humanity, their dignity, and their humor (without mocking). I think that it was this willingness to "get involved" with her subjects, to meet them on their own terms without looking down on them, which was her true innovation, one which she happily passed on to a generation of photographers after her (especially Arbus, nearly 30 years later).
This small show does a good job of giving a viewer a feel for her approach to portraiture. (It closes tomorrow, so make haste in getting to see it.) While there is really only one semi-vintage piece in the exhibit, there are still many great pictures to see and be reminded of. I particularly like the only non-portrait in the show, Window Reflections, Fifth Avenue, New York City.
By the way, Model's work can also be seen at Arbus/Avedon/Model, currently on at the ICP (see here). There are only 5 of her portraits in this small show (all of which are in the Zabriskie show I believe), but they are placed in the context of the work of the other two, which helps to clarify her influence on the photographers who came after her.
Collector's POV: For collectors, there is a big gap between Model's vintage and non-vintage work. Due to the relatively large number of later portfolios made (edition of 75 plus 15 APs), many have been broken up and sold off as individual images, depressing the prices a bit I imagine. At auction, later prints have gone in a range of $1000-5000 in recent years. The vintage work is another story: there has been very little that has come to market and those that have appeared have sold in a range between $25000-60000. Zabriskie is selling the entire 12 print 1976 portfolio for $65000. Other pictures in the show range from $7000-8500 for the more unknown jazz musicians up to $38000 for the 1950s print of Singer at the Cafe Metropole. These are, of course, Fuller Building retail kinds of prices.
Some questions to ponder about portfolios: when does a collector get large enough in his/her activities to be interested in buying entire portfolios of work? What is the right edition size for a portfolio, so that it is large enough to serve the audience of museums and large collectors, without flooding the market? And how many collectors get so big that they begin to support/subsidize the creation of specific portfolios of new work by their favorite photographers?
Rating: * (1 star) GOOD (rating system defined here)
Lisette Model
Through August 29th

Zabriskie Gallery
41 East 57th Street
New York, NY 10022