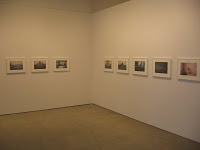 JTF (just the facts): 27 C-prints, all 11×16, framed in white and hung in the main gallery. (Installation shot at right.) Negatives from 1992 through 2002, printed in editions of 10.
Comments/Context: Lise Sarfati is a French photographer working for Magnum who has spent most of her career in Paris, with project stints in Russia and the United States. Her most recent body of work (and the one that might be familiar to most New York collectors) is called The New Life, a series of portraits of American teenagers from across the country, full of the sullen, anxious and solitary emotions of adolescence.
This shows goes back a step to a series of images Sarfati made in the 1990s in post-Soviet Russia. There are interior portraits, barren landscapes, and architectural shots of vernacular buildings, together painting a dreary picture of decay, destruction, and grim existence. It is a smothering and suffocating environment, where the people are struggling desperately to find some hope. And yet within this depressing and isolating world, there is just a tiny glimmer of promise and optimism buried underneath the rubble.
Irrespective of this compelling mood setting, the real reason to see this show is for Sarfati's use of color and light, especially in the interior portraits. In these images, the subjects are photographed indirectly, with careful composition echoing the muted colors of the rooms. There are washed out blues, pinks, greens, and greys, dulled and dampened by age, softened by clear and quiet morning light. The use of color is subtle and measured; there are no acidic colors shouting at you in these pictures. The muffled hues match the overall stillness of these pictures.
Collector's POV: The images in this show are priced between $4500 and $6500. Sarfati has virtually no secondary market at this point, so this is the only place you will find these images in the short term. While they don't fit our particular collection, if color photography is your passion, then one of Sarfati's interiors would be a terrific buy.
Rating:
* (one star) GOOD (rating system described
here
)
Through December 6th
525 West 25th Street
New York, NY 10001