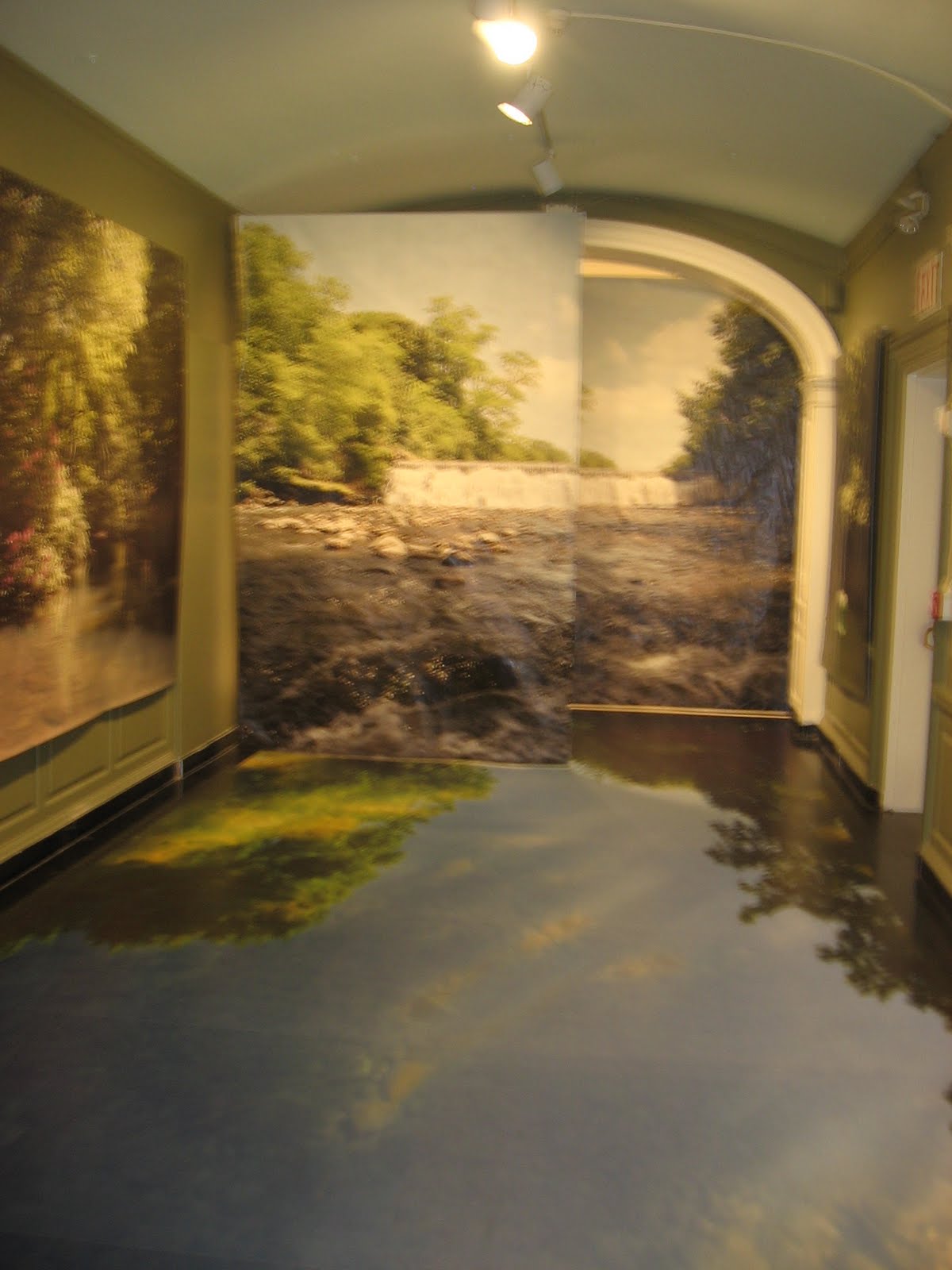 JTF (just the facts): A large show comprising two sets of prints: 1.) a total of 74 color images, framed in white with no mats, hung in groups (organized by NYC borough) in a large gallery space with a center wall divider, and 2.) a group of 13 extra large scale color works printed on Tyvek, and hung as wavy tapestries in the first two rooms of the exhibition (several are also printed directly on divider screens and one is mounted on the floor.) All of the images were taken between 2006 and 2009. The regular pigment prints come in a variety of sizes, including panoramas; the smallest prints are often hung in pairs, two high. (Marginal installation shots at right.)
Comments/Context: I think Joel Meyerowitz' big show of images from New York City's many parks caught me a bit off guard; it wasn't what I was expecting, and as a result, I found myself wandering through the galleries with questions bouncing around in my head. The punch line is that I think this show is less about the art and more about the parks, so my frame of reference was meaningfully out of kilter.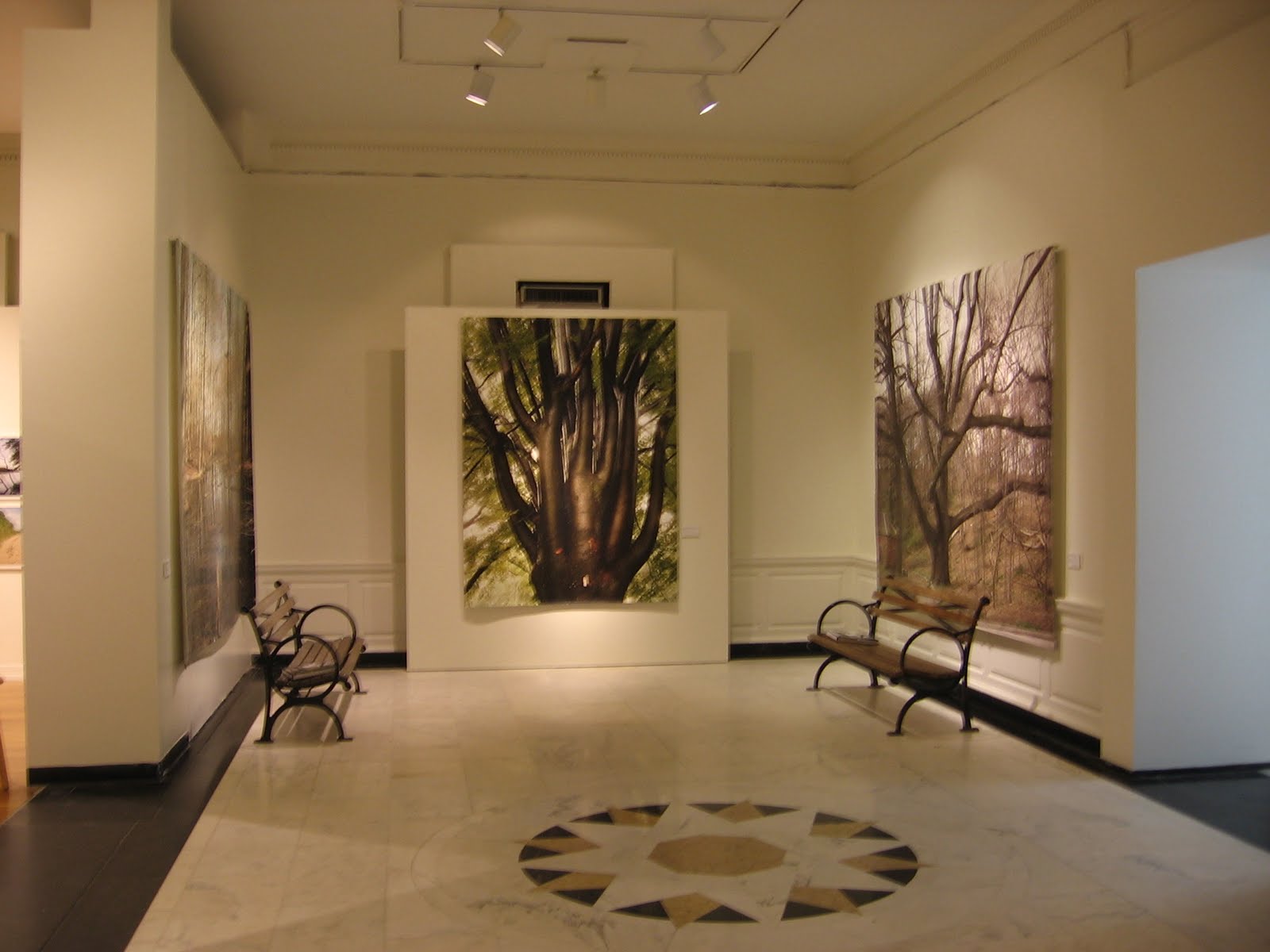 As you enter the exhibit, you are engulfed in a small room with floor to ceiling waterscapes of the Bronx River in various seasons, covering every inch of the space, including the floor (see picture at right, top). While these are photographs, they are printed on non-traditional surfaces and materials, making them feel a bit like trade show decor rather than art. The second room continues with these huge fabric images, now mostly of specimen trees, albeit in a more traditional gallery like setting, adorned with park benches (see picture at right, middle). While this two room prelude certainly succeeds at being both unexpected and eye catching, I was left a little perplexed by its kitchy theatricality.
The main gallery spaces bring you back down into the traditional world of a museum, with normal sized images hung in frames on white walls. The exhibit is organized by borough (Manhattan, the Bronx, Brooklyn, Queens, Staten Island), and depicts the various parks in those locales, across the seasons.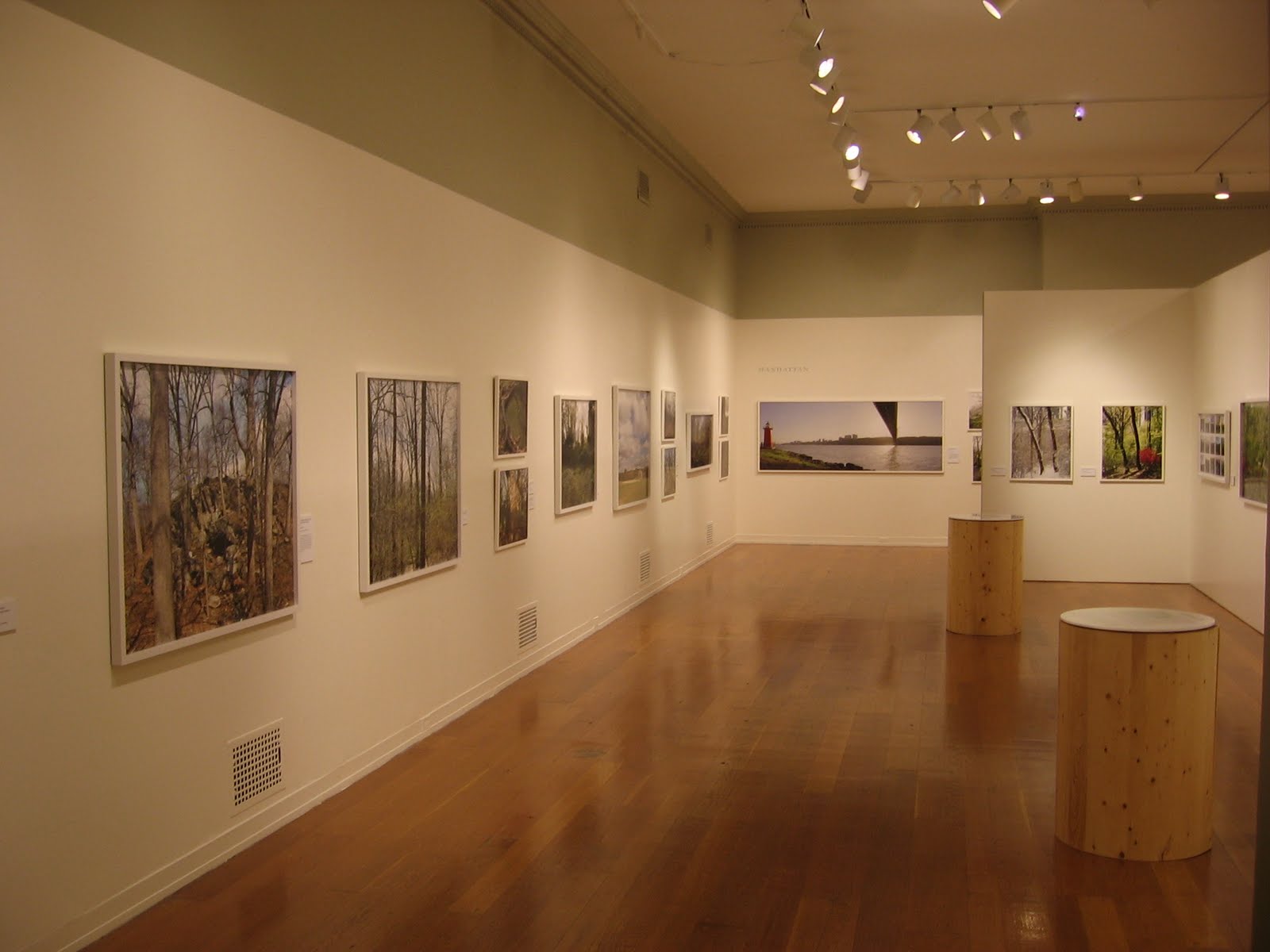 One of the first questions that I began to consider when seeing these images was "what is a park anyway"? There are no grand Ansel Adams vistas here, no majestic mountains, broad canyons, or sinuous deserts. These are straightforward, mostly deciduous forests (common across the Northeast), often connected to local waterways, and hemmed in by urban sprawl. Much of the landscape depicted is new growth forest; there are lots of spindly young trees recapturing land that was once cleared, making it "wilderness" once again. These are close-up spaces that have been protected against the thundering herds of humanity that threaten to overrun them; some are open for public use, while others are hidden and left generally alone. They all provide opportunities for residents to get out of the concrete canyons and spend time in "nature", although that word seems to have a relatively broad definition in these pictures; while there are plenty of glimpses of beauty on view here, there are also odd juxtapositions, boring and mundane views, and more than a few remnants of human alterations left behind to rot.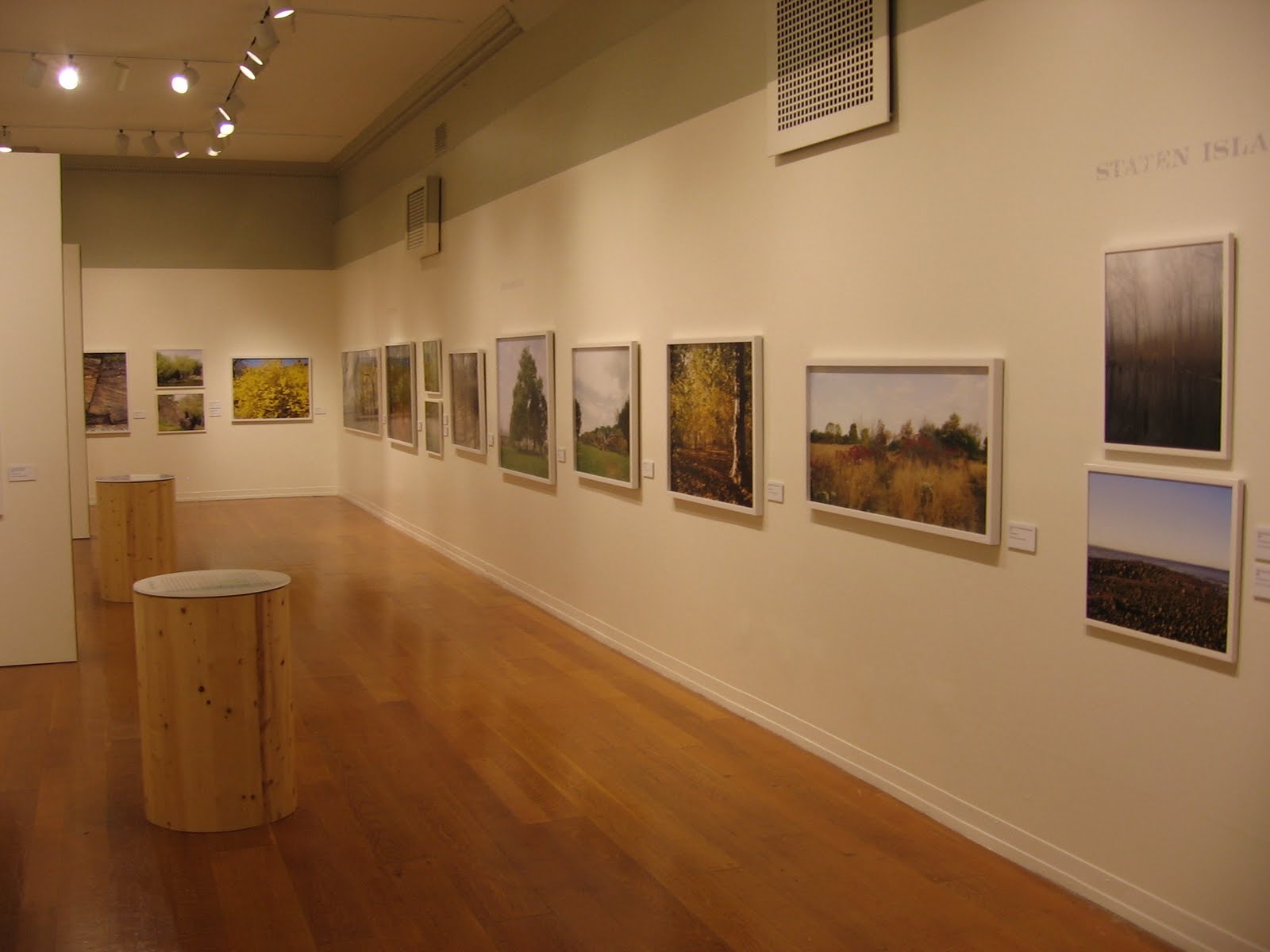 Which brings me to the second question in my head: "what is landscape photography in the 21st century"? Meyerowitz' images of NYC parks are surprisingly lacking in a common view point. In some pictures, there are the astonishing colors and delicate compositions of Eliot Porter, unfortunately veering into the realms of calendar art from time to time. In others, we see the sawed off tree trunks, worn ruts, and ugly remains of Robert Adams, reminding us of how we have carelessly destroyed many of these pristine environments. Still others have the claustrophobic feel of Lee Friedlander's dense thickets, overgrown with vines and underbrush. And a few have the subtle grace of Joel Sternfeld's landscapes, images taken with the knowing eye of a local, who can appreciate the nuances of change across the seasons, even in unspectacular terrain. Where Meyerowitz was in all this was harder to discern; while the good and bad of the subject matter certainly had an impact on the options the photographer had for making the pictures, I had a hard time finding Meyerowitz' own point of view in this exhibit.
As a stood in the galleries, I heard several other visitors proudly exclaim "I've been there!" and I think this is actually the keystone for appreciating this show; for folks who live in New York, this exhibit will end up being less about Joel Meyerowitz and his particular artistic vision for the landscape form, and more about the parks themselves and the various experiences they offer to visitors. Many of us will discover new places to explore, or be reminded of places we haven't been in years and should go back to. In this way, the show is quite satisfying; it succeeds in reintroducing the land to its inhabitants. As memorable art, I'm not sure it rates quite so highly; while these images are undeniably well crafted, I think the only way these pictures stand up to the tests of the canon of great landscape photography is if we redefine what the genre is based on the realities of our current time, placing a greater weight on those pictures which tell the ongoing story of the coexistence of land and man.
Collector's POV: Joel Meyerowitz is represented by Edwynn Houk Gallery in New York (here). Meyerowitz' work is routinely available in the secondary markets, dominated by prints made in large editions (75 or even 100) of his 1970s images, particularly his series of porches on Cape Cod. Prices have typically ranged from $1000 to $14000, mostly on the lower end of that range. I have heard several times from different people over the past year or so that there is a movement afoot to "reposition" Meyerowitz, putting more emphasis on his early street work and his relationship to other early adopters of color. How that relates to this current body of landscape work is less clear.
.
Rating: * (one star) GOOD (rating system described here)

Transit Hub:

Artist site (here)
New York City Department of Parks and Recreation site (here)
Museum of the City of New York
1220 Fifth Avenue
New York, NY 10029