JTF (just the facts): A total of 10 works by four different photographers: Seung-Woo Back (3 images), Bien-U Bae (2), In Sook Kim (3) and Jungjin Lee (2). The images are hung in a large, one room gallery with dark walls, framed in grey or black with no mats. Back's works are digital prints, ranging from 63×45 to 70×88, made between 2006 and 2008. Bae's works are c-prints on Diasec, approximately 50×100, made in editions of 5 in 2002 and 2006. Kim's images are also c-prints on Diasec, ranging in size between 16×31 and 72×48, made in editions of 20 or 50, between 2005 and 2007. Lee's works are photo emulsion on rice paper, 57×21, made in editions of 5 in 2007.
Comments/Context: The truth of the matter is that we don't really know much about Korean photography (vintage or contemporary). But we've started to notice more Korean photographers in the contemporary mix lately (at the Armory, in auctions etc.), so we've begun to feel the need to be more educated on what's happening, thus our visit to this group show at Gana Art in Chelsea.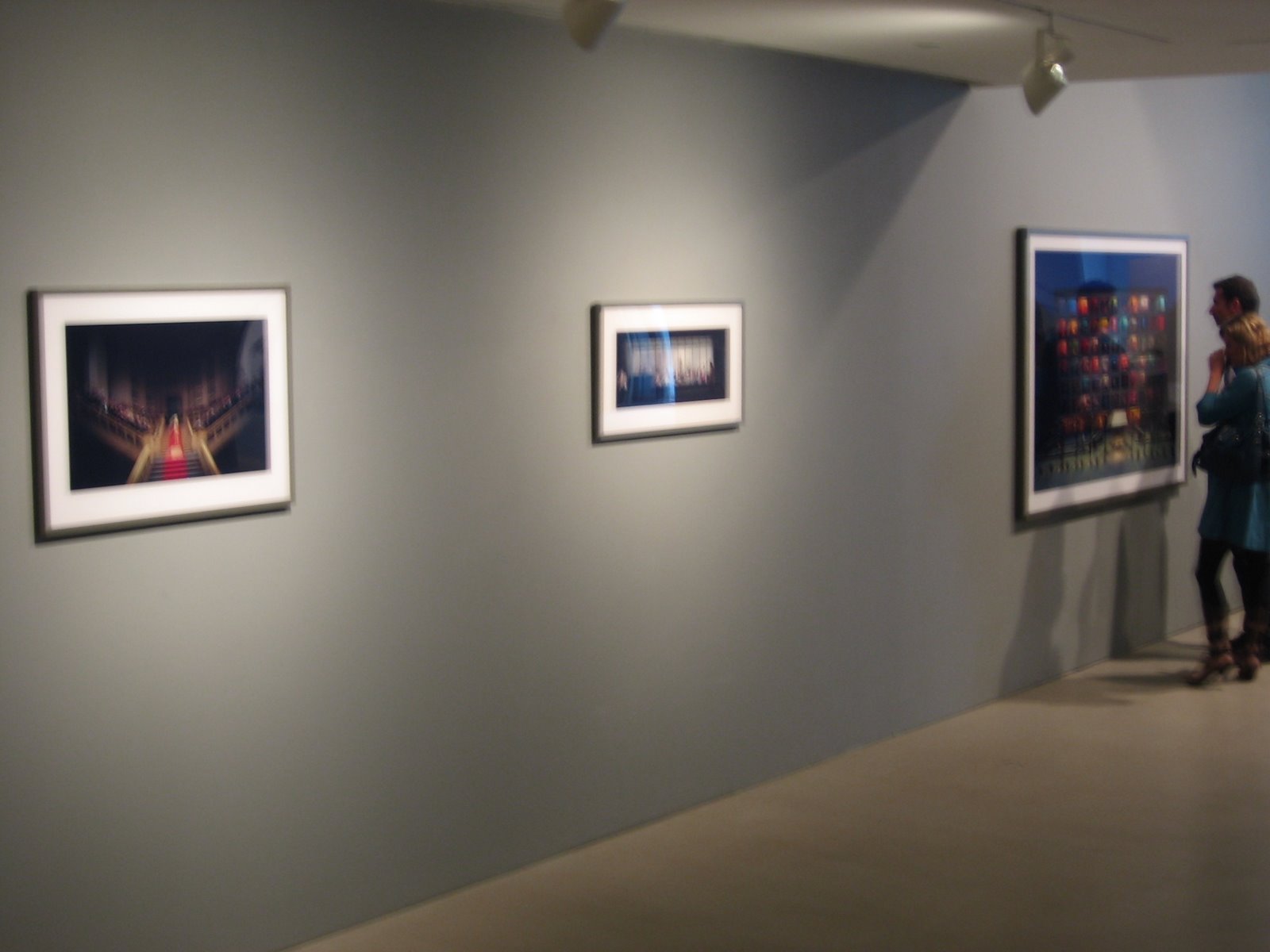 Bien
-U
Bae's
misty images of dark swirling pine trees are on the left wall as you enter the gallery (installation shot above, top). These works have a "magical forest" feel to them, with an undertone of creepiness, and would fit well into a collection of black and white tree images across the history of the medium.
In Sook Kim's Saturday Night (one of three images by the artist on view) is voyeuristic look into the nocturnal activities of a variety of apartment dwellers in a single building, Rear Window style. (The work is on the far right of the installation shot at right, second from the top.) Each window is tinted a different color by the lighting, creating a mixed rainbow effect from afar. Close up, each small box tells a tale of sex, loneliness, criminality or boredom (there's even a woman hanging herself).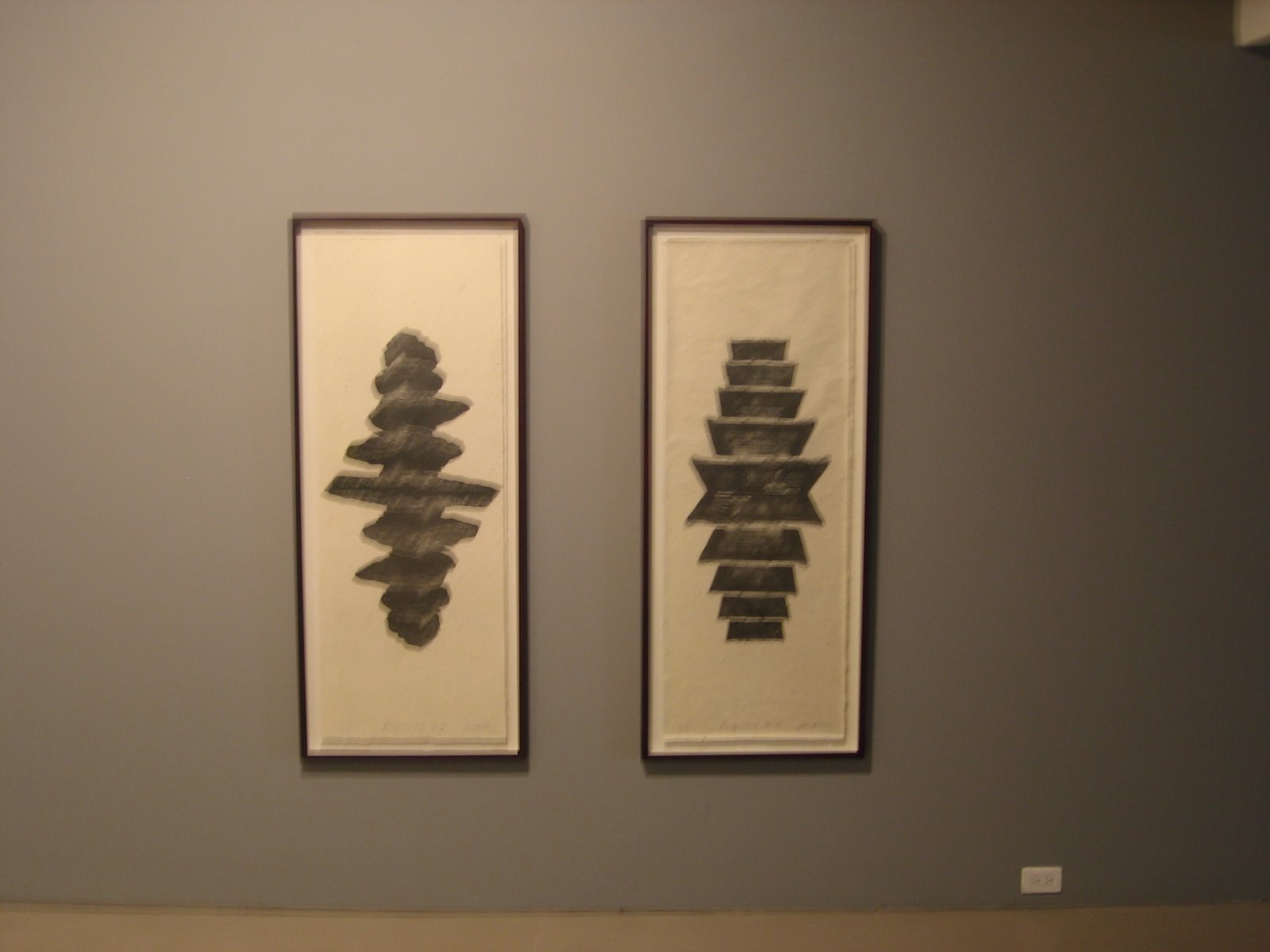 Jungjin
Lee's delicate images on rice paper certainly have the handmade "Asian" feel of traditional scrolls or
calligraphy
, but up close, the abstract patterns turn out to be fragments of images of pagodas, overlapped and repeated to create the stylized inkblot forms. (Installation shot at right.) These are quiet, meditative works that open a dialogue between historical art and contemporary methods.
And finally, Seung-Woo Back's pair of images on the back wall (ironically entitled Utopia) have a 1950s collage aesthetic, combining black and white post Korean War found photographs with acid yellow and orange backgrounds. (Installation shot at right, bottom.)
Overall, this diverse show seems to be a decent primer on current trends in Korean photography, especially for neophytes like ourselves who need a survey-type overview.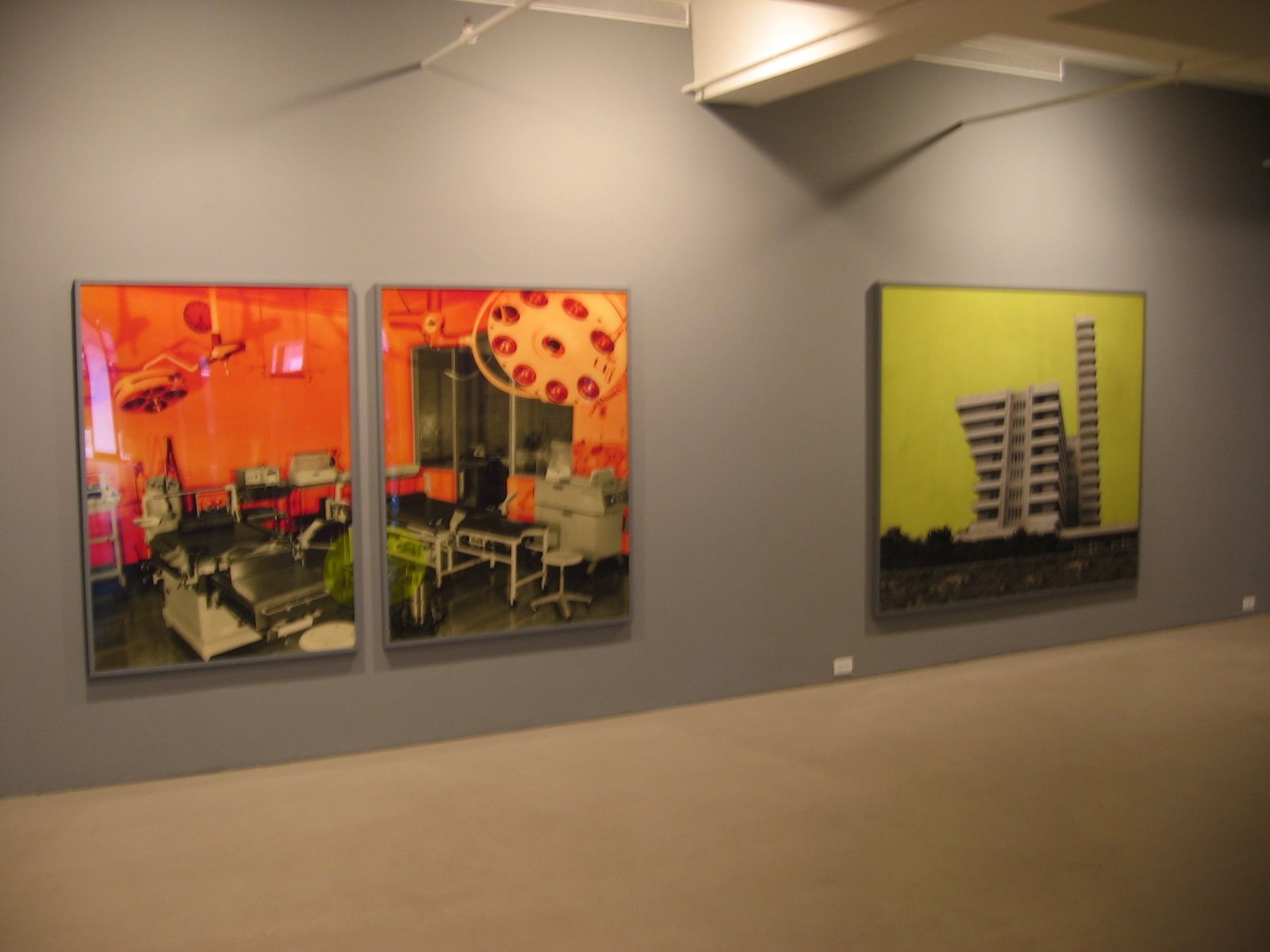 Collector's POV:
Here's a quick run down on the prices:
Bien
-U
Bae's
two works are $60000 each; In
Sook
Kim's
Saturday Night
is $40000, the other two adjacent images are $3500 each;
Jungjin
Lee's two images are $10000 each; and
Seung
-Woo Back's
Utopia
series images are $20000 each, a third image from
Real World
is $25000. For our particular collection, I would gravitate towards the works of
Jungjin
Lee, as they might interact in intriguing ways with other architectural images we own.
Rating:
* (one star) GOOD (rating system described
here
)
Transit Hub:
Through May 16th
Gana Art

568 West 25
th
Street
New York, NY 10001