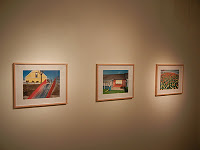 JTF (just the facts): A total of 23 color photographs, variously framed and matted, and hung in the main gallery space. The works come from three distinct projects: Landet Utom Sig (1988-1991), Home (1991-2001), and Office (1996-1999), each of which resulted in a monograph. There are 8 images on display from Landet Utom Sig, all vintage c-prints, framed in white and matted, each 20×24, uneditioned. There are 6 images from Home, all c-prints, framed in blond wood and unmatted, each 21×25, in editions of 20. And there are 9 images from Office, framed in white and unmatted, each 23×27, in editions of 12. (Installation shots at right.)
Comments/Context: Swedish photographer Lars Tunbjörk's pictures have a sharp eye for the quietly absurd, his visual moods ranging from dry and witty to a slightly darker brand of caustic skepticism. This show provides a neat sampler of three of Tunbjörk's recent projects, capturing the idiosyncrasies of suburban Sweden and anonymous office work with a flair for overlooked human oddity.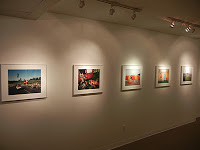 Splashes of bright color punctuate Tunbjörk's Landet Utom Sig series, where something slightly strange is often taking place: a man plays an accordion outside a red van, a pair of people sit under matching yellow umbrellas on a grassy expanse, a father drives a tiny children's car while being watched ominously by Santa Claus, and a man tips over while sitting at a table submerged in the warm Midsummer water. The Home series has the same sense of the surreal, but without the human presence; striped awnings, white fences, flashy red tulips, and lots of white siding find the earnest ridiculousness hiding in the suburban experience.
Moving farther afield, Tunbjörk's Office project takes us into the international world of cloth covered cubicles and fluorescent lighting, where adventurous leggy plants strain toward the light and elevators get caught between floors. In these pictures, the everyday of the business world is seen through the eyes of an outsider: why on earth would a man get his shoes shined in his office or would a lawyer sit under a conference room table drowning in a sea of papers? The ordinary office environment is somehow exposed for its weirdness in these pictures, the unusual behaviors captured in an understated anthropological deadpan.
All in, this is a show that proves that there is comedy to be found in the mundane, where a subtle turn of perspective turns the commonplace into the peculiar
.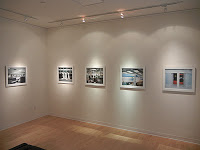 Collector's POV: All of the prints in this show are priced at $4000 each, regardless of project or date. Tunbjörk's work has not been widely available in the secondary markets, so gallery retail is likely the only option for interested collectors at this point.
Rating:
* (one star) GOOD (rating system described
here
)
Transit Hub:
Through November 19th
41 East 57th Street
New York, NY 10022