JTF (just the facts): A total of 16 color photographs, mounted without frames, and hung in the single room gallery space. All of the works are undated digital c-prints. The prints come in two sizes: 16×20 (in editions of 10) and 24×30 (in editions of 5). There are 4 of the large prints and 12 of the small prints in the show. A monograph of this body of work was published in 2011 by Kehrer (here) and is available from the gallery for $45. (Installation shots at right.)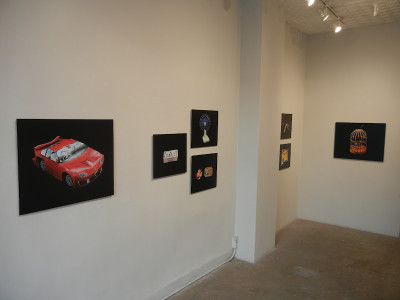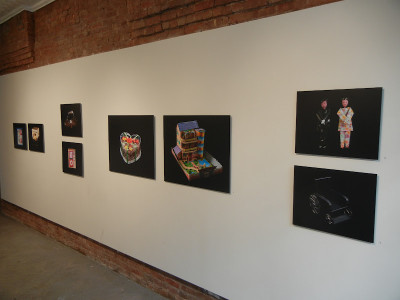 Comments/Context: While many photographers have tried to capture the complex nature of China's recent economic boom and its accompanying cultural transformations by pointing their cameras at towering skyscrapers, endless factories, and expansive construction projects, Kurt Tong has opted for a simpler, smaller scale example of how attitudes have been changing. His photographs document the Joss paper objects burnt as offerings for the dead, showing just how far Western consumerism and luxury lifestyles have permeated traditional Chinese society.
Tong's straightforward still life images, set against black backgrounds, have the look and feel of commercial or stock photography: bright, crisp, and colorful. But the objects themselves tell a more complicated, anthropological story. While mourners once burned paper decorated to look like silver and gold ingots to help provide for the afterlife existence of their loved ones, the variety of items now being burned has expanded to match modern Chinese life, covering both the drearily mundane and the wildly aspirational. For the luxury minded, a large house with a guard and maid is available, as is a Ferrari with a chauffeur, a pair of servants, and a Louis Vuitton handbag. More practical objects include umbrellas, an electric fan, dentures, and a wheelchair. And depending on your view of what comes after death, the machine gun, the swimming trunks and snorkel, or the iPod Nano might make an appropriate gift for the recently deceased. It is clear that the need for "stuff" now extends far beyond the grave.
These objects (and the resulting photographs) have a kitchy, cartoonish feel, but as still lifes they are successful in being both attention grabbing and representative of a larger and more nuanced idea. The story they tell mixes old and new, succinctly showing one facet of how Chinese culture is evolving to incorporate new trends, pressures and mindsets.
Collector's POV: The prints in the show are priced at $800 and $1600, depending on size. Tong has no secondary market history, so gallery retail is the only option for interested collectors at this point. Prints can also be found on Bekman's 20×200 website (here) in various sizes and editions, all the way down to $24 for an 8×10 print.