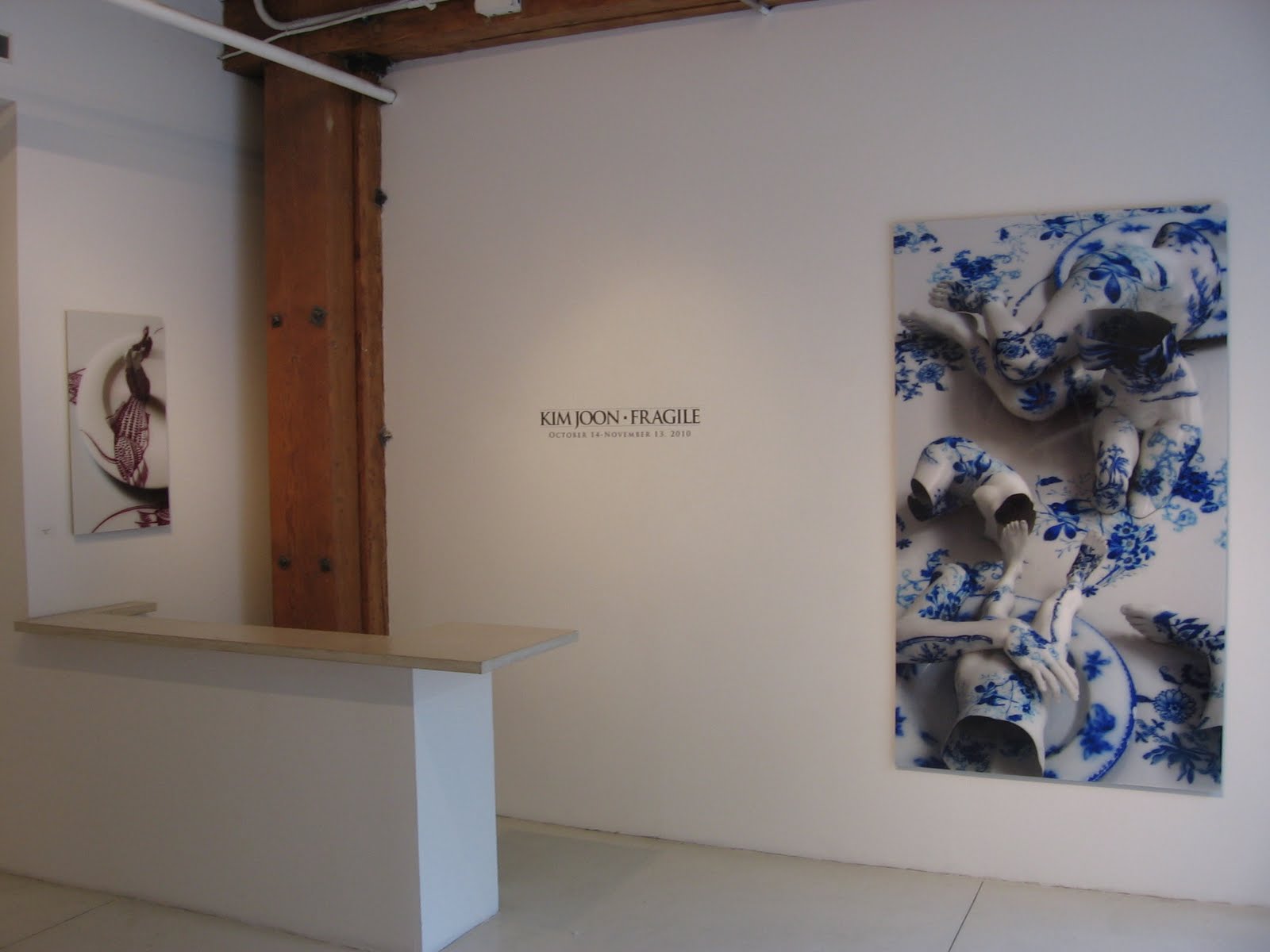 JTF (just the facts): A total of 22 large scale color works, each face mounted to Plexiglas and unframed, and hung in the two entry areas, the main gallery space, and a smaller back room. All of the prints are digital chromogenic prints, in editions of 5 or 8. The works range in size from 35×21 to 83×47 (or reverse), and were made between 2008 and 2010. A thin catalogue of the exhibit is available from the gallery. (Installation shots at right.)
Comments/Context: Korean photographer/artist Kim Joon's eye-catching images venture into the unexplored edges of what we call photography, looking for wholly original aesthetics that go beyond the boundaries imposed by the use of a camera. Using the powerful digital tools found in computer labs and animation studios, Kim has pushed the nude figure somewhere unexpected, morphing it into an undulating, intertwined foundation for intense decoration and patterning.
.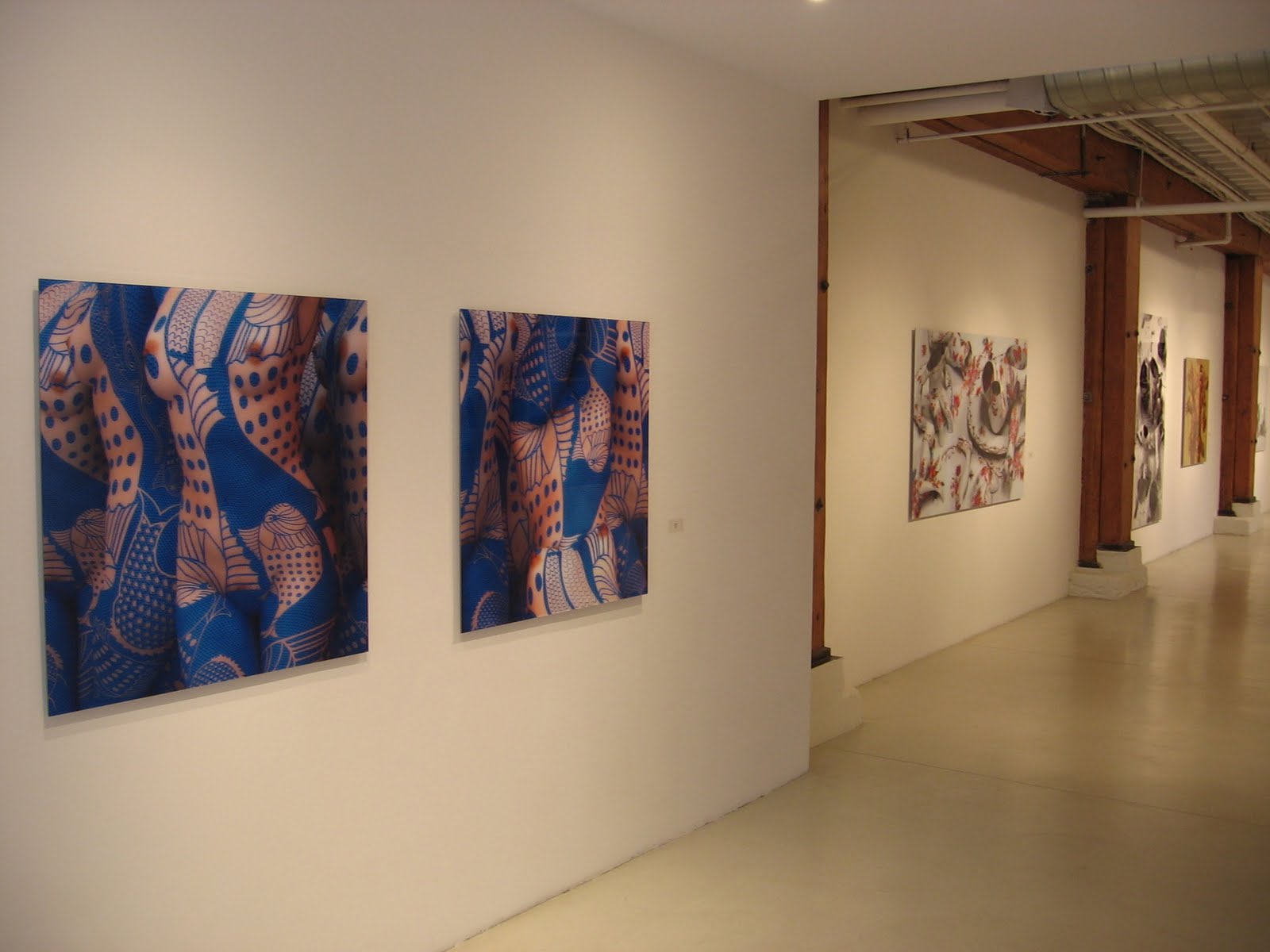 I think Kim's work brings forward many of the same underlying ideas and questions that were raised by Thomas Ruff's show at David
Zwirner
earlier this spring (
here
), albeit with an entirely different visual output. While Ruff made images of abstract mathematical equations, he too was working inside the realm of the computer, extending his visual vocabulary into uncharted white spaces. Kim has taken the freedom generated by the technology and used it to re-imagine human bodies, covering them with a heady mix of colorful Asian and Western iconography, like tattoos or body paint. Rendered in 3D and then "skinned" with his choice of coverings, the bodies become an impossible tangle of male and female limbs, a theme and variation exercise in repetition and geometry, with stylized fish, cats and birds mixing with corporate logos (Donald Duck, Mini Cooper and Honda).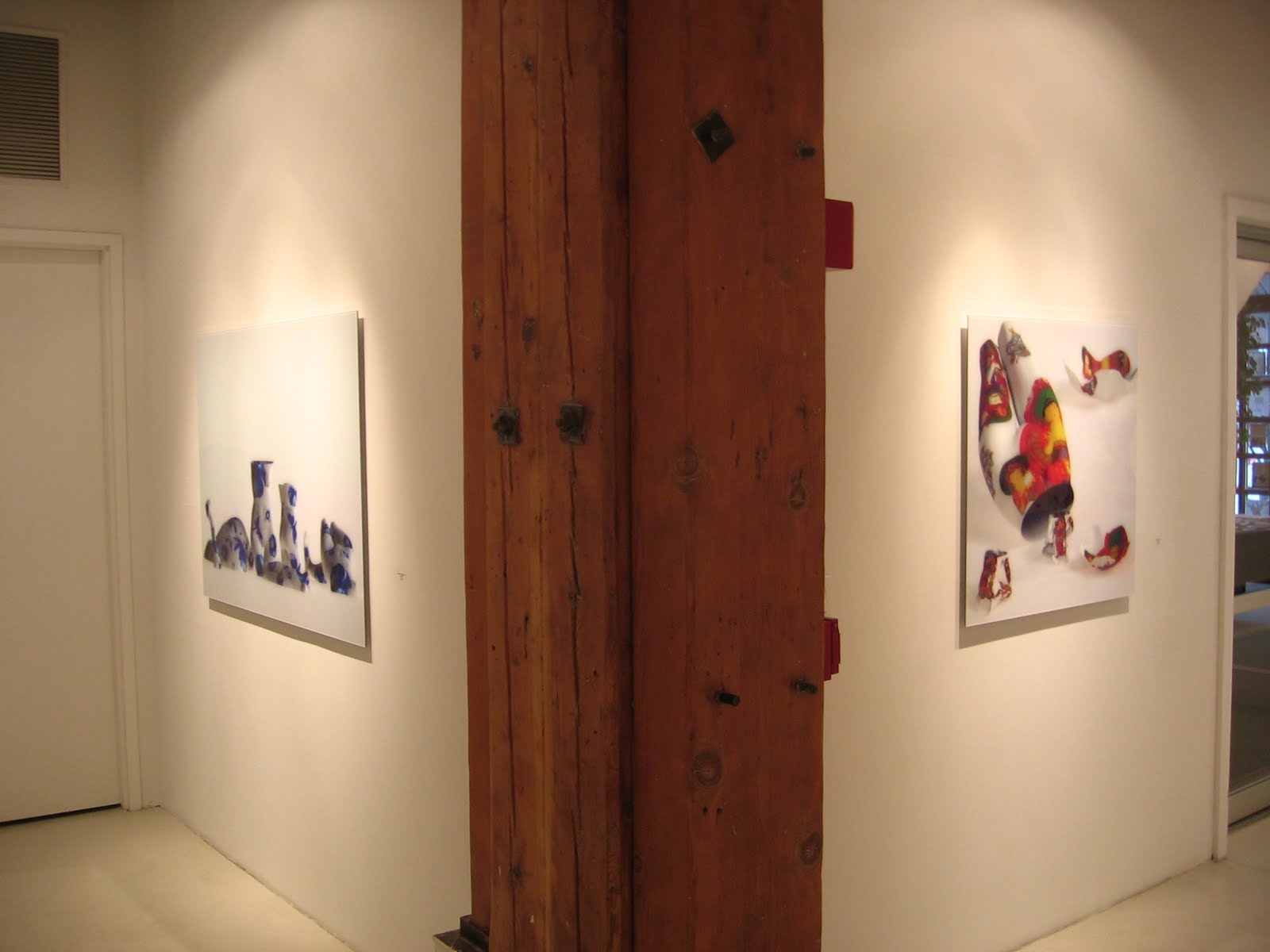 Kim's newest works trade the look and feel of human skin for the alabaster shine of fine porcelain. Bodies have been broken open, revealing hollow insides like headless figurines. Traditional china patterns from
Villeroy
&
Boch
, Limoges and Royal Copenhagen cover the cropped torsos and echo across nearby plates and saucers. Floral designs with gold leaf edges and blue and white butterflies wander across clusters of fallen bodies.
I think an overly simple reading of Kim's work would be to highlight the clash of cultures that can be found a great deal of contemporary Asian art today and conclude that he too is working this same set of "East meets West" ideas, albeit in a more boldly colorful manner, printed big and glossy to attract a certain kind of collector. When I look at these works, however, I am more interested in where his compositional explorations might be taking us, and how to better interpret his computer-generated visual innovation. We're a long way from clumsy appropriation and photocollage – in fact, we're somewhere entirely new, with inherently different risks and challenges for those who employ these revolutionary tools. Do it "wrong" and it's a throwaway gimmick, do it "right" and it breaks all the rules.
To my eye, while not every one of the works in this show hits the mark, there are certainly moments when the swirl of bodies or the arrangements of china are wonderfully woven together. Give them the backhanded compliment of "decorative" if you must, but when these interlaced forms/patterns find just the right balance of fluidity and refinement, there is something here that we haven't seen anywhere before.
.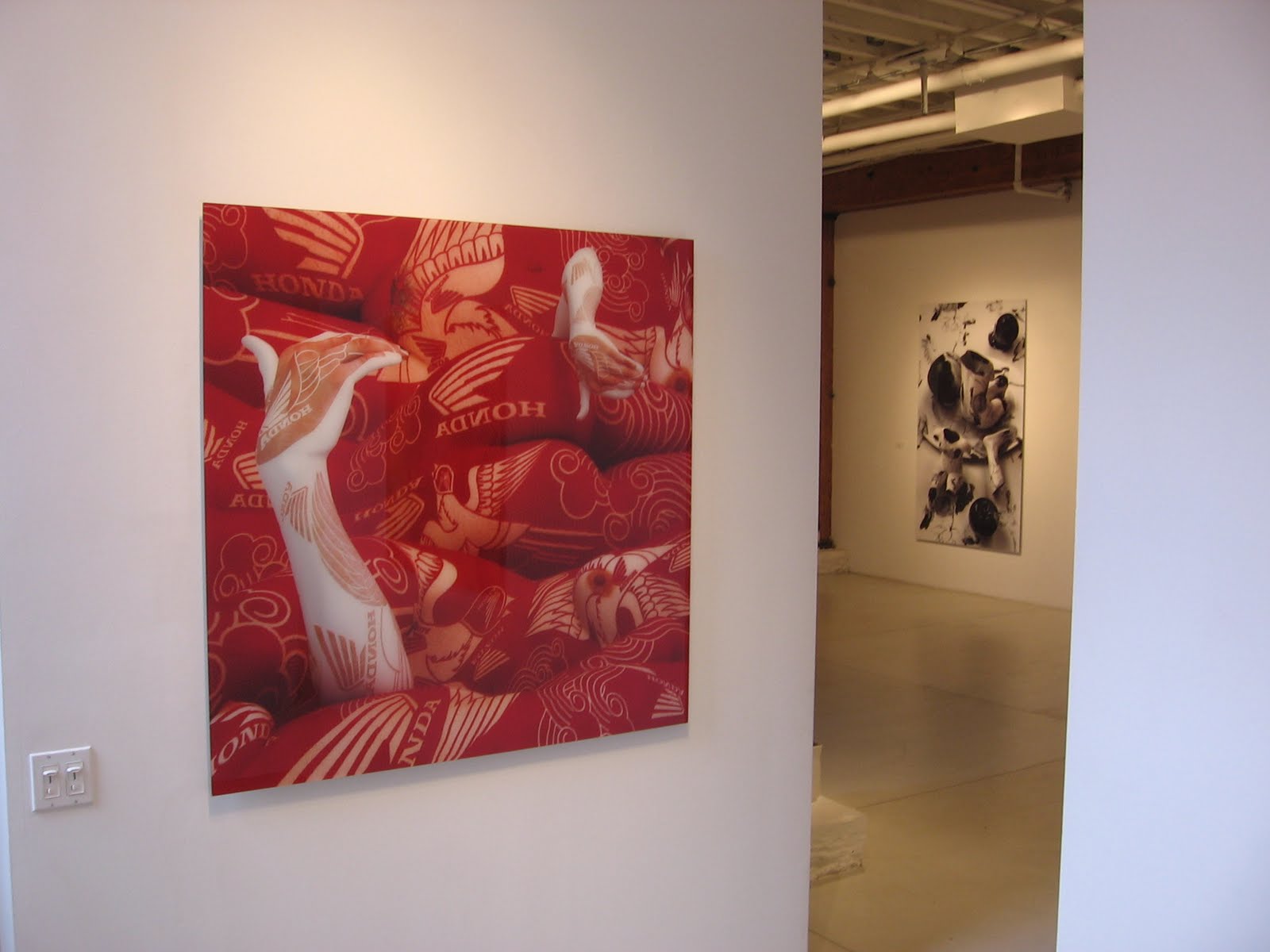 Collector's POV:
The works in this show are generally priced by size, with the smallest images at $7000 or $10000, and the largest either $23000 or $25000, with a number of intermediate sizes and prices. Kim's work has recently become more consistently
available
in the secondary markets for photography, particularly in the past year or two. Prices at auction have ranged between $5000 and $16000.
Rating:
* (one star) GOOD (rating system described
here
)
Transit Hub:
Through November 13th
547 West 47th Street
New York, NY 10001