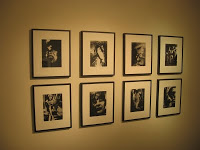 JTF (just the facts): A total of 48 black and white and color images, framed in black and matted, and hung throughout in the main gallery space. (Installation shots at right.) Six separate projects are represented in the show; details for each are as follows:
Koza: 6 gelatin silver prints, taken between 1977 and 1980, printed in 2008, all 12×9 or reverse, in editions of 7
Tokyo: 8 gelatin silver prints, taken in 1979, printed in 2008, all 12×9, in editions of 7
New York: 11 gelatin silver prints, taken between 1981 and 1982, printed in 2002, all 12×9, in editions of 7
Eastern Europe: 6 gelatin silver prints, taken between 1983 and 1984, printed in 2003, all 12×9, in editions of 7
Seoul, Berlin, New York: 11 digital c-prints, taken between 1986 and 1989, printed in 2004, all 12×9 or reverse, in editions of 12
Soviet Union: 6 digital c-prints, taken in 1991, printed in 2009, 12×17 or reverse, in editions of 5
Comments/Context: The exhibit of Keizo Kitajima's portraits now on view at Amador Gallery is really a mini-retrospective of sorts, a sampler of a handful of different projects spanning approximately 15 years. What I like best about this show is that it shows the evolution of an artist's approach to picture making over time; ideas are expressed, refined, and adapted to different circumstances, and then eventually abandoned when a new perspective is required.
Kitajima's earliest works used a snapshot aesthetic to capture the cultural mixing of servicemen and local residents in Okinawa, often in bars or in nighttime encounters. In the following years, under the influence of Daido Moriyama and others, Kitajima's Tokyo work became much darker, toned, grainy and often out of focus, with a heavy emphasis on process; high contrast images were rephotographed and roughly printed, with chemical residues dripping visibly down the sides. The images have an avant–garde performance aspect to them, reminiscent of the whole Provoke era.
In the early 1980s, Kitajima came to New York, where he left behind the experimental processes and returned to environmental snapshot portraiture, now using flash lighting to document the gritty street life of the city; his camera was drawn to the fringes: the sordid, the outrageous, and the unusual. His book, New York, published in 1982, earned him the Kimura Ihei Award and cemented his position as a fine art photographer in Japan. Kitajima then moved on to Eastern Europe, where his portraits became slightly more formal, buttoned-up overcoats and three-quarter poses matching the grey skies and dreary cities.
Color entered the photographer's palette in the late 1980s, where his snapshot aesthetic was still in evidence, but now modified to capture fleeting head shots on city streets around the world; these works are strongly reminiscent of similar images by Harry Callahan and Philip-Lorca diCorcia. The final group of images in the show are from Kitajima's visit to the USSR in 1991, just prior to its collapse. These pictures are formal color portraits, carefully framed and composed, with more sense of surrounding context. Put side by side with his 1970s era black and whites, most would be hard pressed to be convinced that these two projects were the work of the same photographer.
While Kitajima's portraits aren't uniformly engaging, I thoroughly enjoyed being able to see how his technique has evolved over time, and how interlocking pieces have been added and taken away to create new aesthetic variations at each step along his artistic road.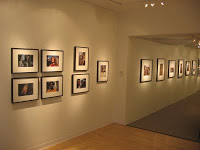 Collector's POV: The prints in this show range in price from $2500 to $3500, based on the different projects. Kitajima's work has to date not been available in the secondary markets, so gallery retail is the only option for interested collectors at this point. A few of his collectible photo books have started to appear in the photo book auctions.
While portraits aren't a fit for our specific collection, I particularly enjoyed the late 1970s Tokyo images, where shadowy sunglassed faces are cropped and reworked.
Rating: * (one star) GOOD (rating system described here)
Transit Hub
Keizo Kitajima, The Joy of Portraits
Through November 7th
Amador Gallery
41 East 57th Street
New York, NY 10022