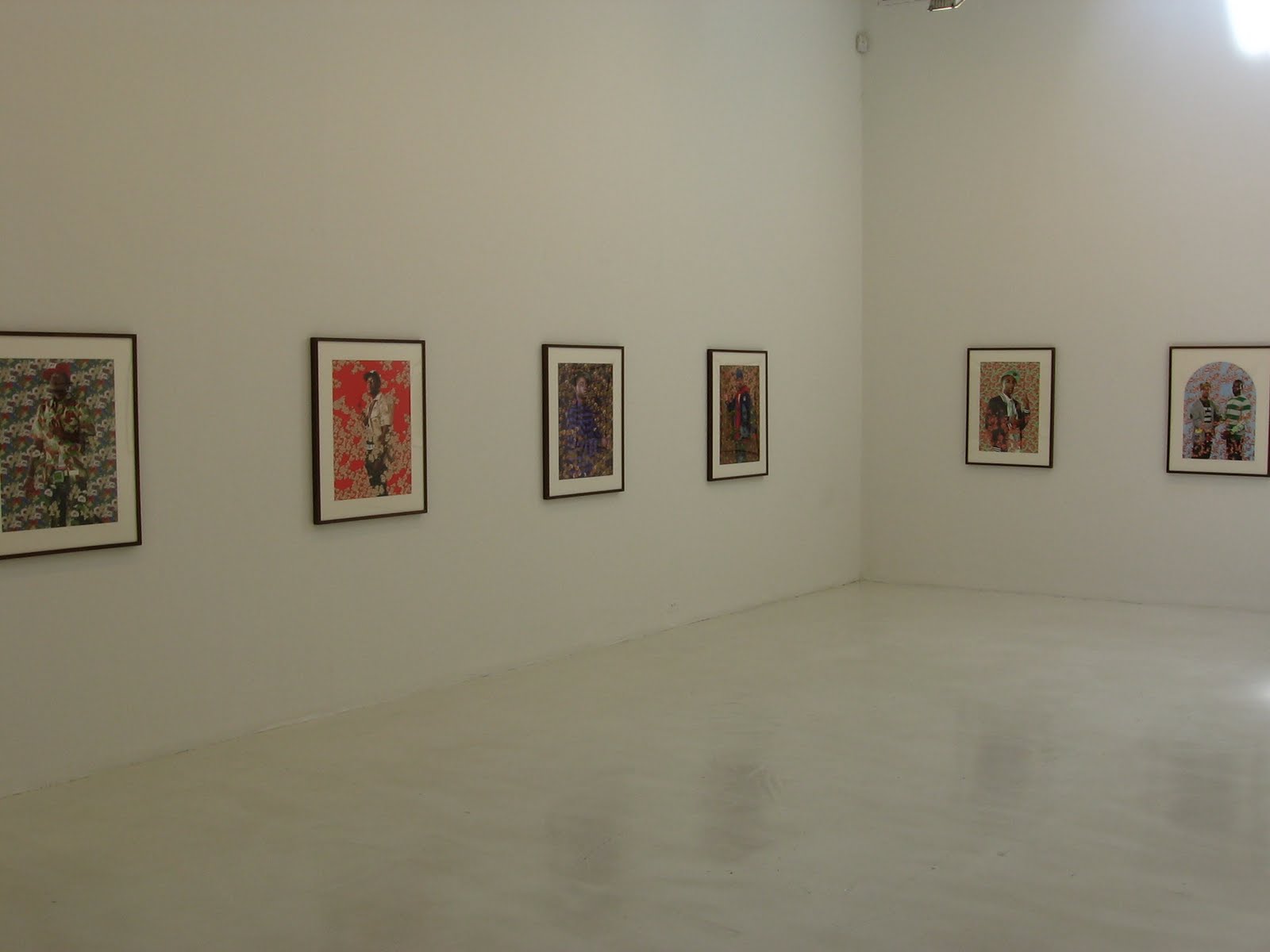 JTF (just the facts): A total of 16 photographs and 1 painting, hung in the main gallery, the entry and the side gallery spaces. The photographs are framed in brown wood and matted. 15 of the images are from the Black Light series (although only 14 are in the main space; I must have missed the other hung somewhere else). No dimensions were given, but they looked to be about 24×20. (Installation shots at right.)
Comments/Context: Kehinde Wiley's aggressively vibrant portraits of young African American men are an exercise in jarring juxtapositions, at once vaguely familiar and altogether different than anything we're used to seeing. Drawing liberally from the canon of art history, he has borrowed poses and allegories from images of kings, noblemen and saints (those with status and power in society) and applied them to men from urban Hip Hop culture (those who have lacked such status and power to date): crowns and halos have been exchanged for flat brimmed baseball hats worn sideways; velvet cloaks and riding breeches have been traded for hoodies and oversized plaid shirts; elaborate jewelry is now an Etch-a-Sketch belt buckle; waxed mustaches have been replaced by scruffy beards and goatees. Quoting from 500 years of painting, Wiley has collapsed the typical boundaries and conventions of portraiture, using the visual language of the past to tell us compelling stories of the present.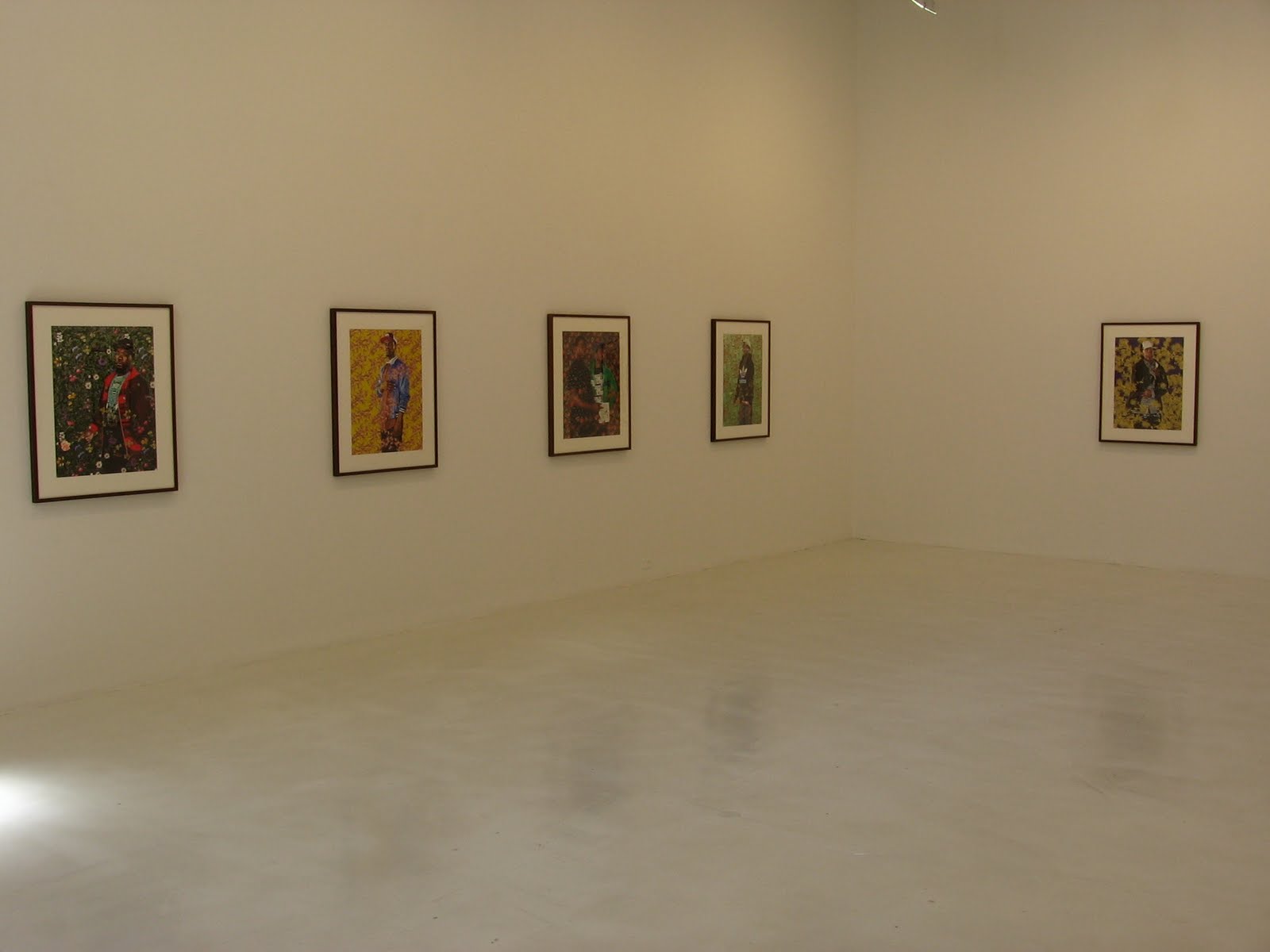 These pictures work not because of the witty references and tricky overlapping candy-colored Arts and Crafts floral wallpapers; the poses and backgrounds are simply tools that Wiley uses to carefully focus our attention on his subjects. It is their stories that he wants to tell; each one is given full confident attention, the contrast of the surroundings opening up subtler questions about the struggles and triumphs of young African American men in today's world.
These images are yet another example of photographic tools being embraced by contemporary artists of all kinds; Wiley is best know as a painter, who has used photography as an intermediate step toward the ultimate end point of paint on canvas. Now he has crossed over to use the sharpness of original photographs to tell even more realistic stories, albeit intertwined with the William Morris-style design elements via Photoshop. Whether we still call this kind of work "photography" is up for debate, but I think this type of approach of mashing up photography and other drawn or painted elements in a computer-generated collage-style print is a direction we will see much more of in the future of contemporary art.
Collector's POV: The prints in the show are priced at $5000 each, with the set of 15 also being sold as a portfolio for $75000. Each image has been printed in an edition of 6; I was told that the hope was that a few portfolios would sell, and the rest would be broken up and sold as individual images. And additional image from a previous series is also $5000, and the large painting in the smaller side gallery is "on reserve".
While these portraits don't fit our collecting parameters, my personal prediction is that these prints will sell very well. They are priced and sized appropriately, are eye-catching and distinctive, and will be particularly attractive to contemporary art collectors who cross over into photography from time to time. Get 'em while they're hot.
Rating:
** (two stars) VERY GOOD (rating system described
here
)
Transit Hub:
Kehinde Wiley, Black Light
Through September 26th
76 Grand Street
New York, NY 10013