Still working my way through the summer backlog.
.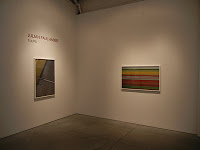 JTF (just the facts): A total of 8 large scale color works, framed in white and unmatted, and hung against white walls in the back room of the gallery. All of the works are Lambda prints, sized 32×47 or reverse. The images in the show were made in 2011, and are available in editions of 3. (Installation shots at right.)
Comments/Context: Earlier this year, the New York Times commissioned the German photographer Julian Faulhaber to make images of the spring time ritual of blossoming tulips in Holland (the article can be found here). Countless tourists visit the farms and fields each year to witness the riots of color, and the endless rows of bright flowers have become a post card cliche.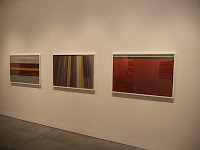 Faulhaber's novel way into this subject was to take to the air and make abstract aerial shots of the fields themselves, cropping out the surroundings and sky to focus solely on the fragmented lines of color. The result is a set of images that are dramatically striped and linear, where variations of orientation and angle (horizontal, vertical, and diagonal) create rhythmic geometric patterns. It is a reductionist approach, turning the strict rigidity of agriculture into simple arrays of pigment, the texture of the tulips creating a mottled surface not unlike ribbons and bands of pastel.
Faulhaber is not the first to employ an aerial vantage point when looking at the flatness of the Dutch countryside; Gerco de Ruijter has made related images using a kite camera. The difference here is the emphasis on painterly color, and on how the rows of vibrant tulips can be transformed into delicate, perfectly straight lines when seen from afar. Instead of opting for the obvious and saccharine, Faulhaber has highlighted the intensity and exacting rigor of this surprisingly unnatural visual spectacle.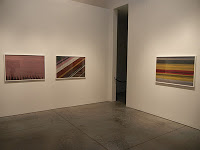 Collector's POV: Each of the works in this show is priced at either $6000 or $7000 (likely a ratcheting edition price). Since Faulhaber's prints have little secondary market history, gallery retail is likely the only option for interested collectors at this point.
Rating: * (one star) GOOD (rating system described here)
Transit Hub:
Julian Faulhaber, Tulips
Through August 19th
Hasted Kraeutler Gallery
537 West 24th Street
New York, NY 10011