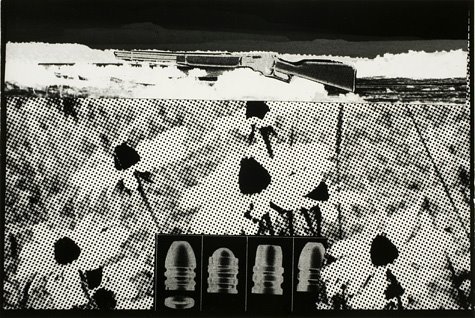 JTF (just the facts): A total of 40 works, framed in black and matted, hung against green walls in a small single room gallery located at the far rear of the lower level. The images are a mixture of gelatin silver prints, montage/collage, cliche-verre, solarization, negative prints, and offset lithography. The mixed-media prints were made between the 1960s and the 1990s. (Since no photography is allowed at the ICP, unfortunately there are no installation shots of this show. Rifle Bullets and Daisies, 1967, at right, via the ICP website.)
Comments/Context:
Until our most recent fascination with digital
manipulation
,
photographers
who rejected the path of "straight" photography in favor of drawing on, painting, and otherwise reworking their photographs were at best an actively neglected group of outcasts. Starting in the mid 1960s, John Wood
abandoned
the pure ideals of photography and started
experimenting
with a wide variety of artistic processes (old and new) to try to expand the boundaries of the medium and find ways to express his ideas more fully than a documentary photograph allowed. This small show now on view at the
ICP
, focused on Wood's more activist art, is a companion piece to a larger exhibit of Wood's work at
NYU's
Grey Art Gallery (linked below).
The images collected at the ICP all center of highly charged, often political subjects: the Vietnam War, nuclear waste/warfare, and environmental destruction/ecological catastrophe. There are cooling towers, dead eagles, guns and bullets, deforested pine stumps, and references to the Exxon Valdez and other oil spills. Unlike a documentary photograph which purports to tell some sort of truth, leaving it up to the viewer to draw his/her own conclusions, Wood's works are obviously opinionated; there is no confusion about where he stands on these issues, given the dark, shadowy montages and juxtapositions that he has created. While not falling into the easy traps of propaganda, Wood mixes his imagery to create sometimes harsh, confrontational works that force us to see these important issues from his point of view. And while I can't say these works are fun exactly, they are certainly a splash of cold water to wake you up and get you thinking.
Collector's POV: After some searching, I have found neither gallery representation in New York or elsewhere nor any meaningful auction record for the work of John Wood – perhaps this is a result of having a relatively common name in an age defined by search technology. In any case, please add any information that is relevant to the comments for those who might wish to follow up.
Rating:
* (one star) GOOD (rating system described
here
)
Transit Hub:
Main exhibition John Wood: On the Edge of Clear Meaning at NYU's Grey Art Gallery (here)
Exhibition catalogue (here)
NY Times review (here)
Through September 20th
UPDATE:
Thanks to the comment below, we now know that John Wood is represented in New York by Bruce Silverstein Gallery (
here
).