JTF (just the facts): A total of 121 works in various media, hung against white walls in a winding series of 11 rooms. By my count (and this was a bit tricky given the number of multi-part pieces on display), there were 76 photographs and photo-based works, 23 paintings, 6 videos, 14 books and other ephemera, and 2 sculptures. These works span Baldessari's entire career, from 1962 to 2010. This show had previous stops at LACMA (here), the Museu d'Art Contemporani de Barcelona (here) and Tate Modern (here), before finding its way to the Met. An exhibition catalog is available from the bookstore for $75/35, depending on the binding. Since the Met did not allow photography in this particular exhibit, there are unfortunately no installation shots to accompany this review. The individual images at right are via the Met website. (John Baldessari, Floating Color, 1972, at right.)
Comments/Context: John Baldessari's fantastic retrospective exhibition now on view at the Met has more ideas per square foot than any other show I have seen in New York this year. It voraciously wanders from idea to idea, mixing and juxtaposing, compiling and clustering, with a powerful cerebral logic that moves easily from arid and brainy to joyfully playful and downright funny.
.
While Baldessari has aptly been called the godfather of Conceptual art, this show led me to a more complex reading of where his greatest innovation really lies. I now see him at the confluence of three rivers of artistic thought: the last waves of Pop art and its transformation by mass culture, the heady idiosyncrasy of Conceptual art (especially in its manifestations in photography and its explorations of optics, illusions, and visual puns), and the birth of Appropriation art and its reuse and recontextualization of images drawn from various media, including the cinema. These three sets of forces have been processed in his mind, twisted and connected into a range of new and original possibilities and end points. He is really much more of a bridge figure and downstream influencer than I gave him credit for.
.
The exhibit is organized chronologically, so the first several rooms are full of mostly 1960s-era paintings that expand beyond the realm of Pop and introduce the combination of smart textual language and photographic imagery to stretched canvas. You can really see Baldessari moving beyond simple representations of everyday pop culture objects toward a more inward looking examination of the nature and process of art itself. Out of the ashes of his cremation of most of his early work (complete with urn and cemetery plaque) comes a flowering of conceptual projects the depth and breadth of which is truly astonishing.
.


The next few rooms of 1970s work are by far the highlight of this retrospective. It is not an exaggeration to say that every single work on display in this stretch of spaces has something unexpected to say. Images of a red ball in the sky are aligned horizontally, fingers select carrots from groups of three, a circle of red arrows shows the direction people are walking and Baldessari hits a variety of objects with a golf club. The flood of ideas gains momentum as the artist sings Sol LeWitt's sentences, writes and rewrites that he will not make any boring art, and repeats over and over again the phrase "I am making art" as he moves around in his studio. Colored sheets of paper are thrown out of house windows, tiny corners of paintings are used to represent the whole, and car hoods are arranged by their subtle shades of color. It's a bravura performance of deviant ideas, continually pushing the edges of what had heretofore been possible. (John Baldessari, Goodbye to Boats (Sailing In), 1972-1973, at right.)
.
When Baldessari transitions to the larger scale multi-part photocompositions for which is likely best known, I think the air actually deflates just a bit; in comparison to the sly trickery and raw energy of the 1970s work, from the 1980s onward, I think the power of the works is more muted. He's moved on to appropriation as his main underlying tool (particularly from film stills), and has relied on implied emotion, psychology, and symbolism as his primary tricks of the trade; each gathering of juxtaposed images (enlarged, cropped etc.) is now a kind of dramatic rebus to be puzzled out. A ladder of dead and sleeping men lay in horizontal stripes, guns radiate from a kiss, gangsters and lovers are paired together, people fall upward, and a long thin line connects a mountain climber and a scuba diver who are juxtaposed with cakes. Soon his signature colored dots are introduced to make faces anonymous, and this motif then evolves into colored silhouettes and overlapping painted/photographic scenes. The clusters get physically larger and larger as the years pass, becoming both more intricate and more obtuse. The final room of the show contains his most recent works and has him coming almost full circle, back to pared down painting once again, but via the assimilation of decades of underlying conceptual themes.
.
For seekers of brain stimulation and lovers of open ended interpretation, this retrospective is a must see. In many ways, what I like best about this show is that photography is seen as an integral part of the evolution of Contemporary Art (capitalized), where multiple images, automatic picture making, serial and time-based works, and the rethinking of photographic imagery are all tightly woven into the fabric of ideas that are being explored, rejected, and reimagined. It is no wonder that Baldessari has been so influential; his abundant harvest of witty logic has not only collated several of the main tributaries of recent artistic method, but has provided handy jumping off points for countless others who have explored some of the more promising side roads and backstreets.
.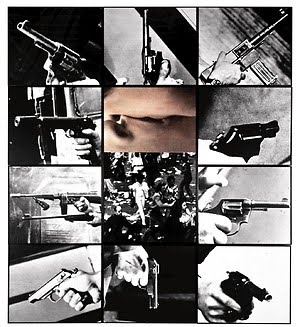 Collector's POV: John Baldessari is represented by Marian Goodman Gallery in New York (here), where an exhibition of new paintings was on display this Fall. Baldessari's work has become consistently available in the secondary markets, nearly always available in Contemporary Art auctions rather than those focused solely on Photography. Prices for his photo-based pieces have ranged in recent years from $10000 to nearly $1 million, with most of his larger multi-part works made since the 1980s routinely fetching six figures. Some of Baldessari's paintings have run even higher, up to $4.4 million in 2007. (John Baldessari, Kiss/Panic, 1984, at right.)
Rating: *** (three stars) EXCELLENT (rating system described here).
.
Transit Hub:
Reviews: NY Times (here), New York (here), LA Times (here), Wall Street Journal (here), Time Out (here)
Feature: New Yorker (here)
John Baldessari, Pure BeautyThrough January 9th
Metropolitan Museum of Art
1000 Fifth Avenue
New York, NY 10028