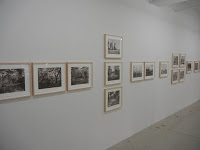 JTF (just the facts): A total of 55 black and white works, generally framed in blond wood and not matted, and hung in the main gallery space and the side book alcove. 52 of the images are platinum prints, taken in 2009 and 2010 and printed in 2011; while no dimensions were available, the prints look to be roughly 11×14, and they have been printed as a portfolio of 60 in an edition of 1 for the Walther Collection. The other three images come from an earlier series (Terreno Ocupado) and were taken in 2007 and printed in 2011; they are gelatin silver prints, roughly 20×30 in size, hanging on one side of a dividing panel in the center of the gallery space. Monographs of these two bodies of work have been separately published by Warren Siebrits and Michael Stevenson. (Installation shots at right.)
Comments/Context: If there is any single theme underlying my efforts on this site, it is that the informed voice of the typically silent private collector can actually be a valid one (not just an exercise in puffery and ego stroking), and that we collectors can make real and important contributions to the dialogue around contemporary art (particularly photography) if we find ways to insert those ideas into the larger discussion going on around us. So it was with much anticipation that I visited the new Walther Collection Project Space in Chelsea, where collector Artur Walther has opened a bright new gallery and inaugurated it with a solid show of recent work by South African photographer Jo Ratcliffe. Walther is particularly interested in African and Asian photography, two areas that are often overlooked and/or misunderstood in the normal flow of art through New York, and so this space promises to be a place where high quality, out of the mainstream visual ideas will be on view. It is exactly the kind of thing I wish more major collectors would do, so before we get to the work itself, a hearty standing ovation from me for the spirit of collector activism that this new venue represents.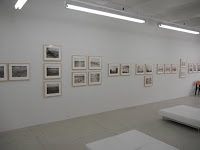 Ratcliffe's images of the aftermath of the Angolan civil war employ a familiar technique from Greek tragedy, where most of the action actually happens off screen, and we are therefore left to primarily confront the effects and consequences of events that took place at another time, perhaps years in the past. Photographers as diverse as David Goldblatt, Robert Adams, and most recently Deborah Luster, have all used this approach to consider how tiny clues left in the landscape can lead us back to an understanding of failures and atrocities that still resonate profoundly in the present.
Ratcliffe's photographs have a silent emptiness to them, where the rocky desert and scrub forest stand mute in the face of history. Her pictures document mass graves, minefields, abandoned crops, ambush sites, improvised memorials, trench systems, and dusty battlefields, singling out some small marker or piece of evidence in the otherwise indifferent landscape. Her platinum prints further soften the harshness of the environment, their tonalities more gentle and forgiving; stands of swaying long grass hide a minefield, pockmarked murals lurk in quiet buildings, or lines of white stones call out the edges of a missle bunker.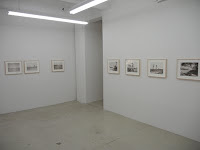 While not every one of these images is eye-catchingly memorable, the aggregate effect of their dull weight is surprisingly heavy. The flat land does give up its secrets if you know where to look, and what is left behind is both powerful and ephemeral, an absence and a presence at the same time. These subtle pictures allow our imaginations to fill in the blanks, rather than pounding us over the head with the horrors of war. Instead, they highlight the traces that remain and the stories we pass down, reminding us that these imperfect memories are an integral part of who we are and who we can become.
Collector's POV: Since this is a non-commercial space, no prices were available for the works on view. Jo Ratcliffe is represented by Michael Stevenson Gallery in Cape Town and Johannesburg (here). Ratcliffe's work has not yet reached the secondary markets, so gallery retail is likely the only option for interested collectors at this point.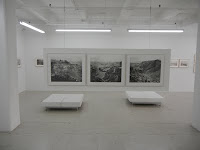 My favorite image in the show was On the road to Cuito Cuanavale I, 2009; it's on the far left of the right hand group of prints in the third installation shot from the top. I like the spindly angular form created by the intersection of the long sticks emerging from the carcass of a hulking armored vehicle.
Rating: * (one star) GOOD (rating system described here)
Transit Hub:
Review: La Lettre de la Photographie (here)
Jo Ratcliffe: As Terras do Fim do Mundo
Through July 15th
The Walther Collection
526 West 26th Street
Suite 718
New York, NY 10001