JTF (just the facts): A total of 13 color photographs, framed in brown wood and unmatted, and hung against white walls in the main gallery space. All of the works are archival pigment prints made between 2000 and 2011. The prints range in size from 14×11 to 25×18 and are available in editions of 8. A retrospective survey of the artist's work was recently published by Kehrer (here) and is available from the gallery for $67. (Installation shots at right.)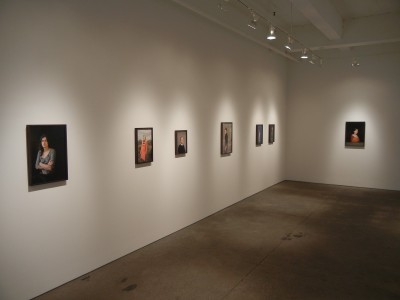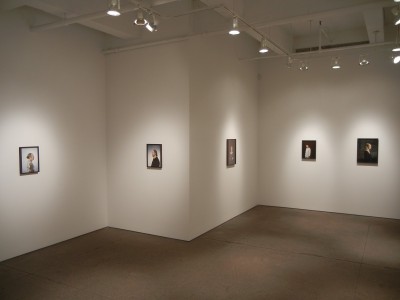 Comments/Context: Jitka Hanzlová's portraits from the last decade look back to Renaissance painting for their compositional structure and style. While the images capture contemporary sitters of all ages, their poses are nothing if not traditional: full profile, three quarter, and torso only views, tightly framed in natural light with generally nondescript colored backgrounds. The works have the look and feel of the old, with a dash of crisp freshness provided by the new.
The best of the images on view here find a subject who seems caught between the two worlds, where a hairstyle, the curve of a nose, or a piece of clothing hearkens back to another age. Suddenly a silk wrap, a wide-necked dress, some black beads, or the direct stare of a dark haired woman seem to seamlessly connect the past and present. Other works feel slightly more dissonant, as if the modern sitter has been trapped in an uncomfortably formal pose or a frame that is too small. Each photograph plays with a changing sense of time, highlighting tiny similarities and differences between what we expect from art history and what we are now.
Hanzlová's casually intimate portraits are subtle and require close observation not to be quickly overlooked. A quick fly by of this exhibit might leave you underwhelmed, so opt for a slower pace to encourage the quiet nuances of the pictures to come forth.
Collector's POV: The prints in this show are priced at between $7700 and $8500 each. Hanzlová's work has become more available in the secondary markets in recent years. This has been particularly true in Europe, where prices have generally ranged between $1000 and $3000.