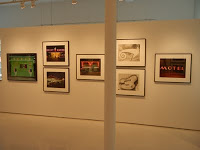 JTF (just the facts): A total of 18 color and 4 black and white photographs, generally framed in black and matted, and hung against white walls in the main gallery space. The color works are chromogenic prints in various sizes: 5 images at 30×40, in editions of 10, 8 images at 20×24, in editions of 25, 4 images at 16×20, in editions of 25, and 1 triptych of 20×24 prints. The black and white works are gelatin silver prints; 3 are 20×24, in editions of 25, and 1 is 16×20, also in an edition of 25. Aside from the larger 30×40 color prints (which were made recently), all of the prints are vintage. The images were taken across the United States between 1972 and 2004, mostly in the 1970s and 1980s. A monograph of this body of work was recently published by powerHouse Books (here and here). (Installation shots at right.)
Comments/Context: Recently I've been thinking more and more about the increased layering and boundary breaking going on in contemporary photography and trying to make sense of what it all might mean. What is clear is that when an artist begins with a photographic document and then adds in elements of conceptual theory, performance, staging, purpose-built construction and other sometimes obtuse ideas, something more complex is undeniably generated; what I have been struggling with is whether this increase in scope is giving us "better" or more durably memorable pictures in any definable way. It seems that we are quickly evolving away from many of the basic tenets that have formed the basis of the medium since its inception, and that in doing so, we may be inadvertently misplacing some of the core principles that gave us some of our most beloved images.
Jim Dow's photographs of vernacular America are a passionate defense of the old school idea of storytelling in photography, a manifesto for a return to the value of direct visual connection to the richness of place and time. Starting with any one of the pictures in this tight retrospective, it is possible to jump off into an open ended, uniquely American short story. His works capture disappearing fragments of our collective cultural personality, bypassing easy nostalgia for a more nuanced look at who we are and who we have wanted to be, offering a slice of the unadorned optimism that led us to build these barber shops, burger joints, baseball stadiums, and barbecue shacks.
Dow's vision of America is a undeniably a descendant of Walker Evans, whose love of the idiosyncrasies of commercial signage and roadside advertising have spawned many who have traveled a similar photographic road. But Dow's connection to these folk art subjects is less formal and rigid than his mentor's, opting for forgotten icons that go beyond strict compositional purity to examples of quirky uniqueness and understated humor, delivered with an affectionate eye for a people constantly reinventing themselves. Using a large format camera, he has gathered brimming scenes which reward longer looking and offer unexpected and often unpretentiously poetic discoveries.
Dow is also clearly a product of his times, particularly in the context of 1970s color photography, where color became another tool in the visual toolbox: bright neon sizzles and pops in the darkness, a cloverleaf-shaped donut counter swirls in attention grabbing orange, and rainbows of paint jump off a seasonal sno-cone hut announcing a parade of available flavors. And who wouldn't wish for a warm summer night to swing by the local Dairy Queen to stand in the enveloping buzz of the yellow glow emanating from inside? His drive-ins, gas stations, and even sober court houses remind us of how a photograph can be a portal to somewhere else, giving us just enough clues and details to spark our imagination.
I think it is fair to say that some might see Dow's work as a kind of throw back to a now historic style of photographic picture making. But what struck me most about this show was less that vernacular America continues to be a revealing subject, but that what I have been missing of late in my relentless gallery wanderings is that sense of a photograph as a familiar and relevant place to get lost in, a venue for finding some connection to what brings us together. Some may scoff at such a sappy and simple conclusion, but this show was a strong reminder for me that photographs can still be a celebration of our collective story, even when there are no people in them.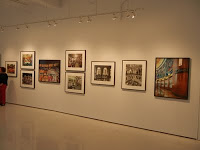 Collector's POV: The works in this show are generally priced based on size: the 16×20 prints (either black and white or color) are $3000, the 20×24 prints are $3500, the 30×40 prints are $5500, and the stadium triptych is $9000. Dow's work has only been available intermittently in the secondary markets in recent years, with prices ranging from roughly $1500 to $3500. That said, only a small number of lots have changed hands, so gallery retail is likely the only real option for interested collectors at this point.
Rating: ** (two stars) VERY GOOD (rating system described here)
Transit Hub:
Jim Dow: American Studies
Through July 29th
Janet Borden, Inc.
560 Broadway
New York, NY 10012