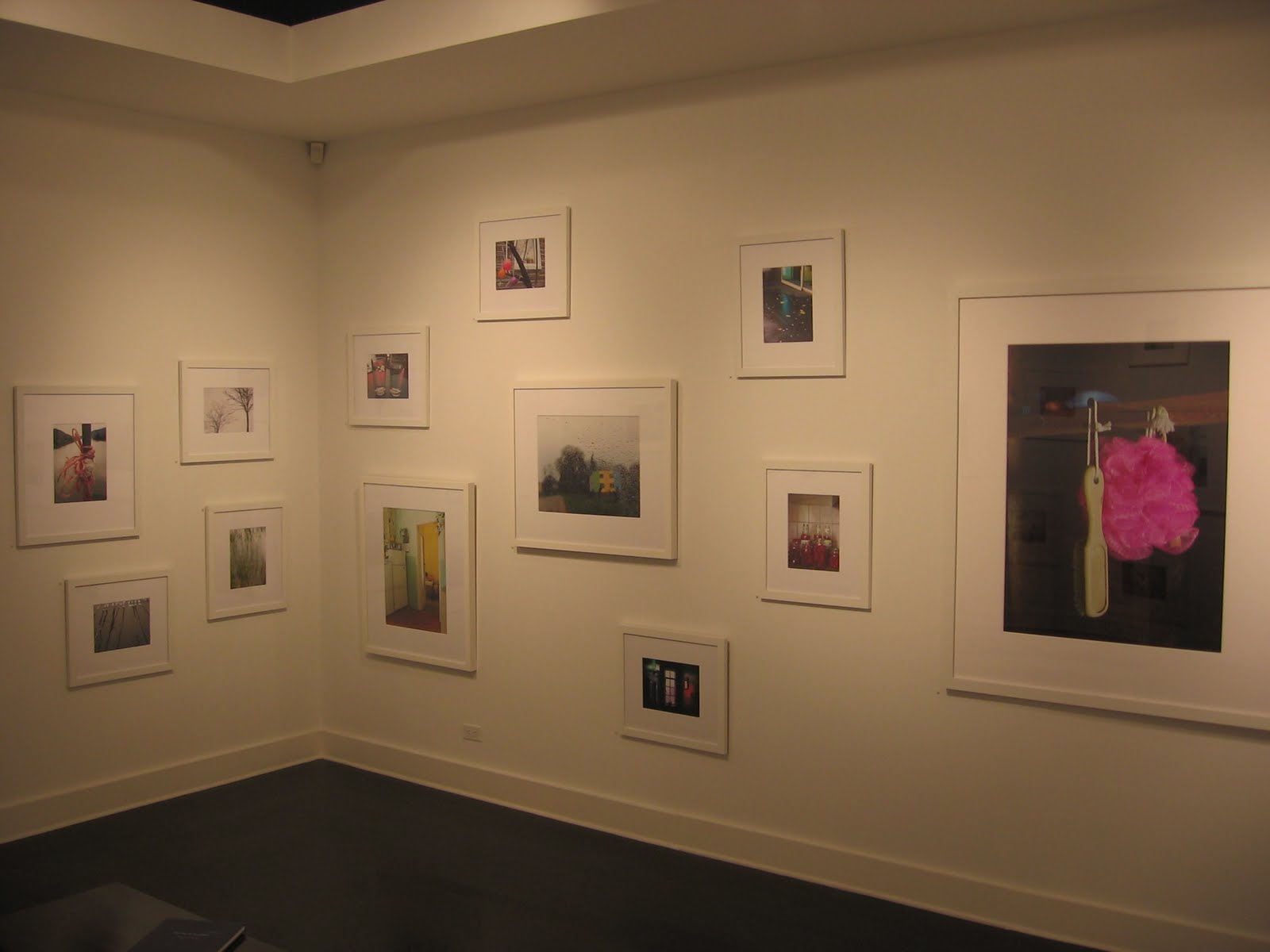 JTF (just the facts): A total of 51 color photographs, framed in white and matted, and densely hung in the entry and main gallery spaces. All of the works are c-prints, in one of three sizes: 40×30 (in editions of 8), 24×20 or reverse (in editions of 8 or 15), and 14×11 or reverse (in editions of 15). The show contains 4 prints in the largest size, 22 in the middle size, and 25 in the smallest size. The various works are drawn from four different book projects. There are 11 images from Jesus and the Cherries (2001-2004), 17 images from One Day in November (2002-2008), 11 images from What Still Remains (2004-2008), and 12 images from I Wanted to See the World (2010). (Installation shots at right.)
Comments/Context: It was likely William Eggleston who first popularized color photographs of simple everyday objects made special through the sheer force of his focused attention. This concept of grabbing a seemingly random fragment of life and infusing it with significance has now morphed into an entire genre of contemporary photography, with practitioners with styles as different as Wolfgang Tillmans, Rinko Kawauchi and Paola Ferrario. In the past decade, German photographer Jessica Backhaus has also been exploring the nature of the incidental via a series of book projects, sampled here in a kind of mini-retrospective first New York solo show.
.

Backhaus' approaches her overlooked objects with a sense of crisp, formal purity, and an eye for radiant color: red cherries in jars, orange carrots on the edge of a sink, a blue tennis ball in the gutter, a pink blanket on a clothesline. She explores the found geometries in the zigzag of carpeted stairs, the curvature of glasses of water, and the decay of a partially eaten apple or peeling sky blue paint. Water makes a repeated appearance, often infused with reflected, smeared color; her images capture drips, rivulets, wet pavement, and a variety of fogged, damp or sprinkled surfaces.
Backhaus takes this investigation of wetness to an entirely new level in her most recent body of work. These pictures document the reflections of colored buildings in the canals of Venice, her camera pointed down at the dappled, moving surface of the water. The bright colors become swirled, rippled and distorted, at turns broken and abstract. The color effects are both impressionistic and painterly, exercises in the marbling of pink and green, purple and yellow, or red and brown. They are images you can get lost in, endlessly following the intersecting waves and transitions.
.
Together, this is a satisfying introduction to Backhaus' work, spanning both the power of pared down simplicity and the lyricism of visual complexity.
.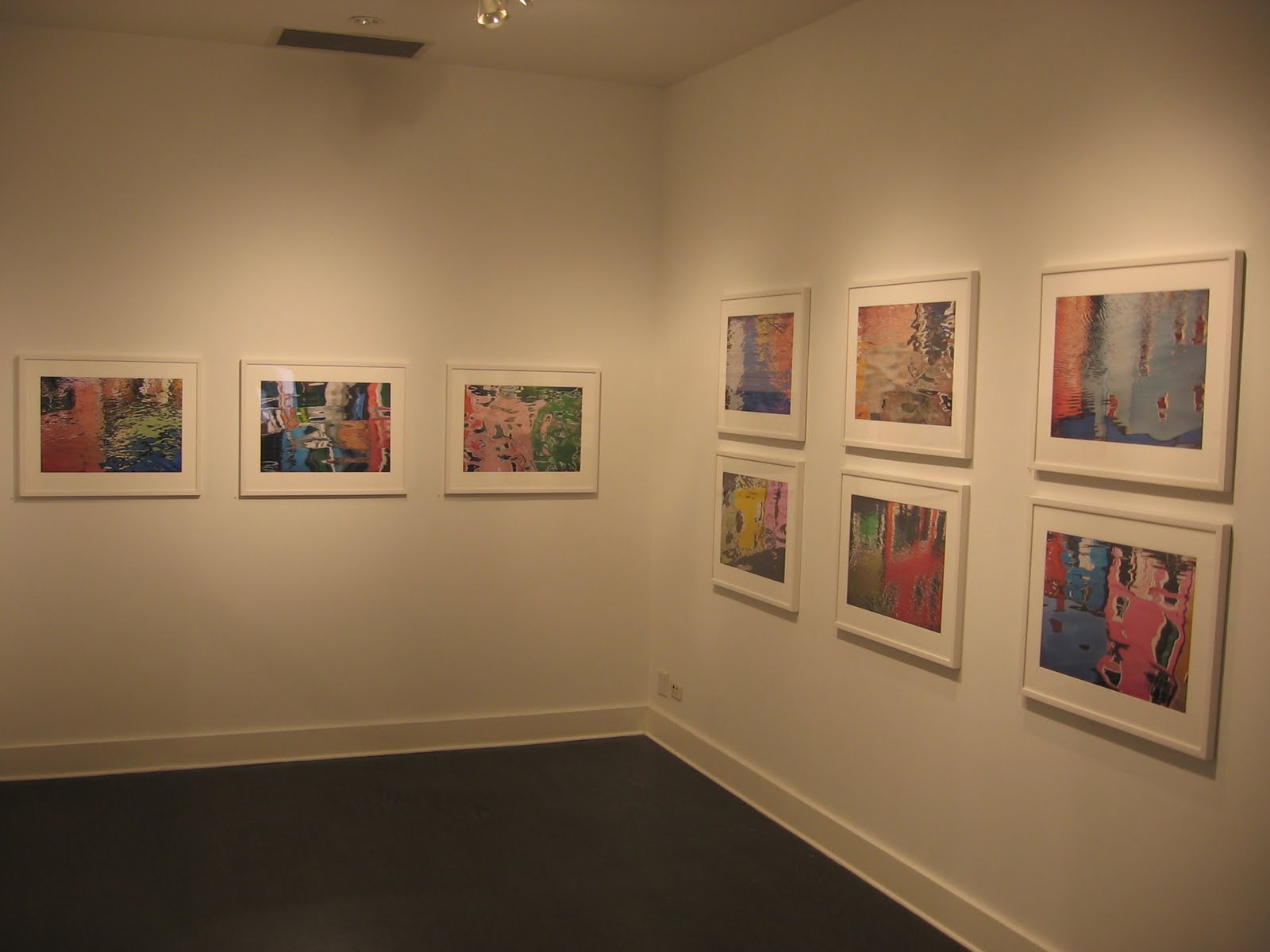 Collector's POV: The works in this show are priced as follows: the 40×30 prints are $5800 each, the 24×20 prints are $3600 each, and the 14×11 prints are $2500 each. Backhaus' work has not yet reached the secondary markets in any meaningful way, so gallery retail is likely the only option for interested collectors at this point.
Rating: * (one star) GOOD (rating system described here)
.
Transit Hub:
Artist site (here)
Book review: 5B4 (here)
Jessica Backhaus, I Wanted to See the World
Through October 30th
Laurence Miller Gallery
20 West 57th Street
New York, NY 10019