JTF (just the facts): A total of 32 color images, framed in white with no mat, hung edge to edge in an undulating up and down pattern across the walls of the single room gallery space. The digital c-prints range in size between 11×14 and 38×30, with a variety of intermediate sizes. The works were made between 2004 and 2010, and have been printed in two sizes each, in editions of 8. A monograph of this body of work, published by Decode Books (here), is available from the gallery for $35.(Installation shots at right.)
.
Comments/Context: Jesse Burke's subtle photographs of stereotypical male activities are consistently filled with contradictions. They tackle the underlying rift between society's surface assumptions about masculinity and the more complicated reality of how men really behave, exposing tensions and vulnerabilities that fall beyond a simplistic view of male toughness. These are introspective pictures, taken with tenderness and understanding, a more nuanced and less polarized portrait of the "Fight Club" search for male meaning in the modern world.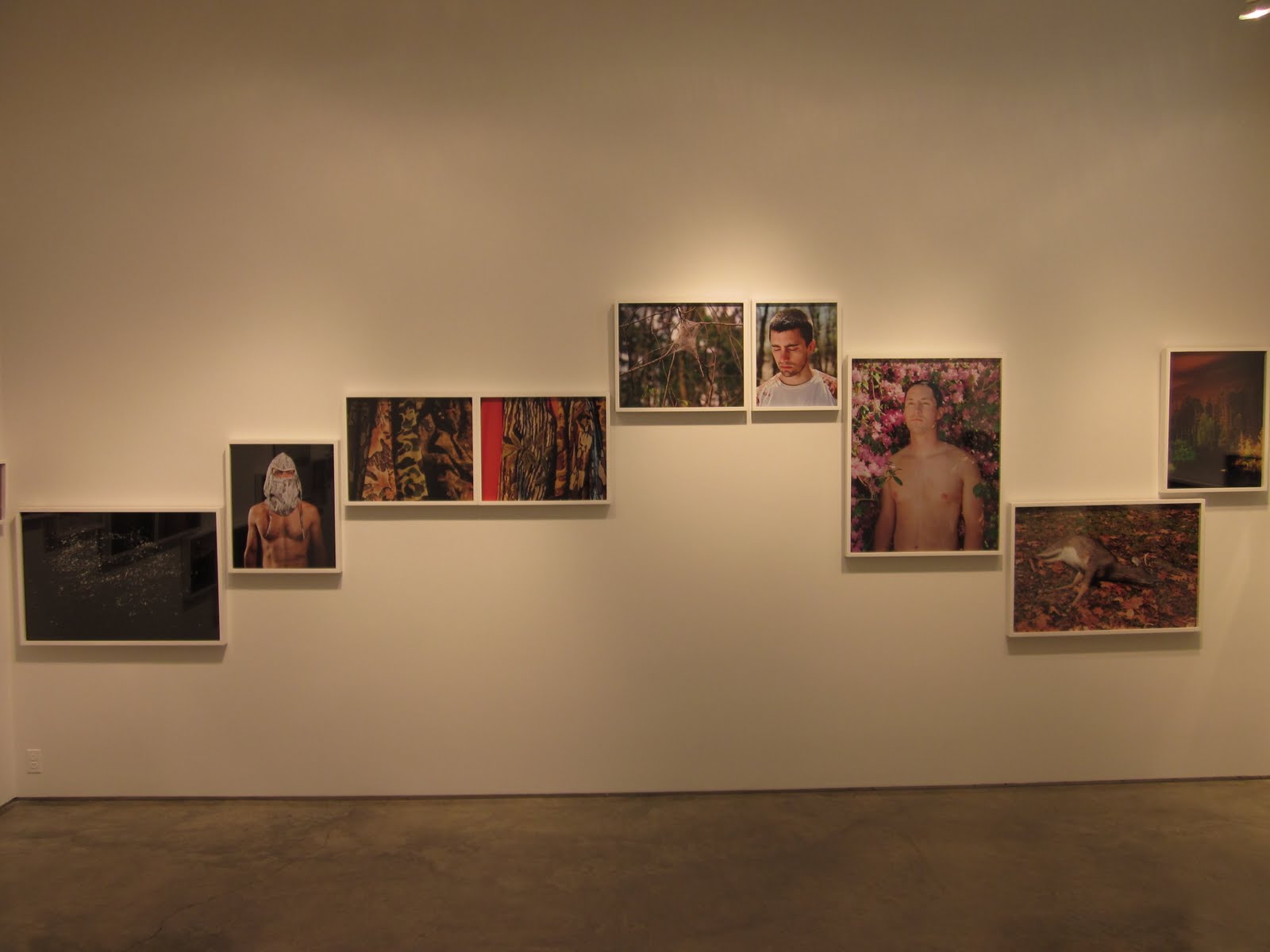 The show covers a broad range of conventional masculine subjects, with an eye for detail: a pyramid of beer cans, push-ups, deer hunting, dogs, eye black, camouflage gear, basketball hoops at night, and mud. My favorite pictures chronicle the
quintessential
male ritual of shotgunning a beer. Burke photographs his subjects at the moment just after they have finished the race or the chest-thumping spectacle, when the beer runs down the front of their shirts and they stand wide-eyed and jolted by the rush of alcohol. The moment is filled with an unvarnished swirl of emotions: exhilaration, ridiculousness, testing, physical pain, and forced but somehow real camaraderie. These images are juxtaposed with a variety of gentler landscapes and more intimate shirtless portraits, posed against floral backgrounds. A self-portrait of the photographer holding his fragile baby in front of a stack of rough sawed logs poignantly captures the irony and
conflict
of his own male role.
It would be easy for a project like this to veer off into worn-out and obvious beer ad mockery, but Burke does an excellent job of keeping the feelings and symbols simple and authentic, opening up the stresses and paradoxes underneath the typical male stereotype without going overboard. As a result, the installation has the feel of a quiet discussion, where the men let their guard down for a just moment and expose their unprotected, imperfect selves.
.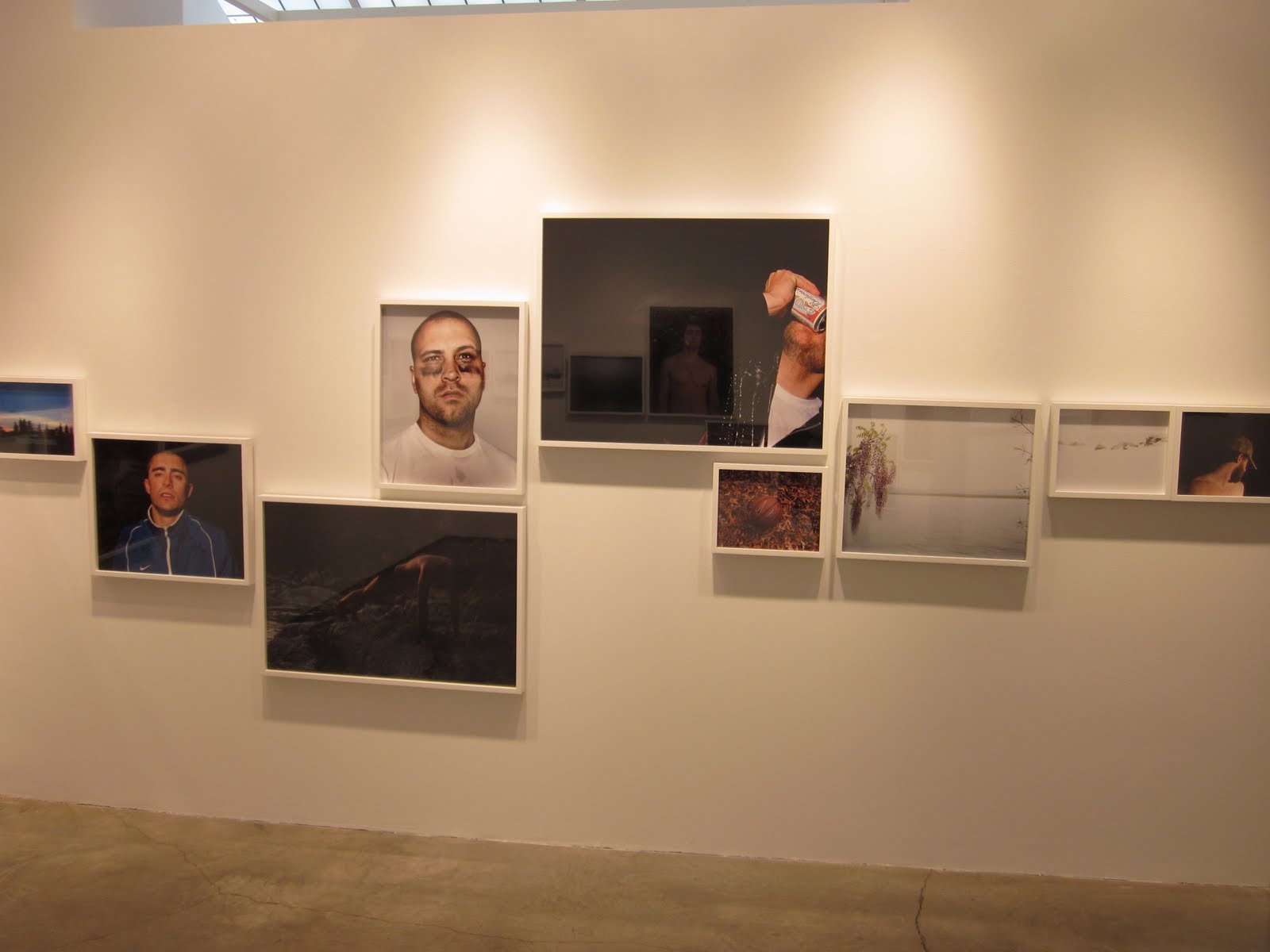 Collector's POV:
The works in this show are priced between $700 and $2200, based on size, with many different intermediate prices. Since this is Burke's first solo show in New York, it is not at all surprising that his work has not yet made it to the secondary markets. Gallery retail is thus the only option for interested collectors at this point.
.
Rating:
* (one star) GOOD (rating system described
here
)
Transit Hub:
Through July 9th
521-531 West 25th Street
New York, NY 10001