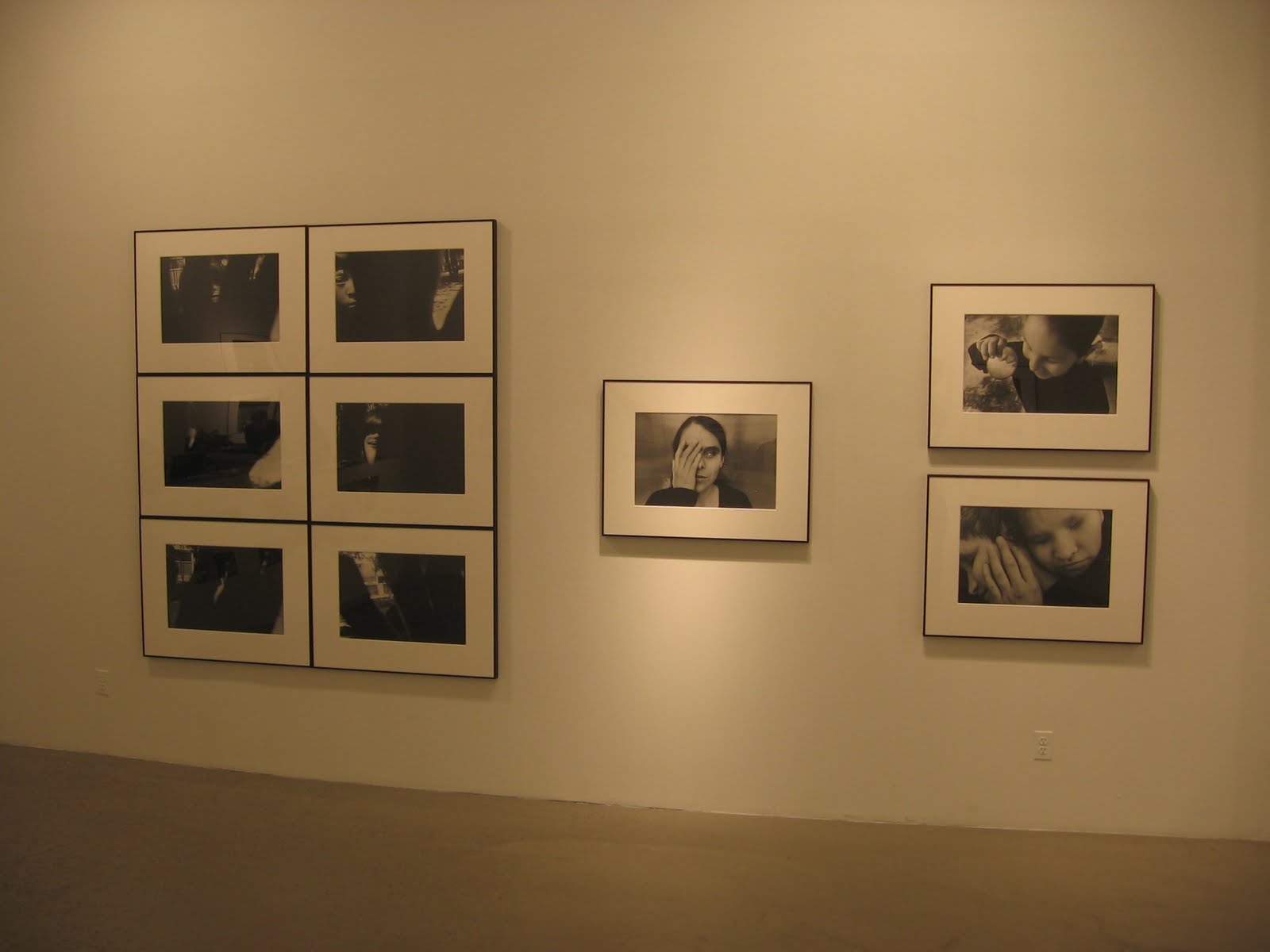 JTF (just the facts): A total of 33 black and white images, framed in black and matted, hung in the reception/entry area and the main gallery space. All of the works are gelatin silver prints, 23×15 or reverse, printed in editions of 10. The images were taken between 1999 and 2005. (Installation shots at right.)
Comments/Context: When we think about the most successful photographic portraits made in the history of the medium, we often hear talk about how well the photographer and sitter worked together, how it was a collaborative exchange, and how there was trust and respect in both directions. Jed Fielding has explored the edges of these ideas in his new images of blind schoolchildren in Mexico; most specifically, what happens to the photographer/subject relationship if the subject is blind? And how does this alter the process of making an intimate and revealing portrait?
Irrespective of their lack of sight, Fielding's subjects are kids: laughing, playing, curious and energetic. I think a key difference is that their blindness has allowed the photographer to get up very close without creating a sense of discomfort or intrusion (the normal social boundaries are gone); he has been able to capture emotions and gestures that are often overlooked or quickly hidden if attention is being paid. The resulting pictures are consistently gentle and tender without being condescending; we've come a long way from Paul Strand's famous blind woman (here).
Another thing we viewers often forget is how much we look at people's eyes to get a sense for who they are. These children have unexpected blank stares, foggy white eyes covered in cataracts, giving them a strange, almost sinister feel, even though they are innocent kids. This surprising lack of connection creates real tension in the pictures, a mix of being uncomfortable and empathetic at the same time.
Fielding's pictures also bear the hallmarks of his ID teachers (Callahan, Siskind et al); there are plenty of dark shadows and formal compositions, printed with exquisite clarity and subtle tonalities. The excellent images taken through black fingers that partially obscure the lens (in the group at left in the top installation shot above) seem particularly reminiscent of the aesthetic conventions of the Chicago school.
Overall, this is a challenging and satisfying body of work, well worth a visit.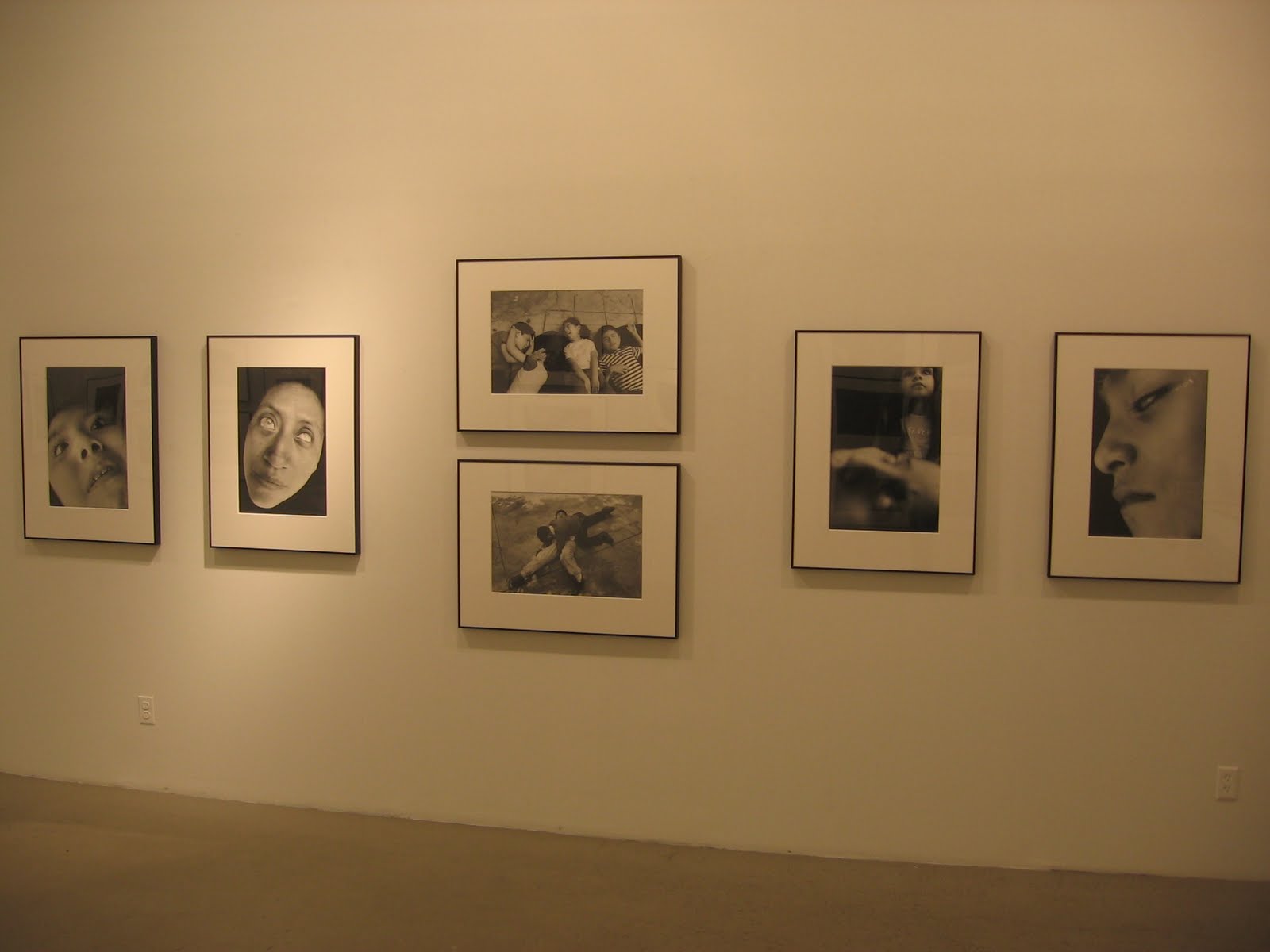 Collector's POV: All of the images in the show are priced at $4000. Fielding's work has no secondary market history, so gallery retail or direct from the artist will be the only options for acquiring the work in the short term.
I'm perhaps a bit embarrassed to admit that I hadn't really heard of Jed Fielding until I visited this show. And while the subject matter doesn't fit our collecting genres, I came away impressed with both the craftsmanship of the prints and the serious care with which the images were taken.
Rating: * (one star) GOOD (rating system described here)
Transit Hub:
Jed Fielding, Look at Me: Photographs from Mexico City
Through October 17th
Andrea Meislin Gallery
526 West 26th Street
New York, NY 10001