JTF (just the facts): A total of 22 color works, framed in white and matted, and hung in two gallery spaces and the entrance hallway. 16 of the works are color inkjet prints, each roughly 33×50 (or reverse); they are printed in editions of 5, and were made between 2006 and 2009. The other 6 works are also color inkjet prints, but they have been individually overpainted with acrylic paint, making each unique. These prints vary in size from roughly 7×10 to 12×13, and were also made between 2006 and 2009. (Installation shots at right.)
Comments/Context: James Welling's photographs of Philip Johnson's famous Glass House in New Canaan, CT, are complex experiments in the properties of colored light. The house itself sits like a jewel box in lush landscaped grounds, and Welling has alternately used its transparency and reflectivity, in conjunction with a rainbow of colored filters, to create a kaleidoscope of flares, shadows, distortions, glares, and blurs. He has transformed the colorless glass building into a prism, where layers of colors seem to explode in all directions.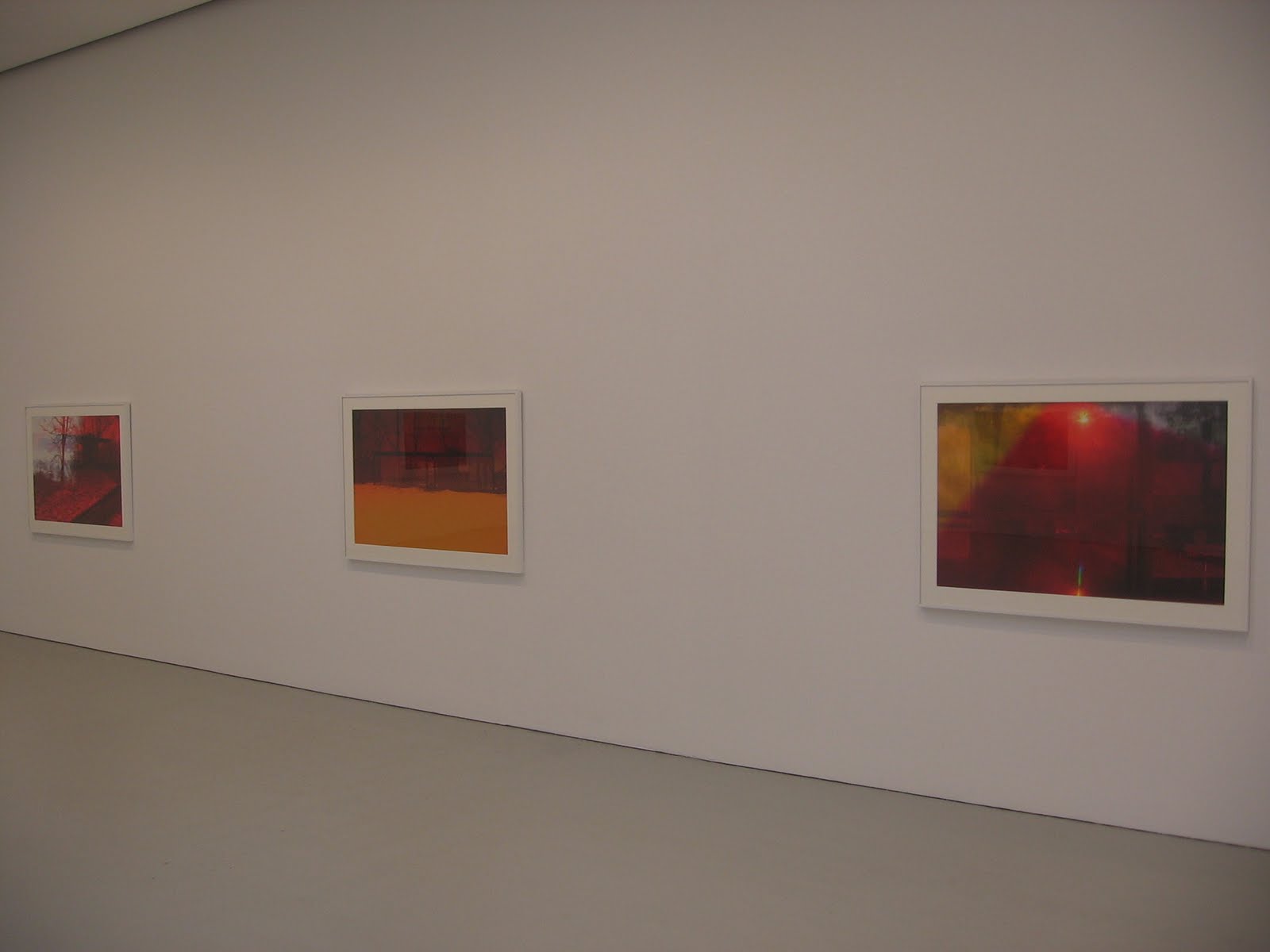 Welling's images highlight the combination of space in the architectural design, where interior and exterior merge, and views from the outside look right through the building, unbroken by the structure. But the real originality in these pictures lies in their wild overlapping colors, the psychedelic orange, the deep magenta, the neon green, the cool royal blue, and the acidic yellow. Sunsets, grassy lawns and snowfields take on unreal tints and hues, often made more chaotic by a multiple reflection of a nearby tree branch or the use of a negative reversal. Angles and geometries are carefully controlled to separate the colors, creating unexpected pairings and abstract mixtures. In a group of smaller images hung in the entry, Welling has gone further, adding a layer of painted washes to the photographs, the drips and swirls adding texture and further fogging to the already eye-popping compositions.
Stripped of their color, these images would likely be characterized as unspectacular shots of a masterpiece of Modernist architecture. The infusion of vivid, radical color has however taken this cool, detached structure and given it moods: melancholy, anger, anxiety, and hazy afternoon mellowness. The color is no longer embedded in the identity of the underlying subject, but sits as a layer or filter on top. In a certain way, it is as if Welling has "appropriated" this iconic building, and made it his own via mash-ups with intense, stratified veils of color. Straight representation and color field abstraction have been merged together, creating images that are both pleasingly decorative and intellectually challenging.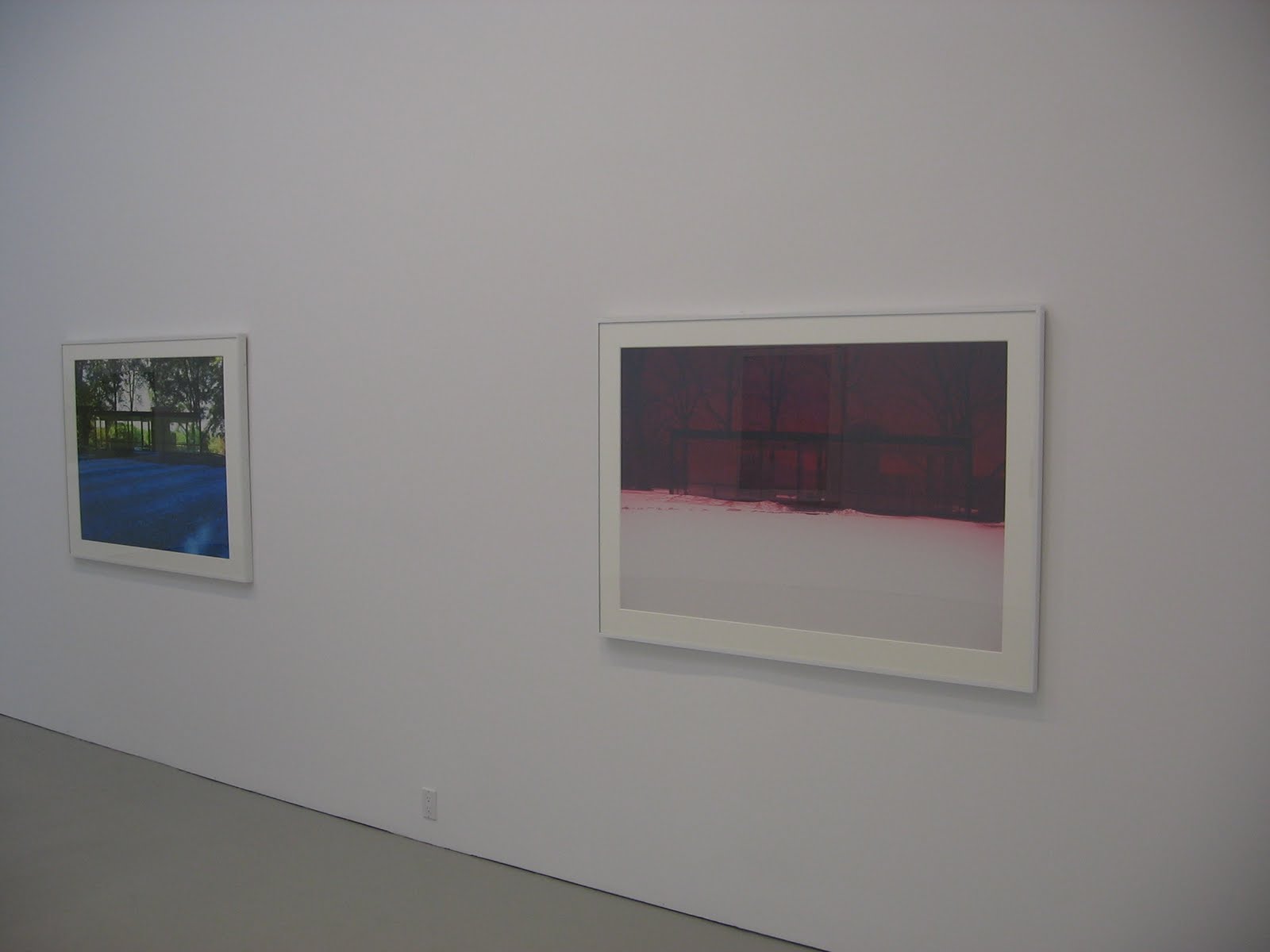 Collector's POV: The large color prints in this show are each priced at $25000; the smaller overpainted prints are available for $10000 each. Welling's photographs have been available in the secondary markets from time to time in recent years, generally pricing between $2000 to $10000. Welling is also represented by Regen Projects in Los Angeles (here).
.
Rating: * (one star) GOOD (rating system described here)
James Welling, Glass House
Through April 24th
David Zwirner
525 West 19th Street
New York, NY 10011