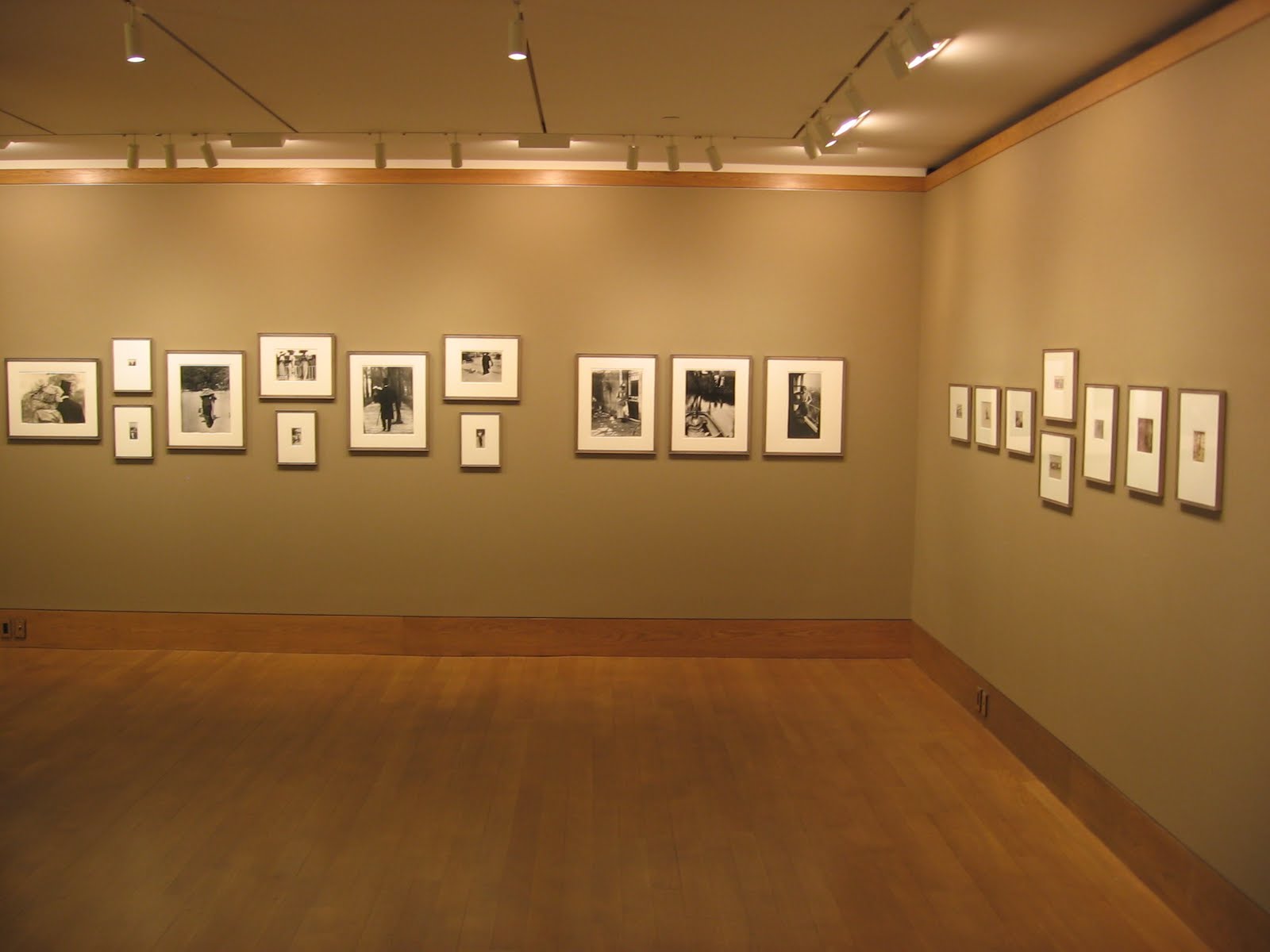 JTF (just the facts): A total of 43 black and white images, framed in silver and matted, hung in the entry and main gallery space, against taupe walls. The prints come from the collection of Jacques and Florette Lartigue; many are vintage prints, others were printed as late as the mid 1960s; all of the works were taken between 1903 and 1939. The prints range in size from approximately 4×5 to 12×16, or reverse. (Installation shots at right.)
Comments/Context: In our lives as collectors, there are plenty of famous photographers that we haven't spent much time getting to know for one reason or another; we are of course generally aware of their contributions and can likely recognize a few of their well known images, but our knowledge and understanding likely falls off pretty quickly after that. Given our own specific interests, the work of Jacques Henri Lartigue falls squarely into this camp; we've certainly seen the speeding race car with the distorted wheels or the man wearing a suit while floating in an inner tube plenty of times, and loosely know the story of the young amateur photographer. But until this show, we hadn't seen many Lartigue images up close, nor had we seen a gathering of them all in one place to provide some further context.
The superb show of Lartigue prints now on view at Howard Greenberg was therefore more than just a group of terrific images; it vastly increased my understanding of Lartigue's art, and I came away significantly impressed with his ability to capture simple moments of joy. What I hadn't realized until I saw a whole wall full of images was how repeatedly innovative Lartigue was in his use of motion and movement; there are cars and go carts spinning out, flying machines and hot air balloons trying to take off, a woman floating down some stairs, a dog being thrown across a creek, a man hurdling some chairs, and people ice skating, and lunging after tennis balls, and falling in the water. The pictures are consistently effortless in capturing the essence of these activities; they are lively and fun, full of humor and playful silliness.
Another wall is filled with images of ladies and gentlemen in elegant fashions, promenading in the parks, complete with striped dresses, formal umbrellas, top hats, furs, and tiny dogs. This is the glamorous cosmopolitan life, and yet the images don't seem pulled from a fashion spread; these are real people, not models, and the tone is more of innocent wide-eyed amusement at these spectacles, rather than serious appreciation; the whole thing is just a little bit amazing.
After seeing this show, I have come to think that the childhood prodigy back story to Lartigue's photographs is a bit of a distraction to looking at the pictures more carefully; the tale of the kid with a box camera taking wonderful snapshots leads viewers to discount the consistent quality of the work. Lartigue was too often in the right place at the right time with his camera ready for these images to be accidental; his spontaneous compositions of high-spirited mischief are simple, but nearly always surprising and memorable.
This is easily the best show we've seen so far this season; and unlike many exhibits of "serious" photography, this one generates more genuine smiles and sparking eyes than anything else currently on view.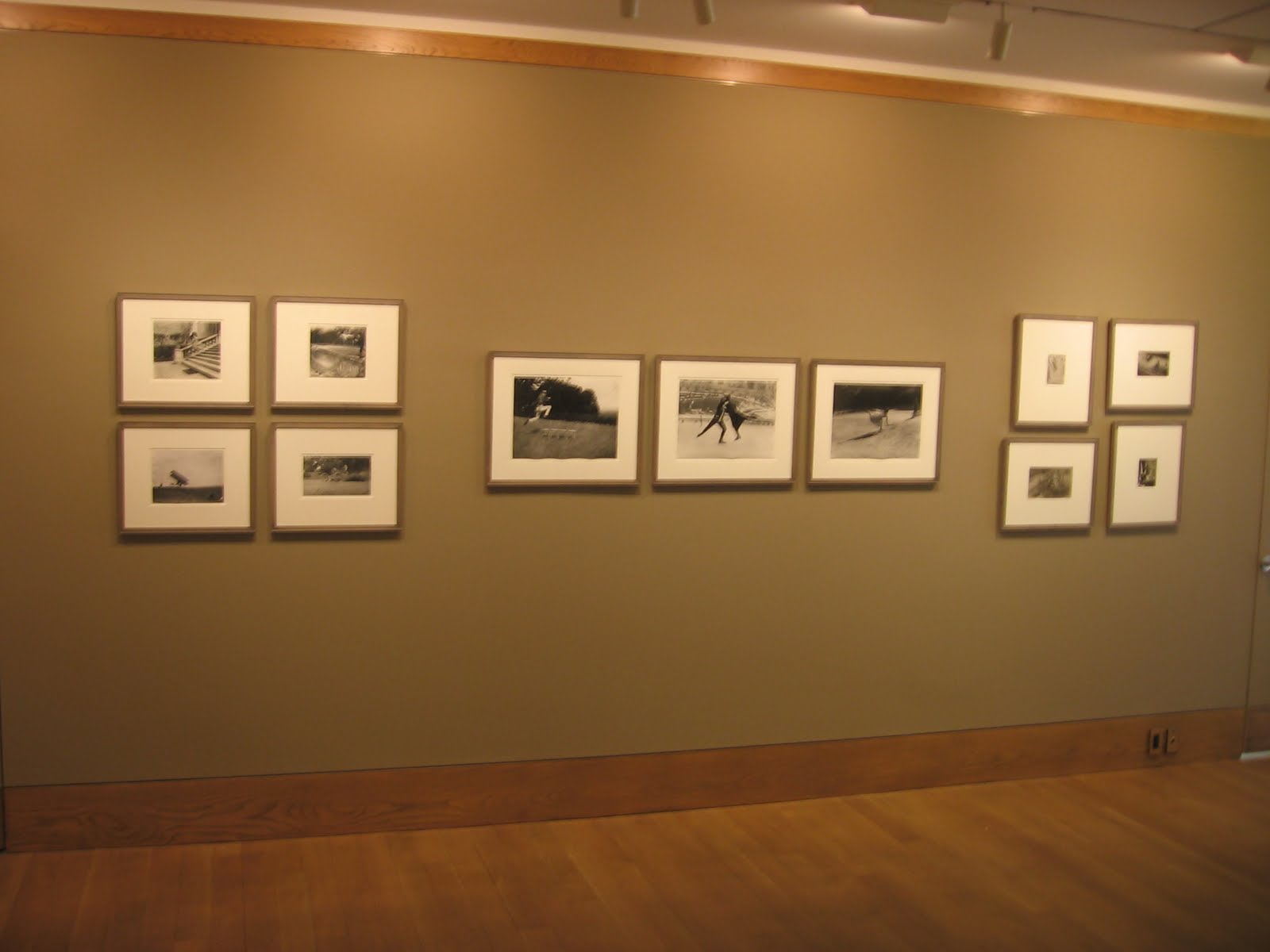 Collector's POV: The prints in this show are priced between $14000 and $40000. Lartigue's work is generally available at auction, ranging in price between $2000 and $45000 in the past few years, with most images selling for under $10000.
Rating: *** (three stars) EXCELLENT (rating system described here)
Transit Hub:
Jacques Henri Lartigue, A New Paradise
Through October 24th
Howard Greenberg Gallery
41 East 57th Street
New York, NY 10022