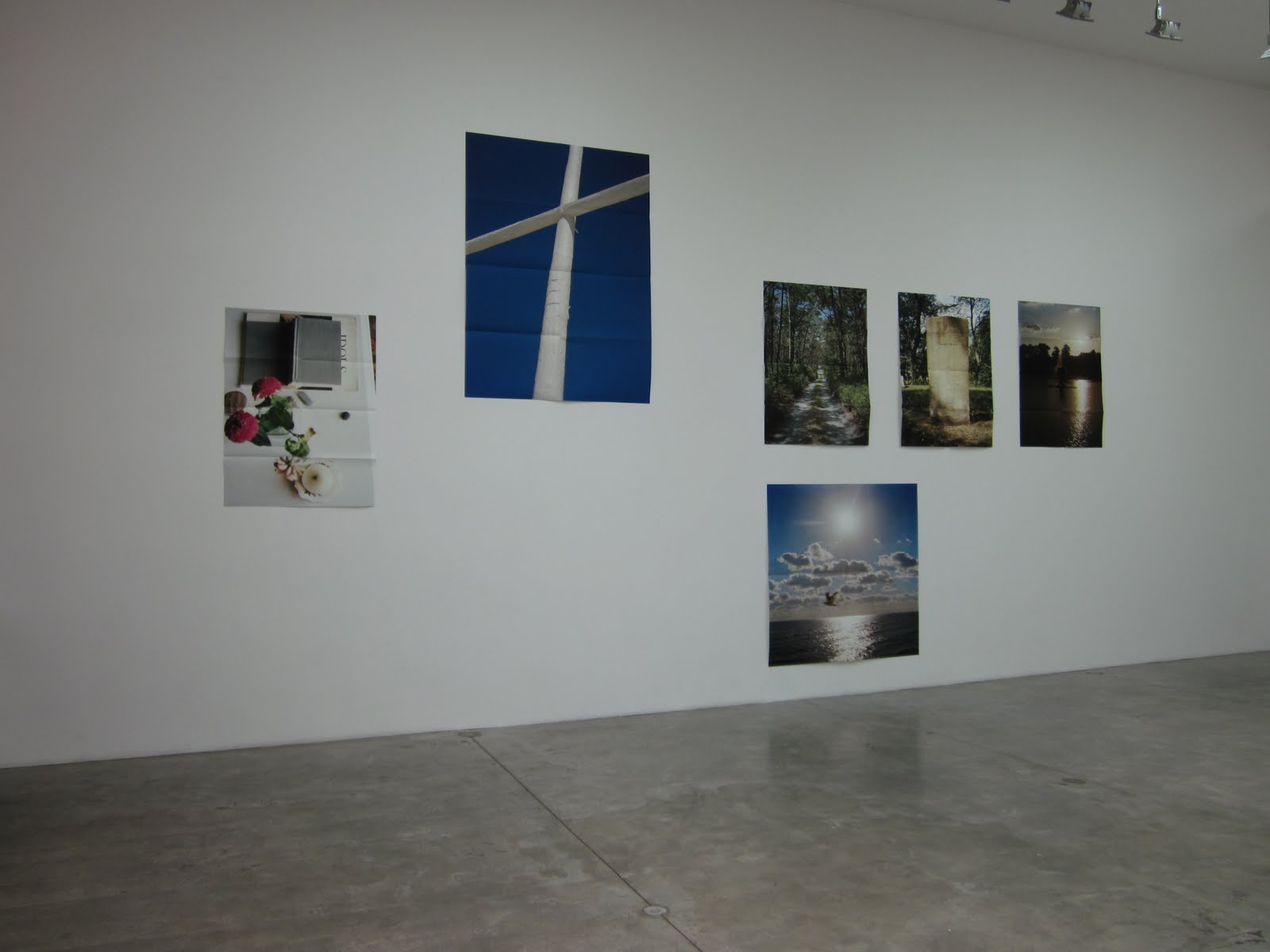 JTF (just the facts): A total of 16 large scale color works, pinned directly to the wall (not framed), and hung intermittently on the walls of the front gallery space. Each of the images is a folded pigment print, in an edition of 3, in one of three sizes (or reverse): 83×62, 63×63 or 43×57. All of the works were made in 2010. (Installation shots at right.)
Comments/Context: Jack Pierson's new photographs have an eye-catching posterish quality to them. Printed extra huge and folded as if to fit in a mailing envelope, they explode with vibrant colors, almost in the manner of stock photography. There is a pink pyramid, a goldfish, some yellow netting, a cross of white poles against a deep blue sky, a tombstone, an empty dirt road in the woods, various sunsets, a marble torso, and some palm fronds on fire. None of these subjects is at all new or inventive, nor are they taken with any particular artistic point of view, and yet, the pictures have been executed with such saturation and energy that it is hard not to be drawn in.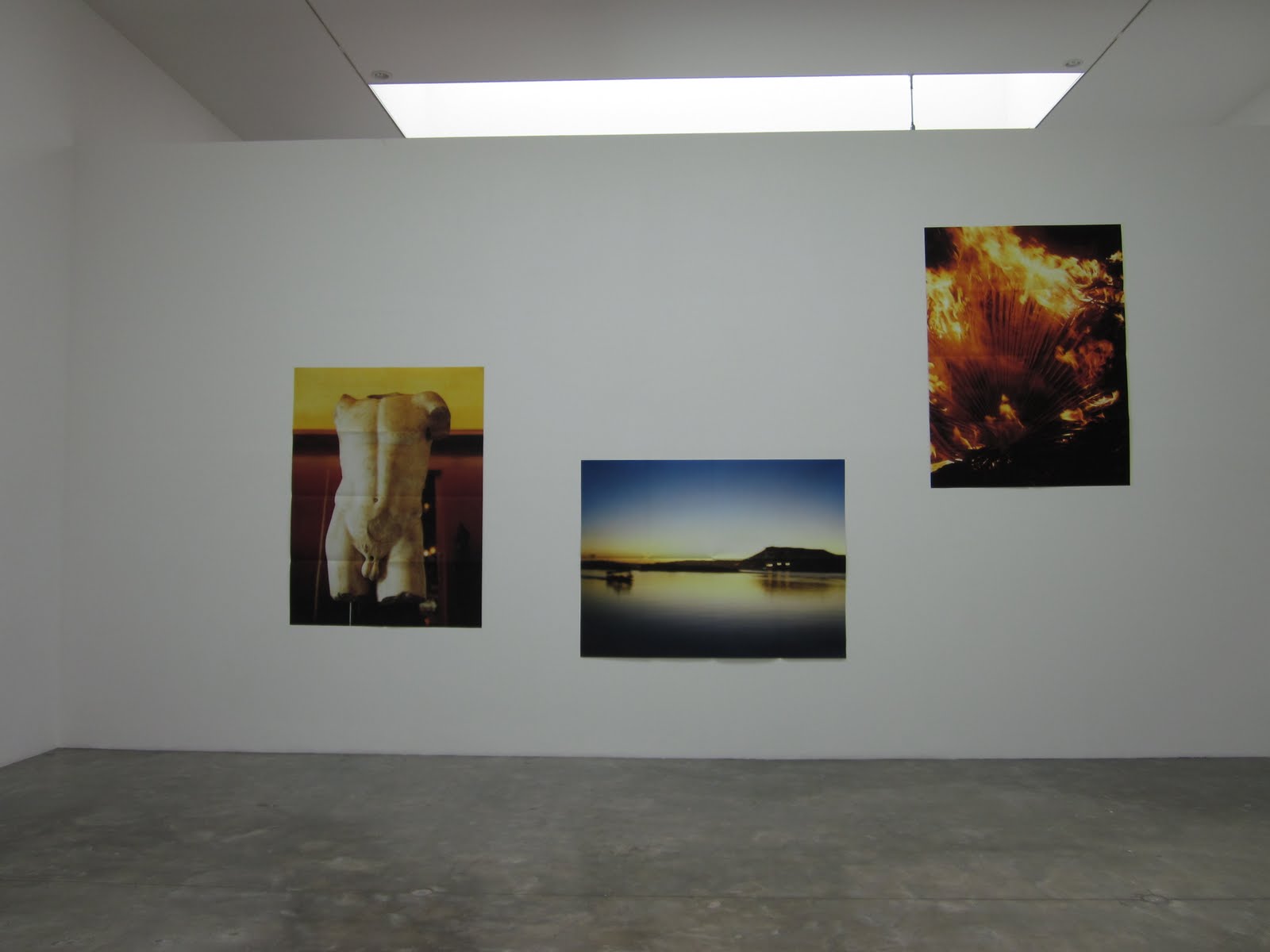 What I found most interesting here is was the underlying idea of mixing high and low art, the portable, much handled form factor of a poster in contrast to the venerated artwork protected under glass. The images are bold, like symbols of themselves, the kind of thing used as a decorative reminder or as a souvenir to cover a wall, something to identify with or trigger a personal memory. (Moyra Davey explored this same idea of the folded/mailed imagery in her recent show of work (
here
), although her pictures were smaller, more personal and intimate.)
.
Of course, these works are not actually posters, but expensive artworks in small editions. Some people will certainly frame them, even though that goes against the essence of their existence, further exposing the contrast between the everyman and the art collector. In the end, while the images themselves are relatively commonplace, I found this exploration of what defines the physical limits of photographic art quite a bit more compelling.
.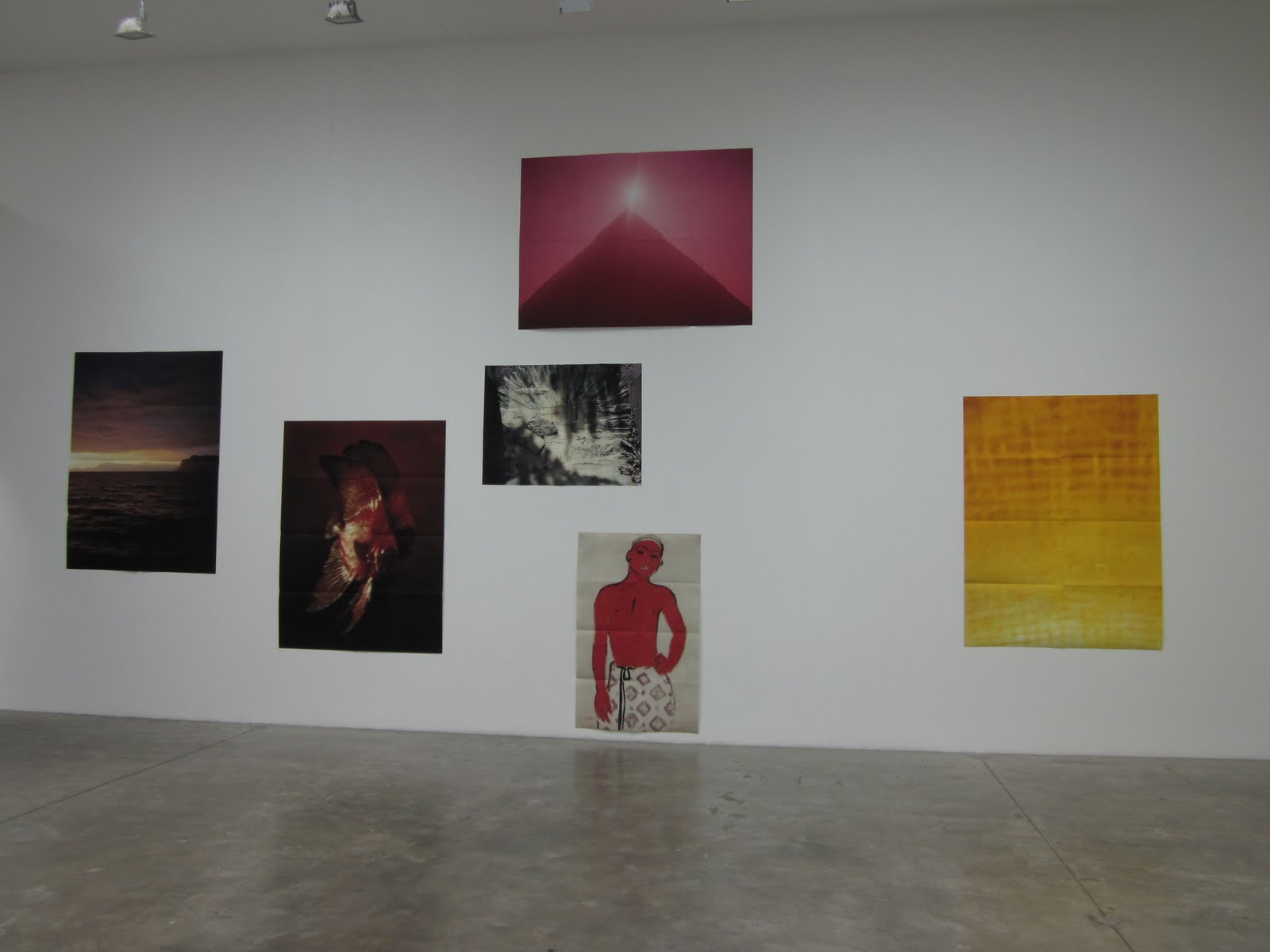 Collector's POV:
The works in this show are priced between $15000 and $20000 based on size. Pierson is formally represented by
Cheim
& Read in New York (
here
), Regen Projects in Los Angeles (
here
), and
Galerie
Thaddeus
Ropac
in Paris/
Salzburg
(
here
). Pierson's photographs have come up for auction from time to time in recent years, roughly ranging in price between $2000 and $12000. Those works were however much smaller than what is on view in this exhibit, so take the price history with a grain of salt.
Rating:
* (one star) GOOD (rating system described
here
)
Transit Hub:
Through August 31st
510 West 25th Street
New York, NY 10001