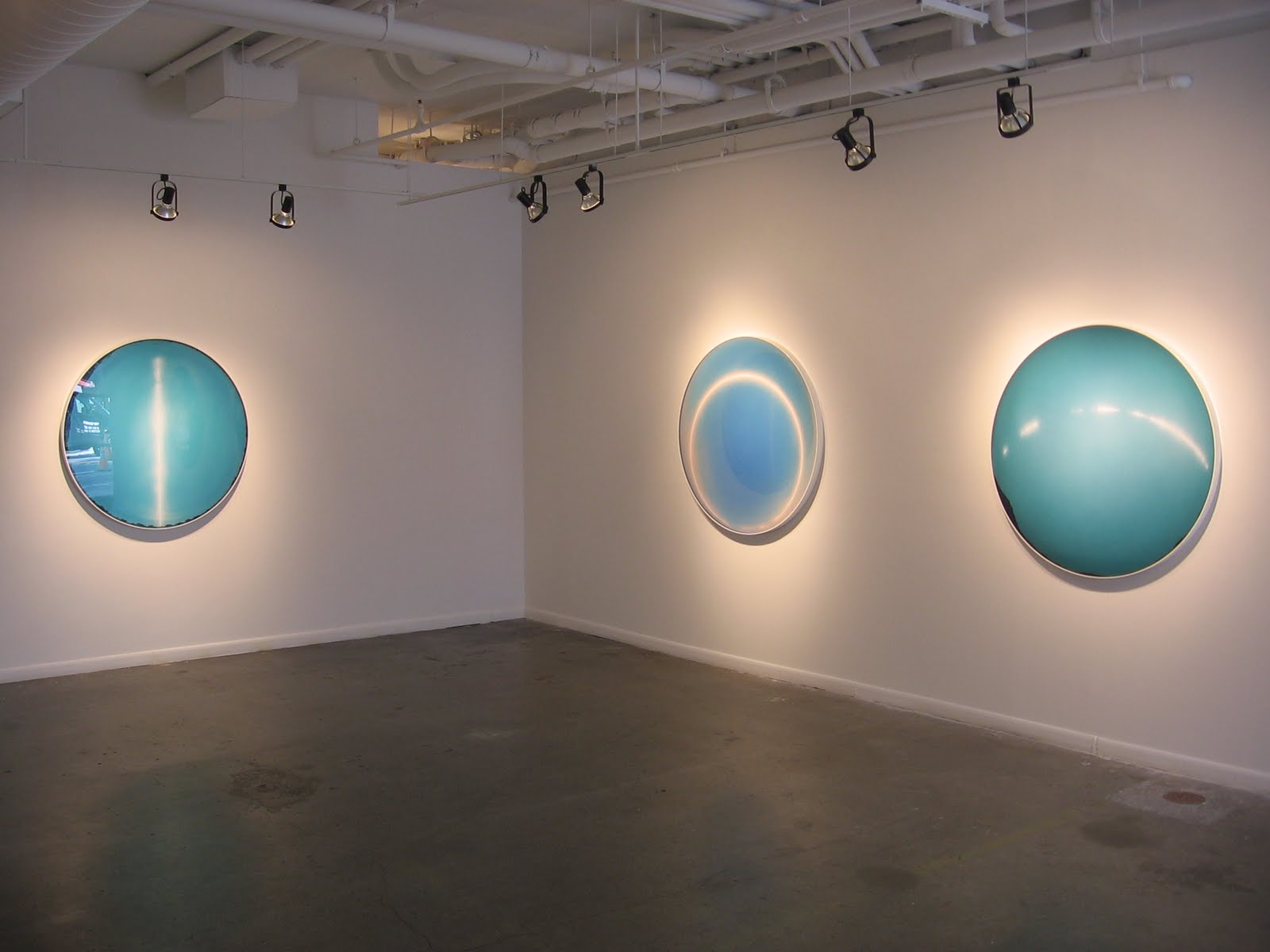 JTF (just the facts): A total of 6 large scale color images, displayed in artist-designed white frames with no mat in the single room gallery space. All of the works are c-prints with acrylic diasec from 2006 and 2007. The circular prints are each 47 inches in diameter, in editions of 5. A thin monograph of this body of work was published by Akio Nagasawa Publishing in 2009. (Installation shots at right.)
Comments/Context: Japanese photographer Izima Kaoru is perhaps best known for his series of cinematic images where models imagine their own ideal deaths, complete with dramatic locations, fabulous couture fashions, and elegant pools of blood. After more than a decade of staged death, his new body of work, entitled One Sun, is a radical departure from this morbid fascination, a life-affirming look skyward.
Using a fish-eye lens and day-long exposures, Kaoru's images trace the path of the sun across the sky, resulting in images of sparkling bright lines against light blue orbs of hazy color. Depending on his location (near the Equator, in the northern Norway, or at various other locations around the globe) and the time of year/season, the sun creates a variety of concave and convex arcs, straight lines and even perfect circles, with cloudy weather periodically adding a dashed effect. These beams of light parade across a spectrum of soft blue, light purple and fuzzy pink pastel backgrounds, with only a few silhouetted palm tress, buildings, or other minuscule points of landscape around the edges to provide local context. They are like big blue marbles, or vibrating discs, or portholes.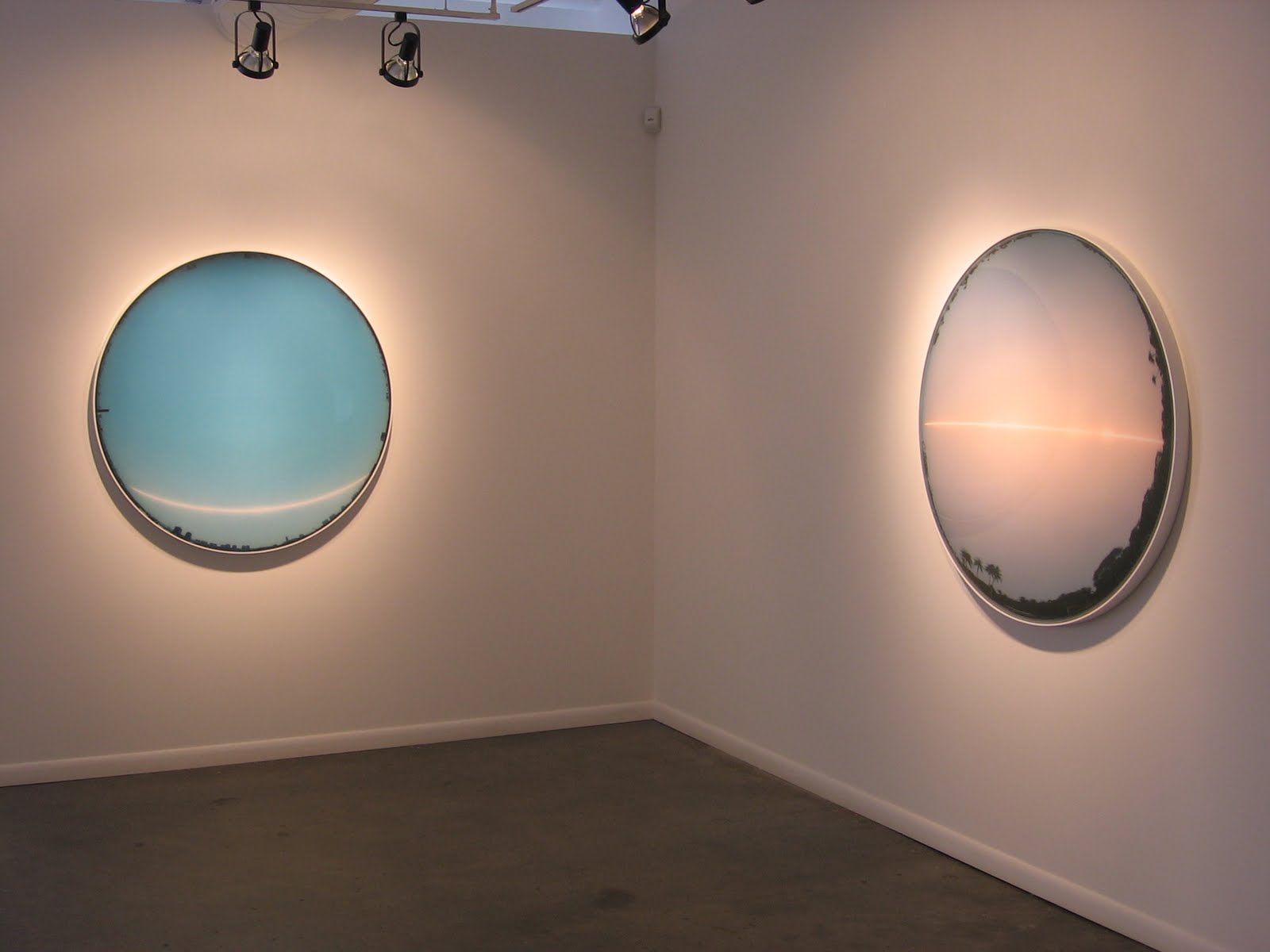 In the past few years, we have seen quite a few photographers point their cameras up, following stars, satellites, and the sun and moon, mixing science and abstraction to generate unexpected landscapes or simulated line drawings. Kaoru's images bear some resemblance to the recent Sunburn pictures by Chris McCaw, but their glossy object quality, large size and strict conceptual geometries create an altogether different feeling than McCaw's intimate chance-driven solarized burns. The works feel much wider, capturing the incandescent radiance of the sun and the immense 360 degree breadth of the sky. I think the layers of roundness (the fish-eye distortion, the underlying shape of the earth and sun, the shape of the physical prints themselves) all contribute to making the conceptual construct effective.
Overall, while we have seen variations on these ideas before, Kaoru has added some new twists to the tracking of the sun, creating contemporary photographs that pulsate with collective optimism. He reminds us that wherever we might be on this diverse planet, the sun puts on a spectacular show if we would only take the time to look up and notice.
Collector's POV: The prints in this show are priced in rising editions, starting at $16000 and moving up to $19500 and eventually to $23000. Kaoru's work has only recently come into the secondary markets, with a few of his large scale images from the Landscapes with a Corpse series coming up for sale in the past few years. Prices for these works have ranged between $9000 and $30000.
Rating: * (one star) GOOD (rating system described here)
Transit Hub:
Izima Kaoru, One Sun
Through October 9th
Von Lintel Gallery
520 West 23rd Street
New York, NY 10011